Wise Launches its First CFexpress Type A Cards for Sony Shooters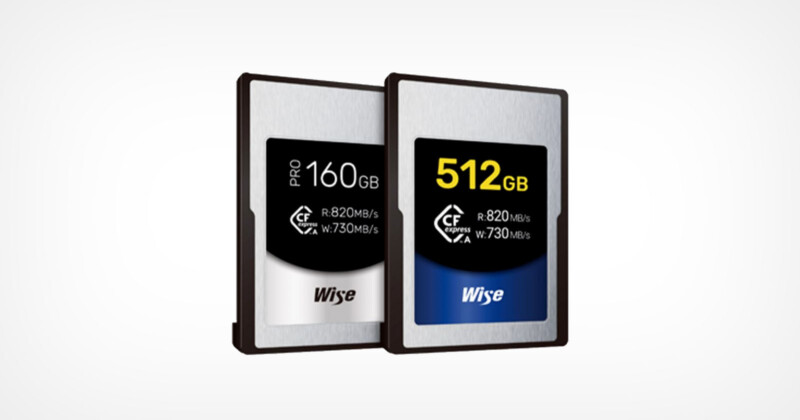 Wise has announced a new series of CFexpress Type A memory cards that were engineered specifically for Sony Alpha and FX line cameras.
The new 160GB and 512 GB cards are a first for Wise which previously manufactured CFexpress Type B and SD media, but nothing for Sony's series of cameras. That changed this month, but there is a difference between the two options beyond just total capacity.
The 512 GB card provides what Wise says is "enough" write speed for Sony Alpha videographers to record without immediately running out of space. The 160 GB capacity card on the other hand is branded "Pro" and provides "more than enough" sustained write speed and "advanced data recording technology" and is geared more towards high-end, professional filmmakers who want a card that will be assured to not drop frames.
Both cards promise the same max read and write speeds of 820 MB/s and 730 MB/s respectively, although the maximum sustained write speed is where the smaller capacity Pro card stands out. While the 512 GB card can sustain 200 MB/s — not enough for more taxing, data-rich video files — the 160 GB card far surpasses that with a promise of 650 MB/s sustained speeds. While Wise does not appear to have received the CF Association's seal of VPG 400 for this, which could be for any number of reasons (Wise may not have submitted for certification, may not have wished to pay for certification, or did not pass certification, among other possibilities). But even without that certification, if Wise's specifications are correct, the card should be able to handle any current video load that a Sony Alpha or FX camera requires — the only bottleneck will be capacity.
Wise says that regardless which card is selected, both are engineered for Sony cameras and allow for the full potential to be recorded, including all video codecs, slow and quick modes, and the finest HD or 4K XACS S-I formats. Wise protects both cards with a two-year warranty.
Once only available from Sony, CFexpress Type A cards are becoming far more available, albeit quite expensive. Sony released a new high-capacity version earlier this year that carries a $1,400 asking price, but photographers and filmmakers can opt for other options now from Wise, Angelbird, Exascend, and Lexar.
Wise's new options cost $250 (letting photographers pick between capacity and performance for the same price) and are available now.
---
Image credits: Wise