Tamron is Making a New, 'World's First' 17-50mm f/4 for Sony E-Mount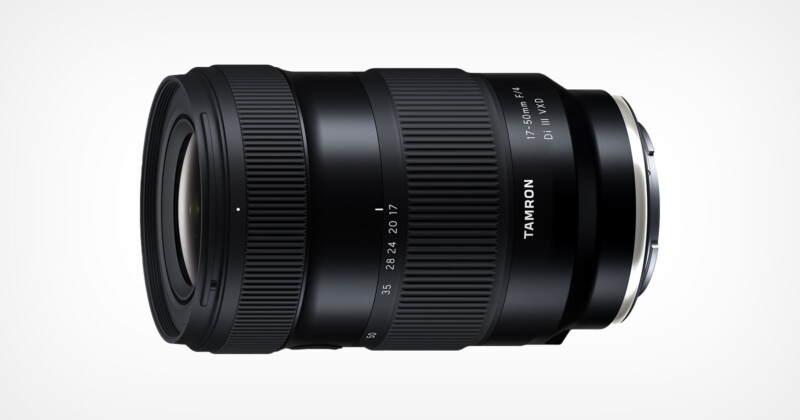 Tamron is developing a 17-50mm f/4 Di III VXD (Model A068) ultra-wide to standard zoom lens for full-frame Sony E-mount cameras, the world's first to offer such a zoom range on Sony cameras.
While not as fast as the 17-50mm f/2.8 XR Di II LD IF lens from 2008, that optic was only for APS-C cameras. This new lens not only ups the coverage to full frame, it also has additional features that set it apart.
The 17-50mm f/4 lens for Sony mirrorless cameras is described as a wide-angle zoom with a constant f/4 aperture that covers the whole range between ultra-wide-angle to standard focal lengths, which Tamron says is a zoom range ideal for both still photography and video recording.
The company says that the lens will achieve "excellent" optical performance across the entire zoom range, with promised crisp sharpness from edge to edge.
As has been the case with most of Tamron's latest lenses and as noted in the product name, the 17-50mm f/4 Di III VXD uses the company's Voice-coil eXtreme-torque Drive (VXD) linear motor focusing system that the company says achieves fast and accurate autofocus performance.
Perhaps most impressive is that the physical dimensions of the lens do not change while zooming, which allows it to maintain the same balance regardless of focal length. That means the 17-50mm f/4 Di III VXD is especially well-suited to being used on a gimbal or other similar equipment.
Tamron says that the lens will have a minimum focusing distance (which it calls minimum object distance) of 7.5 inches at the wide end and 11.8 inches at the 50mm end, allowing photographers and filmmakers to get relatively close to subjects. Tamron did not note the reproduction ratio, however, which means that is something to expect only once the lens is fully announced.
"The ideal 'walk around' lens, the new 17-50mm f/4 zoom offers great portability and convenience and makes it possible to shoot a variety of content, both still images and video, from sweeping landscapes to snapshots, all without switching lenses," Tamron claims.
Tamron also notes that the lens will work with its proprietary Lens Utility tool, has some level of moisture resistance, and uses the same 67mm front filter size as most of its mirrorless camera optics.
The Tamron 17-50mm f/4 Di III VXD is expected to be available this fall, though the company did not provide more specific timing nor was it prepared to share pricing as part of this development announcement.
---
Image credits: Tamron
---
Update 8/24: Added clarification that the 17-50mm f/2.8 XR Di II LD IF lens only covered APS-C sensors.