7Artisans Gets in on the Audio Game with Super-Cheap Wireless Lav Mics
7Artisans, a brand most well known for affordable manual focus lenses, is trying its hand at audio with the introduction of a new wireless lavalier microphone set.
The company's first wireless Bluetooth microphone, the DMic-S promises noise reduction via a built-in DSP, dual channel recording, multi-tiered gain control, auto-pairing, omnidirectional pickup, and a "high definition" display. 7Artisans also promises up to 20 hours of battery life and compatibility with a host of devices.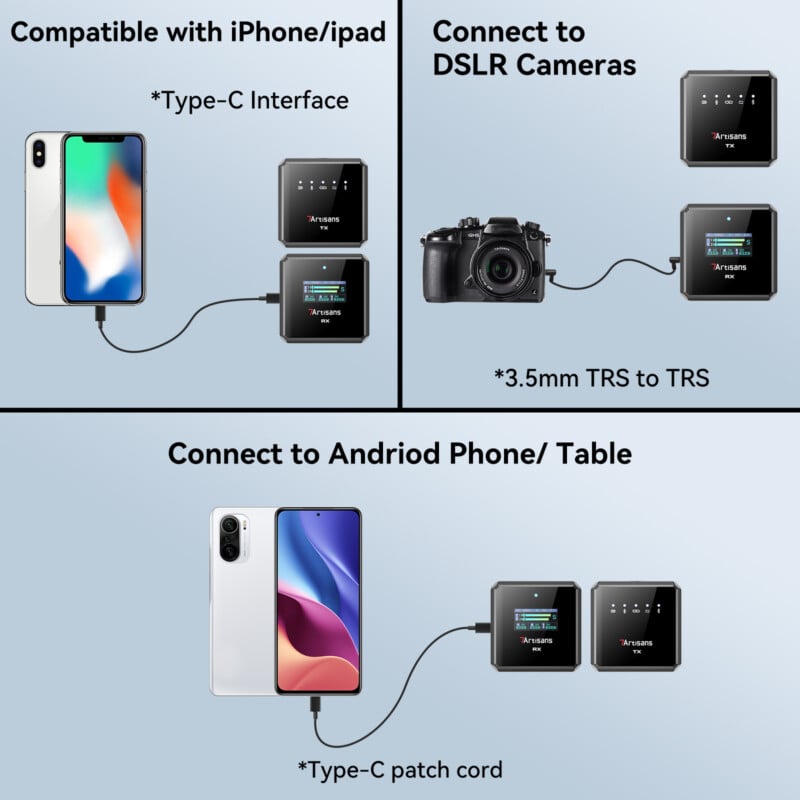 That's a significant number of features in a compact form factor, especially considering the company is only asking $109 for the system.
The DMic-S supports 48Khz, 24-bit sound quality — which the company says is "CD quality" — and has a design that mixes the charger with the storage container and which turns the microphone set on immediately when opened so they can be used straightaway after taking them out. Each unit is capable of lasting six to eight hours on its own and when combined with the battery in the charging case, can recharge more around two to three additional times for a promised total of 20 hours of battery life. 7Artisans does note that it will take about an hour and a half to fully recharge a transmitter unit from 0% to full.
The system is a receiver unit and two transmitter units, the former which comes with equipped with both a 3.5mm and Type-C interface to allow real-time monitoring on a host of systems. The company says it uses a 2.4GHz frequency band and also has "adaptive frequency modulation technology" to allow a clean transmission distance of up to 100 meters (about 328 feet).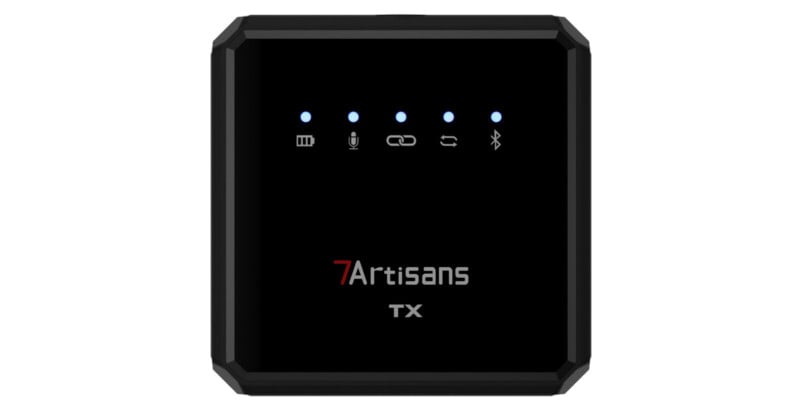 The transmitter units are equipped with a high-sensitivity mini capacitor that 7Artisans advertises as having a 360-degree, omnidirectional pickup capability. Of note, there is no additional cable microphone that connects to the transmitter units: the square-shaped unit itself is both the microphone and the transmitter. Each unit of the set weighs 27 grams.
The company says that it has added a "safe soundtrack" mode that records audio at -6DB on the base to avoid clipping and other audio problems.
7Artisans advertises the microphone as best suited to vlogging, live streaming, and interviews and includes a Type-C to Type-C, USB-A to Type C, and Type-C to Lightning cable in the box along with a dual 3.5mm cable to connect the receiver to a camera. It also ships with two deadcat wind shields at an aggressive price of $109.