The Moment T-Series Brings Six New Lenses to iPhone and Android
Moment has announced six new T-Series mobile lenses as well as a new lens interface and updated accessories to help mobile photographers and filmmakers level-up the quality of their footage.
The company says that the T-Series, its third-generation of mobile lenses, brings mobile photography and filmmaking closer to what can be captured on a full-size, standalone camera. The system is designed for "the next generation of phones" and isn't just made for Apple devices but is also coming to Android phones, too.
"We made everything about T-Series better for newer camera phones. By designing these around wider field of views, larger high-resolution sensors, and more advanced image stabilization systems, we were able to achieve a new level of quality and compatibility across a wider array of camera phones," Moment says.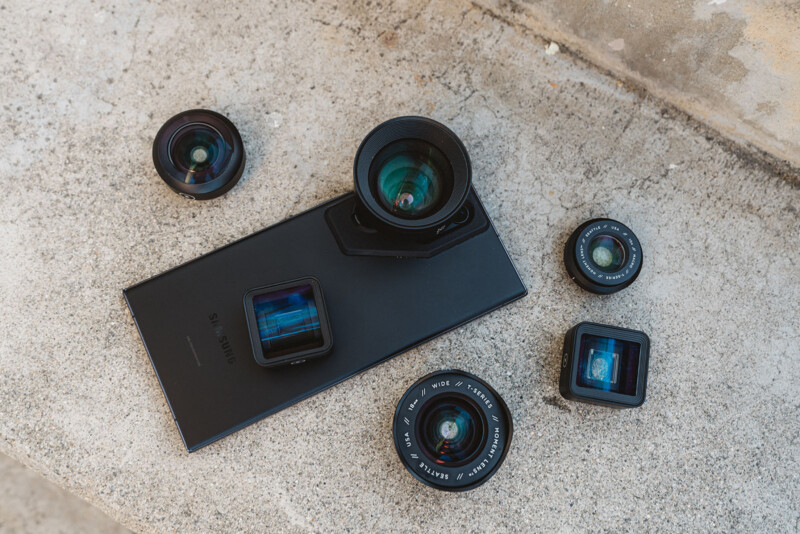 The T-Series includes six optics: an anamorphic 1.33x and 1.55x, a 58mm telephoto, an 18mm wide, a 14mm fisheye, and a Macro 10x.
Moment says that all of the lenses will perform better than previous generations, specifically that they will produce sharper photos and crisper video. The T-Series uses more glass to achieve this, allowing them to perform better with the increased resolution of cameras and have improved MTF scores that match the up to 108-megapixel sensors in today's smartphones. It employed high-quality, low dispersion fluorite optical glass to reduce chromatic aberration and added more elements to reduce distortion and improve resolving power at the edge of the frame.
The company goes so far as to say it put the same materials that Sony employs in its GM lenses into these compact optics designed for use on mobile devices.
Moment also increased the mounting interface of its lenses by 20%, which supports wider main cameras and any sensor-shift stabilization that a company might use. The diameter increase of the mount also allows more light to reach the sensor of a phone, Moment claims, which reduces the chance of vignetting.
Moment's new T-Series is compatible with iPhones dating back to the iPhone 12 and many Android phones, including the Pixel 7, 7 Pro, and 8 as well as the Samsung Galaxy S24 and S23. A full compatibility list can be found in the listing for each T-Series lens on Moment's website.
Below are a few sample images captured with the new lenses:
Moment's new T-Series 14mm fisheye and 10x Macro lens are priced at $120 while 18mm wide is priced at $140. Both the 1.55x and 1.33x anamorphic lenses as well as the 58mm telephoto cost $150. All six lenses can be found on Moment's website.
---
Image credits: Moment