Google Photos' New Memories View Uses AI to Label Your Photos
Digital photography offers people many benefits over analog photography. Perhaps chief among them is the ability to capture a near-infinite number of photos and keep them together in one location. However, with such great power comes the monumental task of organizing thousands upon thousands of files.
Google knows that people's devices, including smartphones, are full of many memorable photos and videos. However, image libraries are also cluttered with duplicate files and, quite frankly, images and videos that no user cares to view regularly.
With so many happy memories tucked away among the clutter, the Memories carousel in Google Photos aimed to bring them back to the surface at the top of Google Photos.
Introduced four years ago and used by half a billion people monthly, the feature does some things well but leaves room for improvement.
Today, Google has introduced a new Memories view, which it calls "a home for your memories that is automatically curated and organized with the help of AI."
As first spotted on The Verge, the new Memories view is a scrapbook-like layout that lets users "relive, customize, and share" their most memorable experiences.
Rolling out now for users in the United States, the revised Memories app heavily relies upon AI to grab the best photos and videos and bring them straight to the forefront of Google Photos.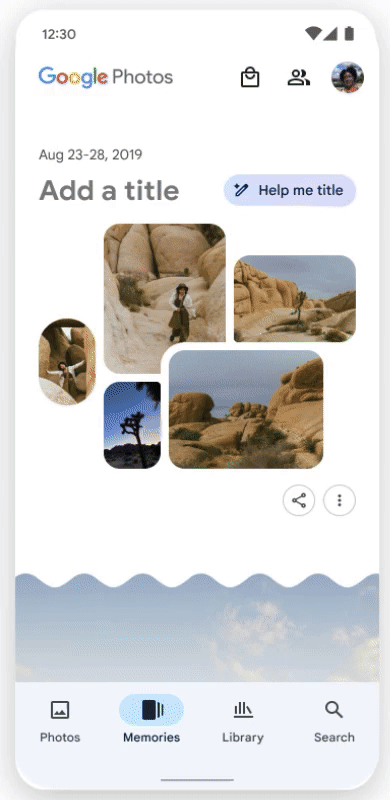 "Ultimately your memories are yours, and, as always, you're in control. You can choose to save your favorite memories to your Memories view or create your own from scratch. The Memories view also lets you easily add or remove specific photos and videos that show up and hide memories altogether," explains Brandom Im, the Senior Product Manager of Google Photos.
An especially helpful use of the new AI features is the ability to have Google Photos provide customizable title suggestions. While generative AI technology is also thought about within the context of text-to-image models, Google Photos is using it to match text to existing images.
Google knows that the suggested titles for photos and albums will not always be perfect, so in addition to the ability to write a custom title, the app also includes the option to receive additional choices and provide feedback on the results.
Memories are often collective experiences that people want to share with others. Users can invite friends and family to work with them on a memory, allowing people to add their photos and videos to a shared space. Google will soon add the ability to share memories as videos that users can send over messaging or social media apps.
The improved Memories view and its new AI tools are available to users in the U.S. now and will come to other users soon.
---
Image credits: Google