Vegas Pro 21 Promises Approachable Yet Sophisticated Video Editing Tools
Vegas Creative Software has released the latest version of its video editing platform Vegas Pro 21. It promises accessible content creation via new features and enhancements that significantly improve workflow.
The German-based software developer says that the update adds seven key features to the video and audio editing platform. Firstly, the company has partnered with Boris FX to bring its Mocha planar tracking tool into Vegas Pro 21. The company says that tracking data is readily available to be applied in various ways inside the application and allows its built-in Motion Tracking or Stabilization tools to achieve "truly impressive results."
Vegas Pro 21 also includes the Z-Depth OFX Plug-in and Compositor, an AI-powered system that analyzes images and instantly identifies foregrounds and backgrounds and allows each to be treated as different layers. At that point, editors can place text between objects, enhance blur, change colors, or perform any number of other layer-based edits.
The platform also includes Smart Masking, which analyzes video frame by frame and, again using AI, identifies and tracks moving objects.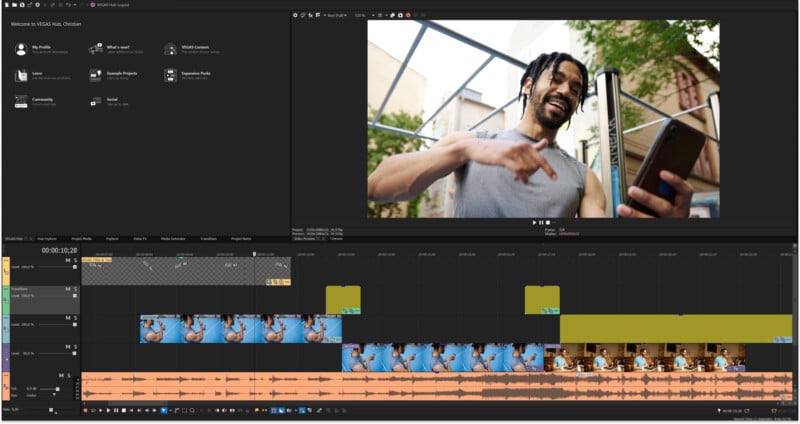 "It automatically generates detailed input for the Bézier Masking plug-in, which can be added to the FX chain with a mask already in place, saving hours of work in advanced compositing tasks. The newly created masks are of course fully adjustable to manually correct for any inaccuracies," Vegas says.
Vegas Pro 21 includes what the company calls Adjustment Events, which allows editors to add time-based adjustments to a project and assign any combination of effects to them. Any video events in the timeline connected to the adjustment event will be subject to its effect processing, which can also be dialed in over time. Vegas says that this can be used to bring effects in and out or create sophisticated custom transitions.
The platform has also improved its text-to-speech to support multiple languages, accents, tones, and voices. Vegas Pro 21 also adds a number of new effects: The Offset and Wrap plug-in enables a variety of motion-based sliding, mirroring, and wrapping effects, especially useful when paired with Adjustment Events to create exciting transitions. New GL Transition presets include Static Wipe, which adds an organic-looking static edge to the transition line between two clips, and Directional Scale, a very useful tool to transition between clips by moving and scaling them in conjunction with each other.
Vegas Pro 21 is available in a number of configurations starting at $20 per month, $144 per year, or $199 for a perpetual license. A complete list of all options is available on the company's website.
---
Image credits: Vegas Creative Software