Vegas Pro 20 Gets Color Correction and Audio Workflow Enhancements
VEGAS Creative Software has announced a sizeable free update to Vegas Pro 20 that, along with stability improvements, includes a number of new features to enhance the color grading and audio workflows.
Vegas 20 Pro launched just two months ago and the new features included in this update build upon that base, giving users the ability to zoom into the Video Preview window for a close-up of up to 2,000 times magnification as well as a bevy of new color correction tools and features which include a hue versus color saturation curve which users can leverage to define a hue or hue range and adjust the saturation levels of anything from the entire video, to a specific hue or hue range contained within.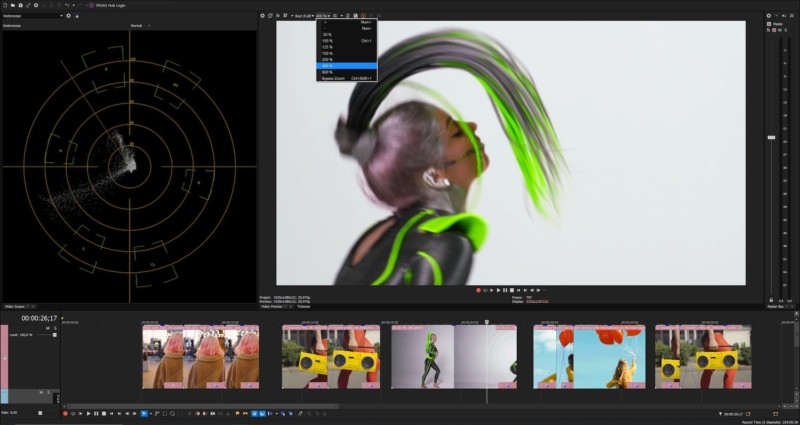 The company says the new 2,000x magnification feature included in the Video Preview window is useful for homing in on details of an object while working with the Bezier Masking tools or when there is a need to see the fine details of a color adjustment. Once zoomed in, users have the ability to scroll the zoomed in view to see different areas without having to zoom back out.
The new and improved color picker for color curves feature will give users the ability to sample a value (or range of values) in a video that the curve adjustments can be applied too.
In terms of collaboration, the free update adds the ability to use a comment field for file drop that makes it possible to add messages (instructions, questions, or explanations) for collaborators that are invited to the file drop session. Anything entered into this field will appear in an email that the collaborator(s) receive when invited to the file drop.
Additionally, new AI-generated thumbnails for file drop files can automatically select a frame of the video uploaded to represent the content of the clip, which the company says bypasses the problem of automatically using the first frame of a video which is an issue when files can fade into or out to black.
Some other updates include a new speech-to-text functionality including automatic subtitle generation (available in subscription only), Automatic project collections and archives for collaboration, new visual effects features including optical flow mode for warp flow and smart split, workflow efficiency improvements that include a normalize button for events and fade in/out in paste even attributes, and an enhanced audio workflow that includes VST3 support for editing and VST 32-bit bridge that enables support for older audio plugins.
While the update for existing users is free, the VEGAS Creative Software is available as a standalone (Perpetual Licence) version or a subscription model respectively starting at $249 or $12.99/month, going up to $599 or $29.99/month. Both options can be seen on the company's website.