The Browser-Based Axledit Wants to be the Google Drive of Video Editors
Axledit is a browser-based collaborative video editing platform from Axel.AI that sees itself as the Google Drive of video editing.
Axle.AI says it keyed into where the industry was going with cloud collaboration utilities like Frame.IO and saw a need to make the same tools available to beginners, mobile filmmakers, and other content creators who operate on a tight budget. The company says that Frame.IO does provide strong review and approval capability, but not cloud-based editing. It wants to provide that functionality in a streamlined package.
Modeled on Google Drive which provides photos and storage services for free, Axel.AI says it wants to provide a similar service in the realm of cloud-based video editing.
The browser-based editing interface not only enables content creators to upload video footage and edit it for publishing to the internet, but axledit's cloud collaboration tools also give multiple users access to the same footage in a project and make it easier to have group editing sessions with clients and team members anywhere in the world.
Axel.AI isn't some plucky startup, either. A fixture in the media management game for nearly a decade, mainstream production companies who work with Discovery Networks, HGTV, The Food Network, and other reality-based channels are harnessing Axledit's flexibility, particularly with team members working at home due to the recent pandemic. Pie Town Productions, the studio behind Discovery's House Hunters, explains how it uses the platform in the video below.
Axledit's interface has the basic quiver of video editing features to enable users to create compelling videos that the company says don't necessarily compete with Adobe Premiere or Apple Final Cut Pro, but rather compliments them with collaborative, browser-based video editing.
"The best analogies would be Google Sheets versus Excel, or Canva versus. Adobe Illustrator," Sam Bogoch, CEO of Axel.AI, tells PetaPixel. "Like them, axledit is designed for accessibility and collaboration; it runs in the browser and the cloud, rather than on beefed-up workstation hardware."
That complementary aspect is supported by a panel the company plans to make available inside of Premiere Pro.
"We are launching a panel for Premiere Pro that lets you bring a sequence and media worked on in axledit, and bring it seamlessly into Premiere for finishing," Bogoch says.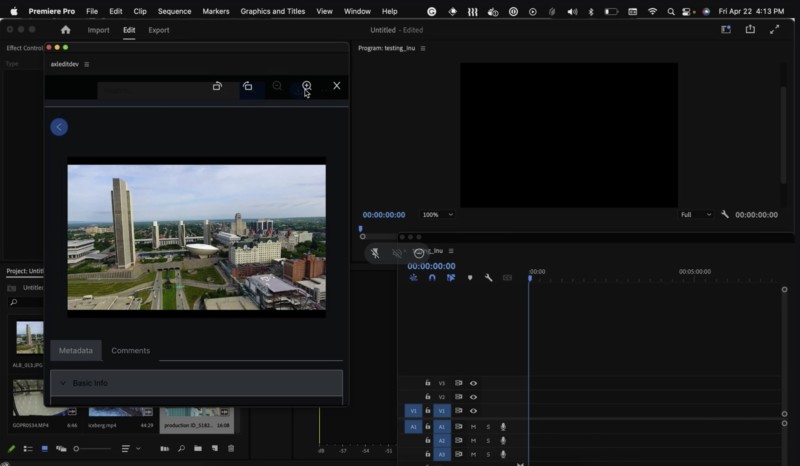 The software is packed with numerous features that editors expect from a video editing platform including non-linear editing that supports multiple audio and video tracks, effects and transitions, sequence versioning, the ability to directly import stock video content, and the ability to publish directly to YouTube or Vimeo without reencoding or uploading separate files.
On top of these features, axledit promises the ability to upload video files quickly (relative to an internet connection of course) and offers multiple collaboration features like the ability to receive and tabulate client feedback on edits. The platform can also render footage using dynamically allocated cloud processing power and the service provides access to the Axle.AI cloud media management servers.
Axledit supports a wide variety of both desktop and mobile video options since the editing interface is browser-based. That means that team members can edit on the go and share their project work with a simple click. Project files can also be imported into more complex NLEs like Premiere and Final Cut Pro. Moreover, axledit offers browser-based video review and approval tools that keep the client in on the post-production workflow every step of the way.
There are three pricing tiers to axledit, including a free tier that comes with 2GB of online storage, the ability to add one other member to the project, as well as the ability to publish directly to YouTube.
Paid tiers expand the service's capability for $10 a month that comes with 20GB of online storage, unlimited projects, YouTube and Vimeo publishing within the interface, and cloud collaboration. Finally, the top tier costs $50 per month plan and offers everything found in the lower tiers plus 250GB of storage per user, priority access to the cloud-based transcoding and publishing, online support, and API access for custom jobs. Axle.AI also offers an enterprise-level for larger companies that provides hybrid cloud/on-premise configurations and workflow automation.
---
Image credits: Images courtesy of Axel.AI.