Cyberlink Launches PhotoDirector 13, Super-Charges its AI-Powered Tools
Cyberlink has announced PhotoDirector 13, which promises improved AI-editing tools, integration of Getty and Shutterstock libraries, and adds new lighting effects and color adjustment features.
Founded in Taiwan, Cyberlink has developed and owns over 200 patented technologies across multimedia software and AI facial recognition.
The Director 365 editing suite is one of the company's products and consists of four apps — PowerDirector for AI-powered video editing, ColorDirector for color grading, AudioDirector for editing audio files, and PhotoDirector for image post-processing — all of which have been updated today.
PhotoDirector 13 — the latest version of the photo editing software — is a multi-layer editor that blends image post-processing with graphics and animation.
It has a complete set of image adjustment tools such as white balance, tone, HSL, color wheels, and more. It also offers users a choice of mask tools, photo effects, LUTs, layer templates, Sky Replacement, brushes, light rays, and other creative tools.
The software previously utilized AI-powered tools for editing, and the latest version of PhotoDirector has made UI enhancements and added new light effects and color adjustment features.
The update also brings improved AI-powered Sky Replacement and Photo Animation effects and introduces new Dispersion, Glitch Art, and Object Segmentation tools. Edited images can also be turned into a music video by adding bounces and shakes with the Audio Beat effect.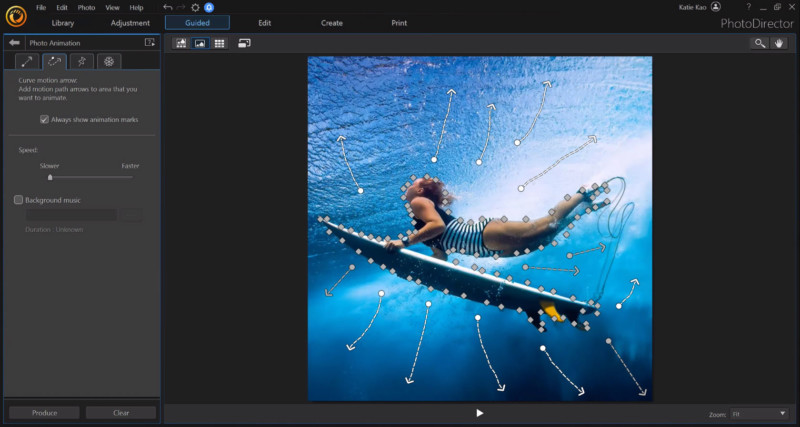 The ease of use is of great importance for the company and as such, the editor has Guided tools. These can be applied in a few clicks and can appeal to beginners as well as business owners who want to create effective marketing visuals without having to perform complex tasks.
PhotoDirector 13 is available to both Windows and macOS users. A subscription-based model — titled PhotoDirector 365 on Cyberlink's pricing guide — can be paid monthly or annually. At the time of publication, the annual plan subscription costs $41 with an introductory 25% off offer and is originally priced at $55.
This subscription also includes 50GB of cloud storage and other perks, like access to royalty-free use of Getty and Shutterstock libraries, plugins, and other assets which the company says are regularly added.
The lifetime license, titled PhotoDirector 13 Ultra, costs $100 and includes 25GB of cloud storage for one year but doesn't include unlimited access to premium plugins, effects, stock imagery, and other assets.
The software can also be tested on a 30-day trial basos. System requirements, features, and pricing options including bundles can be found on Cyberlink's website. A mobile version of the software can be downloaded on Google Play Store for Android and on the Apple App Store for iOS.