Energy Drink Company Sues Rival for 'Copying' Its Photo of Kim Kardashian
An energy drinks company has sued a competitor for allegedly copying its ad campaign with Kim Kardashian and creating a nearly identical photo with a different model.
According to Bloomberg Law, energy drinks maker Alani Nu recently released an Instagram photo campaign featuring Kardashian to launch its limited-edition, pink-colored "Kimade" drink.
On July 10, Alani Nu shared a photo on Instagram which showed Kardashian in a white bathing suit and posing with gym equipment against a pink background to launch Kimade.
The image, which was featured in a photo carousel shared by Kardashian and Alani Nu, has since amassed over 2.4 million likes on Instagram.
However, according to the complaint filed by the Alani Nu, the energy drinks maker's competitor Ryse Up Sports Nutrition copied the photograph of Kardashian with a different model and shared it on Instagram days later.
'A Nearly Identical Photo'
According to the lawsuit, Ryse Up recreated the image with influencer Paige Hathaway to sell its own rival pink-colored energy drink.
On July 27, Ryse Up allegedly posted a nearly identical photo that showed Hathaway posing in a similar white bathing suit in front of gym equipment against a pink backdrop.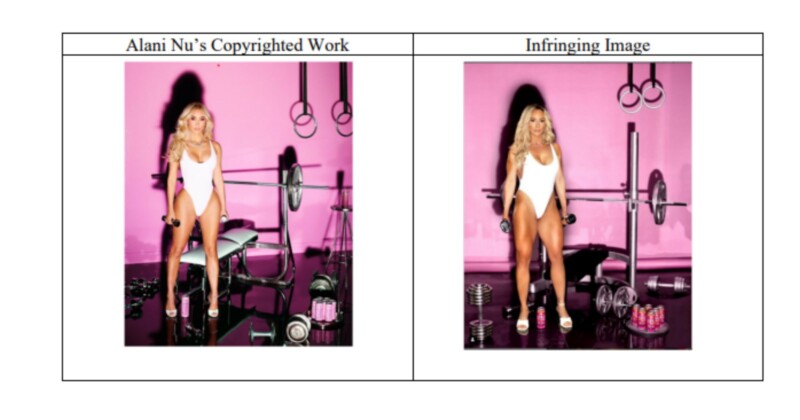 "Both images incorporate, amongst other similarities, a blonde woman, dressed in a white bathing suit, with white heels, posing next to metal gym equipment, and pink-colored energy drinks in a pink colored gym," Alani Nu claims in a lawsuit filed on Monday in the US District Court for the Northern District of Illinois.
According to Bloomberg Law, Alani Nu claims that the allegedly infringing photograph can not be considered a parody as the image was intended to generate recognition and commercial sales for Ryse Up.
The energy drinks maker claims that the photo is "misleading advertising that is deceiving the consuming public into believing Ryse Up's energy drinks are associated with or sponsored by Alani Nu."
On July 28, Alani Nu sent a cease-and-desist letter to Ryse Up but did not receive a response. Alani Nu also sent a copyright takedown request to Instagram that day and Ryse Up's post was removed a day later. The energy drinks company is requesting a jury trial.
---
Image credits: All photos via court documents.