Khloe Kardashian Sued for Posting Copyrighted Photo of Herself on Instagram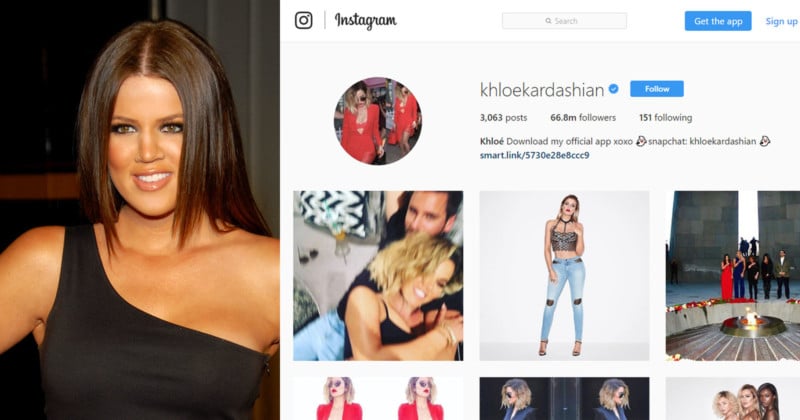 Celebrity Khloé Kardashian has been hit with a copyright infringement lawsuit over a photo of herself she posted to Instagram. She's being accused of removing copyright info found on the image and sharing it to her millions of followers without permission.

The Hollywood Reporter reports that the suit was filed by U.K.-based photo agency Xposure Photos. According to court documents filed in California, the photo at the center of the dispute was captured by photographer Manuel Muñoz and licensed by Xposure to The Daily Mail.
Each of the photos in the Daily Mail article, which is about the 32-year-old Kardashian arriving with her sister at a Miami restaurant, has a clear copyright notice in the corner attributing the image to Xposure Photos.
Xposure says that Kardashian copied the photo, removed the copyright notice, and posted it to her Instagram account that has over 66 million followers.
"Plaintiff never licensed the Photograph to defendants," the lawsuit reads. "Nevertheless, defendants have used, and continue to use, the Photograph without authorization or permission from plaintiff to do so. Specifically, Kardashian copied the Photograph and distributed it on Instagram on September 14, 2016. The copy of the Photograph that Kardashian distributed on Instagram had been altered to remove the CMI [copyright management information] showing plaintiff as the copyright owner of the image."
Kardashian's Instagram account still contains photos posted on September 13th showing the celebrity in Miami wearing the same outfit, but they don't appear to be the images at the center of this dispute:
In a statement to Us Weekly, Xposure claims that Kardashian's act of posting the photo to her Instagram followers without permission made Xposure and its clients lose out on views of the photo in licensed publications.
"Kardashian's Instagram post made the photograph immediately available to her nearly 67 million followers and others, consumers of entertainment news — and especially news and images of Kardashian herself, as evidenced by their status as followers of Kardashian — who would otherwise be interested in viewing licensed versions of the photograph in the magazines and newspapers that are plaintiff's customers," the company states.
Kardashian can reportedly earn upwards of $250,000 for a single campaign promoting photos of a brand or product through her Instagram account.
Xposure is demanding an injunction to prevent Kardashian from further using the photo, statutory damages of up to $25,000, and any profits that were generated from the misused of the photo.
---
Correction: The photographer's name was previously incorrectly spelled as Manual Munoz.
---
Image credits: Header portrait of Khloe Kardashian © Glenn Francis, www.PacificProDigital.com and licensed under CC BY-SA 3.0