Casablanca Made an $8,500 Recolor of the Contax G2, Promptly Sold Out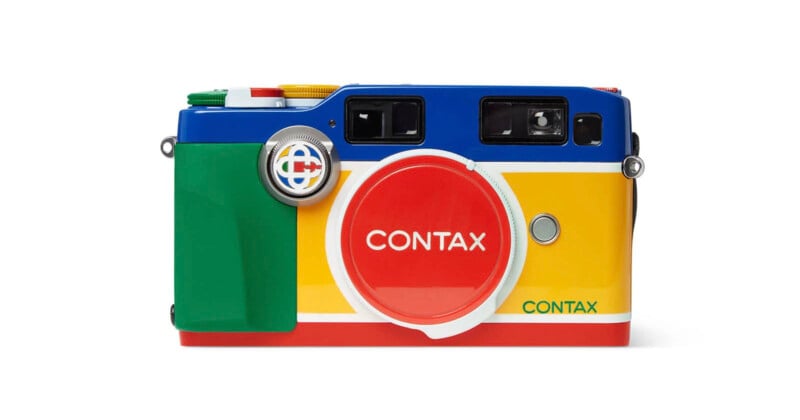 Casablanca Paris, a luxury fashion brand known mainly for its colorful silk shirts, released a recolored Contax G2 for $8,500. It promptly sold out.
The Contax G2 was produced between 1996 and 2005 and is described as the world's most advanced rangefinder at the time. Casablanca says that it was "renowned for its ergonomics and technological innovation, it was a true accessory to the traveling man." As such, the company chose to acquire a limited number of the classic cameras and refinish them with "hand-applied" ceramic multi-colored coatings.
"Crafted by artisans in Japan, it raised the bar as a masterpiece in electronic photography. Features such as a 35mm autofocus, a four-frame-per-second integrated motor drive, shutter speeds of up to 1/6000 per second, X-sync at 1/200 per second and an extended baseline-autofocus system with the Carl Zeiss Planar 45mm f/2 lens, all made the G2 a camera ahead of its time and highly regarded even by today's standards," Casablanca writes.

The multicolored version of the camera was a collaboration between Casablanca and MAD Paris, the second such partnership between the two brands (the first being a customized limited run of Audemars Piguiet Royal Oak Watches), HypeBeast reports.
The recolored G2 (of note, only the camera sports the new color, the lens was unchanged outside of the cap) is otherwise the same as it was back when it launched. Since it shoots to 35mm film, it will theoretically work as well as it did over two decades ago.
Casablanca was shipping the recolored camera with the Carl Zeiss Planar 45mm f/2 lens and lens cap, CR123A battery, a neck strap, and one roll of Kodak Superia Premium 400 film.
"Was" shipping, as in past tense, because the company already sold out. It was not clear how many Casablanca had in inventory, but the company sold all units it had in less than a few weeks.
Casablanca's high, $8,500 price is exorbitant but it is perhaps not entirely unwarranted. The Contax G2 is no longer being produced, so current stock is all there is. On Ebay, the camera is available in good to mint condition starting at $1,500 and going up from there. It is clearly a highly desirable camera even without association to the Casablanca or MAD Paris brands, meaning it isn't that surprising that all of the special edition recolors are now spoken for.
---
Image credits: Casablanca Paris