Wondershare Filmora's Maximalist Effects Are Bold and Demand Attention
Wondershare Filmora is a cross-platform app designed to help content creators take their videos to the next level and build an impactful and successful online presence. A big part of getting more eyes on videos is ensuring that content is bold, striking, and creative.
---
Full disclosure: This article is brought to you by Wondershare.
---
Filmora works alongside a massive library of dynamic video effects and transitions, including the new maximalism effects packs. These effects take the "more is more" mentality to the max, assisting creators in the quest for exposure.
A maximalist design features bold typography, detailed illustrations, intricate patterns, and a large helping of creative expression. Maximalism is one of the most exciting design trends in 2023, and it's unapologetically bold.
With so much content at everyone's fingertips, finding ways to attract attention is more critical than ever. Maximalism is all about standing out from the crowd. Filmora's new effects draw heavy inspiration from maximalist aesthetics, making it easier for creators to get more eyes on their videos and turn content creation into a full-time job.
Video Editing with Maximalism Effects
Each of Filmora's Maximalist effects offers a unique approach to bold content, with some based around loud and dynamic backgrounds, while others rely upon large typography or striking effects and colors.
No matter which effect pack creators use, one thing is for sure, maximalism effects will make an impression.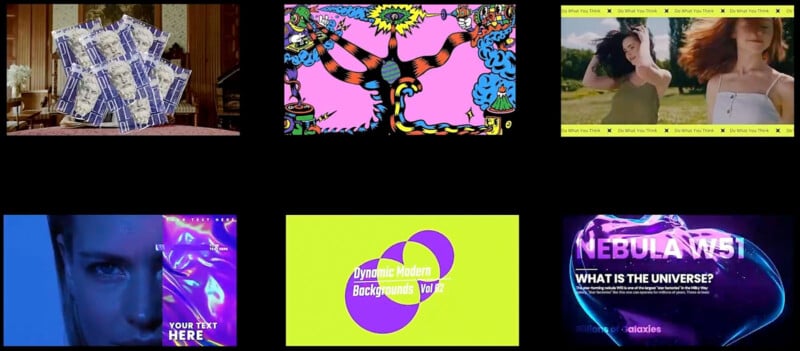 A key part of Filmora's appeal is its accessibility to creators of all experience levels and its ease of use. The maximalism video effects packs are no exception. After downloading effects, users can quickly apply them to their videos in just a few clicks.
Filmora also employs a range of artificial intelligence-based editing tools and features to make content creation more efficient.
Maximalist-Inspired Packs
Surreal
The Surreal Pack is artistic and edgy, ideal for content creators who march to the beat of their own drum. With title, element, audio, effect, and transition assets, there is a way to add a surreal touch to any aspect of a video.
Gradient Waves
If the Surreal Pack is too edgy, the Gradient Waves Pack offers users a fashionable and colorful way to struct a maximalist aesthetic.
The Gradient Waves pack includes 26 different titles that all rely on different color gradients. While the pack has a wide range of looks, eye-catching appeal is the common thread tying them all together.
Green and Toxic
Creators can make their competition green with envy using the Green and Toxic Pack. The resource pack includes 26 elements and effects allowing users to add trendy green effects to their content.
Pop Illustration Slideshow
Filled with pastel-colored pop and cartoon titles, elements, and effects, the Pop Illustration Slideshow Pack offers editors fun computer-themed illustrations to spice up their video projects.
Glitch Pattern
For more old-school tech vibes, the Glitch Pattern Pack offers 10 titles and 15 effects that recreate the look of VHS tape recordings and blocky text. This is a good fit for tech-focused content, like video game or movie reviews.
Scribble Elements Vol 01
To add a bit of street style to videos, the Scribble Elements Vol 01 pack includes 25 elements that editors can add to their videos.
Abstract Promo Background
With 13 backgrounds and 13 titles, the Abstract Promo Background Pack includes futuristic, modern graphics that are the perfect backdrop for video intros and title pages.
Abstract Background
In a similar spirit, the Abstract Background Pack includes dynamic, high-impact text, colors, and stickers.
Dynamic Modern Backgrounds Vol 02
The Dynamic Modern Backgrounds Vol 02 Pack uses solid color shapes and dynamic styles to encapsulate the maximalist style. These backgrounds are very loud, and when you want to make an impact, that is one way to do it.
Why Maximalism?
Bigger. Louder. More. Content creators, whether they are selling themselves or a product, need their audience to be engaged, and an effective way to do that is to kick understatement to the curb and dive head-first into overstatement.
"The new era of excess and abundance is here," says Filmora. As the packs above and on Filmora's website show, there are many ways to make maximum impact with maximalist titles, effects, backgrounds, and transitions.
Bright, colorful, bold, dynamic video editing styles and effects are the ideal way to ensure that viewers not only tune in to video content but stay engaged and interested until the end. Creators and businesses need to get viewers' attention, keep it, and ensure they remember what they just watched.
Price and Availability
To take full advantage of all the impactful maximalist-inspired effects packs, users must have Wondershare Filmora. Filmora 12 is available to try for free. A perpetual plan can be purchased for $79.99, while an annual subscription plan is $49.99 per year. Filmora 12 is available for macOS and Windows.
Filmora Creative Assets is the home to those who are looking for the most trendy templates, including all the maximalist-inspired packs. Filmora Creative Assets is $9.99 per month, $20.98 per quarter, or $77.92 per year. The latter two options cost $6.99 per month and $6.49 per month respectively. Filmora Creative Assets includes much more than video and audio effects packs — there is also a wide range of royalty-free stock assets that users can download and use.
Filmora Creative Assets includes much more than video and audio effects packs, there is also a wide range of stock assets that users can download and use, royalty-free, as part of their projects.
---
Full disclosure: This article is brought to you by Wondershare.