Efficiency Redefined: How AI Will Make Your YouTube Video Creation Productivity Soar
Artificial intelligence (AI) is a polarizing topic, and the technology has quickly found its way into a diverse range of softwares for many, including content creators. While AI has its pros and cons, it offers creators many opportunities to work more efficiently and make better content.
Full disclosure: This sponsored article is brought to you by Wondershare.
Filmora Leverages AI to Increase Creator Potential
Filmora has acted quickly to add AI-powered tools to its video editing software after noting the capabilities and benefits of AI for users.
In March 2023, Wondershare integrated the popular ChatGPT model into Filmora, allowing users to generate text for video scripts, captions, and descriptions. "ChatGPT is a game-changer for video editing," explained Wondershare CEO, Tobee Wu. "By integrating this plug-in into our software, we are providing our users with an innovative solution to improve their creative efficiency. Whether you are a business owner, creator, influencer, or professional videographer, Filmora plus ChatGPT boosts efficiency by generating text content without leaving the Filmora editing platform, streamlining the editing process and enhancing video content."
However, AI within Filmora includes much more than just a ChatGPT integration. Users can leverage the numerous AI tools to efficiently perform tasks, such as using the Smart Cutout feature, or the AI Audio Stretch feature to automatically match audio duration to the length of video clips.
These AI-powered tools and features promise to significantly reduce the time and energy creators must spend on tedious, mundane tasks. While AI receives some negativity about how it can be used to sidestep meaningful creative work, and threaten certain artists, Filmora proves otherwise. It is seen through the software that AI can provide creators with more time to flex their creative muscles. Simply put, who wouldn't rather spend their time making their best content rather than performing small, time-consuming, and mundane editing tasks?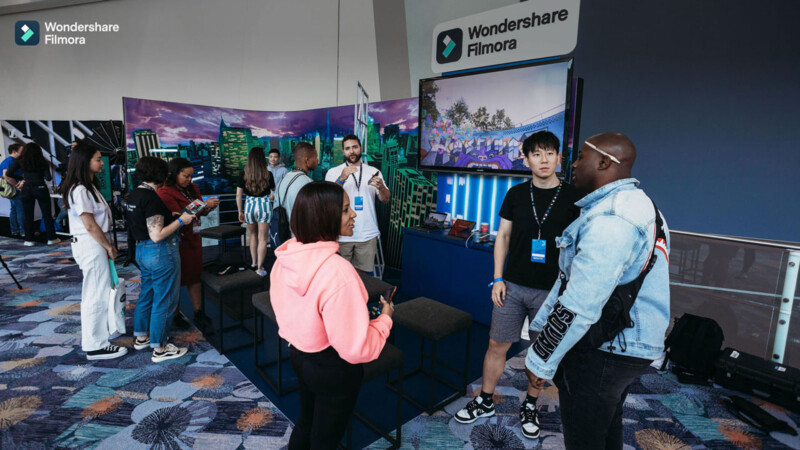 Filmora Supports the Community with Advice on AI
Introducing productivity and software improvements for users is only a part of the equation — Wondershare is also dedicated to ensuring that its users understand Filmora's new tools. At the same time, the Wondershare team is committed to empowering users to create the videos of their dreams.
At the recent annual VidCon event in Anaheim, California, Filmora was boothing on-site at the event and worked with two famous creators, NichLmao and Jensen Tung to showcase some of the many powerful AI tools in Wondershare Filmora 12.
In the keynote presentation below, NichLmao and JensenTung highlighted how AI tools not only make the lives easier for video creators of all skill levels, but also how AI can enable creators to reach new heights and assist with growing a larger audience.
"Editing videos takes a lot of time. Once you have done better, you will want to put more effort into it. There is no way of getting around it," says NichLmao. "I tried Filmora's AI tools a while ago. It's really amazing to see how it can do something with a few clicks. For people who just started and don't have that much time to spend on editing, Filmora really helps."
"I'm creating around 30 videos a month now. When you have spent two and a half hours editing, those little tasks like writing titles and creating thumbnails become very challenging. It's even more challenging when I create new videos every day. It's amazing to see that Filmora's tools can help with that. It definitely saves a lot of time," Nich adds.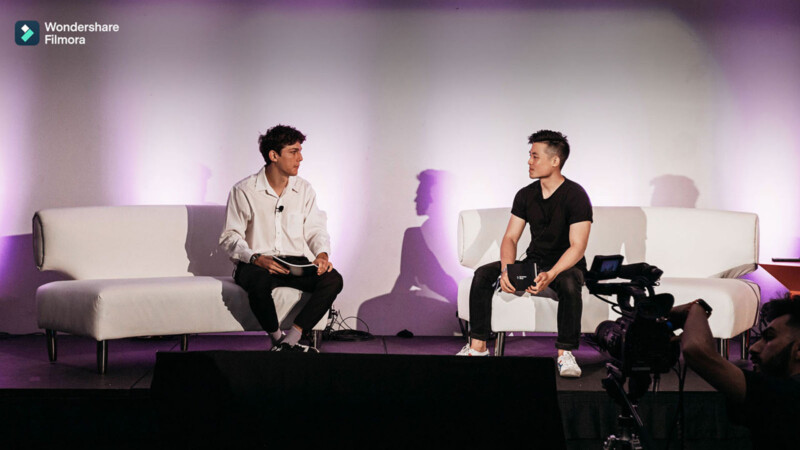 While some creators may be worried about how AI might negatively impact their work and business, NichLmao sees the situation differently. He believes in the positive power of AI, especially if implemented responsibly.
"I'm very optimistic about the AI trend. I think there will be a lot of tools that can help creators. We can take advantage of the tools like Filmora and utilize them to make our work better," he explains.
Filmora's AI Features Usher in a New Era of Productivity and Creativity
With the ChatGPT integration in Filmora, users can generate video scripts with AI, generate YouTube titles and descriptions, and say goodbye to a wide range of manual writing tasks.
Filmora users can also use AI to generate images using text prompts. With AI Image, people can transform text into visual content in different resolutions and aspect ratios, ready to use for video projects. This AI tool can generate images in a wide range of styles, not just photorealistic visuals.
AI Smart Cutout allows users to precisely select and remove any unwanted object from their video. "Say goodbye to time-consuming green screen," promises Filmora. With AI Smart Cutout, creators can instantly remove unwanted objects from a video. For instance, users can have AI give them a head start and then dive into manual frame-by-frame cutouts.
As mentioned earlier, Filmora can automatically retime any audio track to fit the duration of a video with its AI feature. While it's true that someone can manually rearrange a song, it is a very time-consuming and challenging task. With AI Audio Stretch, Filmora can do it with just a few clicks.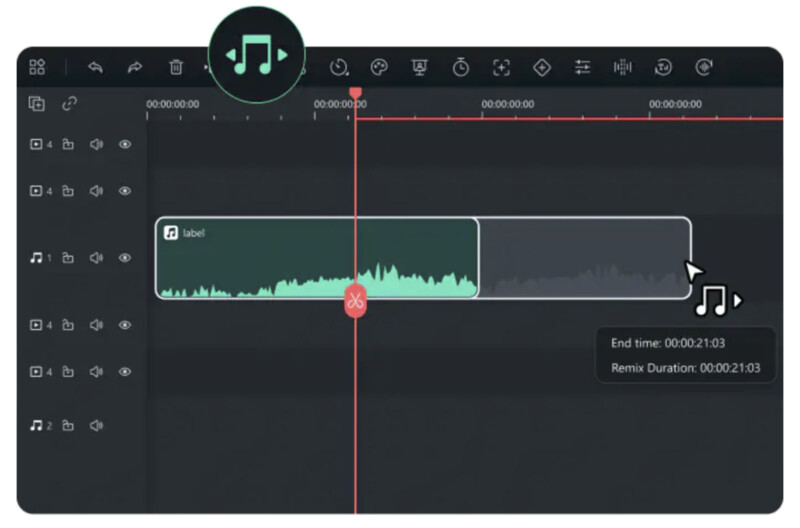 Getting a clear, crisp audio recording is challenging, especially when filming outdoors. Oftentimes, there are distracting background noises, which is one of the most difficult corrections to make manually. However, AI Audio Denoise can easily clean up audio, increase efficiency, and in many cases, even do things better than a person can. Filmora users can ensure that every voice sounds perfectly clear using AI Audio Denoise.
The AI Portrait plug-in for Filmora includes over 70 AI portrait and sticker effects. It promises to cleanly remove the background behind a person and accurately track a person's face for augmented reality (AR) stickers.
Filmora 12 Key Features
Filmora is not all about AI, despite having powerful AI features. This popular video editing software includes a vast suite of other new features and improvements, including avatar presentations, backup and syncing, adjustment layers, preset templates, title editing, and WordArt. On top of that, there is also keyframing, many new video effects, improved masking and blending, 3D LUT support, and much more.
Filmora is an all-in-one video editor with all the tools people need to perform both simple and more complex tasks.
How Filmora Helps Creators Reach a New Audience
It is challenging to stand out from the crowd as a creator. There are tons of video content out there across numerous platforms, such as YouTube, Instagram, and TikTok with already well-established creators. However, Filmora's tools promise to enable creative users to make the high-quality videos that they desire, while engaging with people among the users' target audiences.
With Filmora, users do not need sophisticated technical knowledge or an extensive video-editing background, either, and especially so with Filmora's wide range of powerful AI tools. Technology should empower people, not make them feel confused and overwhelmed.
Filmora wants to enable solo content creators to make high-quality content quickly and efficiently, no matter their background or their time constraints. Time is valuable, and saving time matters.
Filmora Launches a Go Viral Campaign to Further Help Creators
Wondershare Filmora offers more than just easy-to-use productivity-driven software features to help creators. The company is also currently running the Project Go Viral Campaign. Running until August 3, 2023, the campaign aims to empower creators who want to grow professionally with a "Go Viral Kit."
Filmora will award three participants with the Go Viral Kit, which includes a $1,000 gear fund, a perpetual license to Filmora with unlimited access to video effects, and a shoutout from a social media influencer.
One of these three winners will also receive a trip to VidCon valued at $3,000, including a VidCon ticket, round-trip flight, and four nights of accommodations.
"Video creativity has the power to transcend boundaries, connect communities across the globe, and inspire change. As a global corporation, it is our responsibility to nurture and support the growth of rising creators, providing them with the tools and resources they need to share their unique vision with the world," says Tobee Wu. "The Project Go Viral campaign shows how Wondershare Filmora is committed to empowering creators to unleash their full potential. We believe every creator deserves a chance to make their content go viral as long as they have a passion, and we're excited to be a part of that journey."
---
Full disclosure: This sponsored article was brought to you by Wondershare.