Canon Warns Discarding Its Printers May Pose a Wi-Fi Security Risk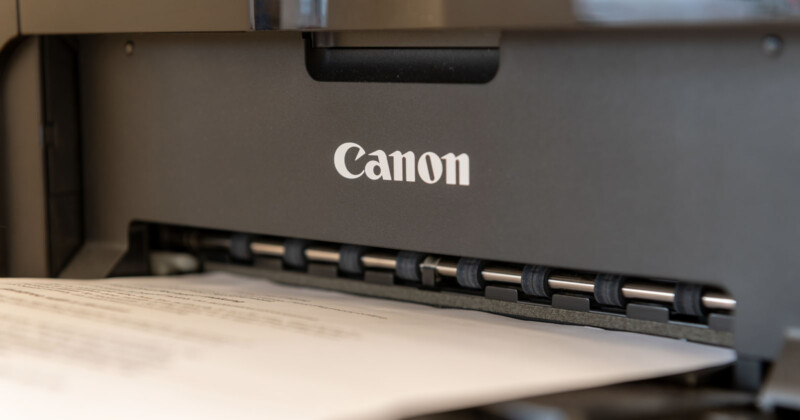 Canon has warned that Wi-Fi connection settings stored in the memory of some of its inkjet printers may not be deleted by the usual initialization process and pose a security risk when disposed of.
The number of printers this vulnerability affects is massive and encompasses 196 total models. It includes the home and business E, G, GM, GX, iB, iP, MB, MG, MX, TR, TS, and XK inkjet series as well as the Pro series photo printers (which includes everything from the Pro-10 through the Pro-1000 printers). It also affects some large format printers including Canon's Pro line (Pro-520 through Pro-6100S) as well as the TM, TX, GP, and TC series printers. The full list of all affected printers can be found on Canon's website.
When one of these printers comes into the hands of a third party (such as in the case of repair, loaning it out, or when throwing it away), Wi-Fi connection information is still stored on the device even if it has been initialized through the normal process.
Bleeping Computer notes that those who are aware of the vulnerability could pull the information off the printers which would give them access to the a home Wi-Fi network. The exact information that is stored on the device varies per printer, but it will usually include network SSID, the password, network type, assigned IP address, MAC address, and network profile.
Basically, the printers typically retain all the information a malicious third party would need in order to gain access to a private network. From there, they could access shared resources, steal data, or launch any number of attacks on a user's privacy.
If a user intends to let a Canon printer out of their house for any reason, Canon recommends the following steps to truly reset and clear the data stored on the device:
Reset all settings (Reset settings ‐> Reset all)
Enable the wireless LAN
Reset all settings one more time
If a printer doesn't have the "Reset all" function, users can mitigate the issue through the following alternative steps:
Reset LAN settings
Enable the wireless LAN
Reset LAN settings one more time
If a particular printer doesn't allow for either of these approaches, Canon recommends owners refer to the instruction manual that came with the device for specific Reset all or Reset LAN settings.
---
Image credits: Header photo licensed via Depositphotos.