Canon Has Designed a Tilting Viewfinder for an EOS R Series Camera
Canon has patented a compact, tilting electronic viewfinder that telescopes out from the body and then up and horizontal to the top plate of the camera, allowing a user to look down through it from above.
As reported by Asobinet, the patent was published today and describes an electronic viewfinder unit that can be slid out from the back side of the camera body and then tilted up or rotated upward from that pulled out state, "thereby increasing the degree of freedom in shooting posture."
The entire telescoping unit would compress into the area between the sensor and the hot shoe, which requires some degree of miniaturization of parts and intricate pieces, all of which are outlined in the patent.
This type of tilting electronic viewfinder would be new to the SLR-style body that current consumer mirrorless cameras use, but it actually is something that can be found on the cinema camcorder side of the market. For example, the Canon C100 Mark II has a similar tilting mechanism that allows a camera operator to use the eyecup from several different angles, especially useful for video production. It doesn't, however, include the telescoping operation described in the new patent.
While there are surely exceptions and photographers would use it if it was provided as an option, this type of tilting electronic viewfinder isn't something that photographers typically need. That said, Canon could be looking at a way to further bridge the gap between the use cases of its Cinema EOS line and its EOS R mirrorless cameras specifically in the "C" series, such as the EOS R5C.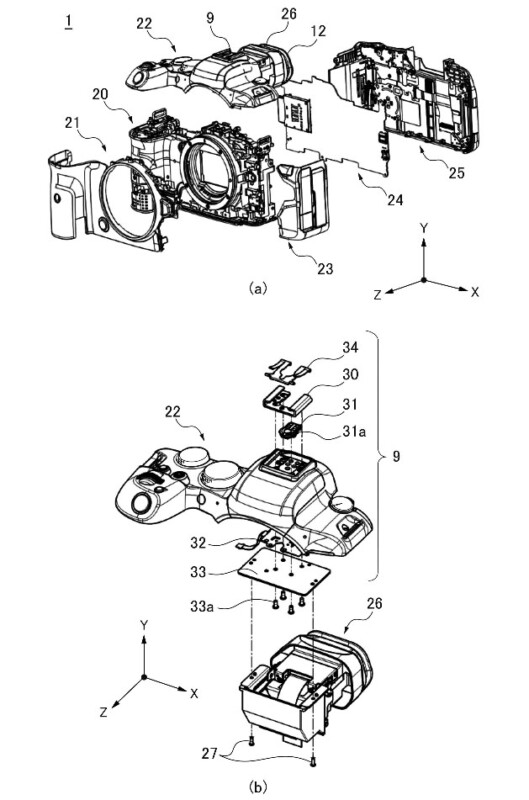 On that note, the timing seems apt if rumors of an R5C Mark II are to be believed. This week, Canon Rumors was told from a reasonably reliable source that the company is considering a Mark II version of the R5C since the original exceeded the company's sales expectations. The report indicates the product wouldn't be arriving until at least 2025, however.
As far as patents are concerned, that amount of lead time between filing and actually seeing it in use in a product would be reasonable, and a telescoping electronic viewfinder that mimics the experience of Canon's full-size camcorders would be right at home at a next-generation R5C.