Shoten's R50 Adapters Convert 50mm DSLR Primes into Rangefinder Lenses
Shoten has announced a pair of M-mount rangefinder adapters. The R50 series adapters, the M42-LM R50 and the PK-LM R50, are helicoid mount adapters that convert 50mm prime lenses for M42 and K mount into rangefinder-coupled lenses for M-mount cameras.
First seen on Digicame-Info, the adapters are available now for a suggested retail price of ¥22,500, which converts to around $160.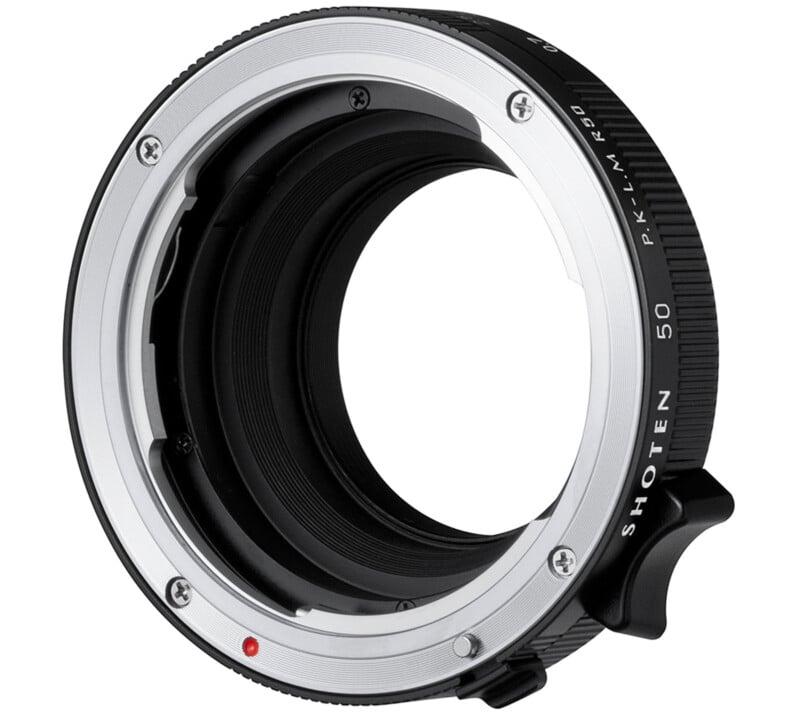 Shoten says that users can fine-tune the distance meter using this adjustment guide. The adapter ships with a precision screwdriver that is required to adjust the distance meter. The adapter is only compatible with lenses with a 50mm focal length, and when focusing in live view, the minimum focus distance can be shortened using the helicoid.
A Japanese article by Toro Sawamura offers a hands-on report concerning the new Shoten adapters. Sawamura explains the adjustment process and describes the user experience with a wide range of affordable DSLR lenses adapted for use on an M-mount rangefinder camera. Even fast lenses, such as 50mm f/1.4 primes, are easy to focus and deliver sharp photos.
Sawamura even tested a prototype NF-LM R50 coupler to use F-mount lenses on M-mount cameras. This adapter should be available sometime soon, although precise availability information is not provided. Sawamura also mentions that Shoten is working on adapters for Yashica/Contax and Exakta lenses.
PetaPixel has previously covered other Shoten products, including the GTE, a Contax G to Sony E mount adapter with an autofocus motor.
While the new Shoten R50-series adapters do not include an autofocus motor, they seem poised to expand the lens options for Leica M-mount photographers significantly. While the 50mm focal length restriction is somewhat limiting, many 50mm lenses are available, especially on the used market.
The ability to adjust the distance meter of the adapter, which allows for infinity focus, is especially impressive and helps set these coupler adapters apart from others on the market, some of which only work at close-up focusing distances. Ensuring an accurate distance meter is challenging, although Sawamura's hands-on experience suggests that Shoten hit its target.
Complete details and specifications of the Shoten M42-LM R50 and PK-LM R50 are available on Shoten's website.
---
Image credits: Shoten