Baseball Game is Stopped After Cameraman is Struck in the Face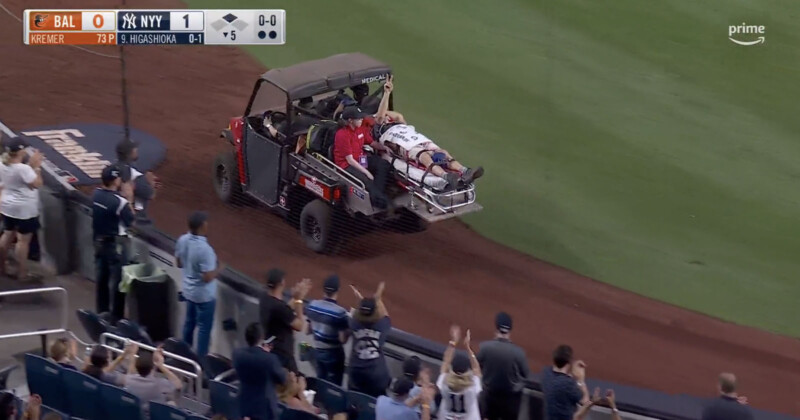 A baseball game was stopped yesterday after a ball forcefully struck a cameraman in the face and he was taken to hospital.
There were worrying scenes after YES Network camera operator Pete Stendel was carted off the field during a game between the New York Yankees and the Baltimore Orioles.
Scary scene at Yankees Stadium as the cameraman gets hit in the head.
Carted off the field – hope he's ok 🙏🏼
pic.twitter.com/N3wVf8YVz1

— Pitcherclips (@pitcherclips) July 6, 2023
A thrown ball from the O's shortstop Gunnar Henderson was intended for Ryan O'Hearn on first base, but the ball sailed over O'Hearn and hit Stendel directly in the face.
The match was stopped for 15 minutes as Stendel received medical attention. A heartwarming clip shows Stendel with his arm in the air throwing hang loose and peace signs as he was carried out of the Yankees stadium with fans chanting "MVP."
Feel better, Pete Stendel! 🙏

🎥: @PrimeVideo pic.twitter.com/PNP9ONj1zD

— YES Network (@YESNetwork) July 6, 2023
According to the Daily Mail, Stendel is best known as the outfield cameraman who runs alongside a player rounding bases after they have hit a home run.
"Very scary," says Yankees manager Aaron Boone after the game. "Definitely praying for him. It was good to see him coherent and raising his hand going off.
"I saw it pretty well right away and it was very scary. I didn't see how he fell back but I knew what was possible falling back, on top of the impact of the velocity of the ball hitting him."
"Definitely praying for him… a difficult scene there and just hoping he's okay."

Aaron Boone offers his best wishes to Pete Stendel after he was hit in the head by an errant throw in tonight's Yankee game: pic.twitter.com/oE6Og0s1Pp

— SNY (@SNYtv) July 6, 2023
Sending all the best to our guy Pete Stendel 🙏 pic.twitter.com/La89sI6s1y

— SNY Mets (@SNY_Mets) July 6, 2023
Last night, the YES Network tweeted out that Stendel "is conscious and undergoing tests in the hospital."
Operating Cameras at Baseball Games is a Hazardous Occupation
The incident with Stendel comes after photographer Jim Rassol had his $12,000 Sony 400mm f/2.8 lens destroyed while covering the Pittsburgh Pirates versus Miami Marlins.
And just yesterday, PetaPixel reported on another Sony 400mm getting slammed into during a baseball game in China — but this time the photographer escaped without injury or damage to his valuable lens.
While broken equipment is a better option than a blow to the head, at least Rassol will have his broken lens repaired by people's generosity and a big help from Sony.