Photographer's $12K Lens Destroyed After Baseball Hits it at 104 MPH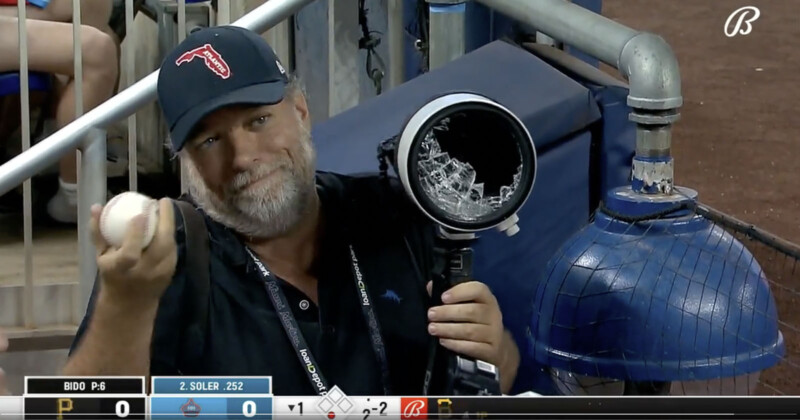 A photographer at a baseball game had his Sony 400mm f/2.8 lens valued at $12,000 destroyed after a foul ball smashed into the glass.
Jim Rassol was covering the Pittsburgh Pirates versus Miami Marlins MLB game in Florida when the errant ball struck his lens while traveling at 104 miles per hour.
That was a very expensive foul ball! pic.twitter.com/cj22RFY789

— Bally Sports Florida & Bally Sports Sun (@BallySportsFL) June 24, 2023
TV cameras in the Marlins Stadium captured the incident, replaying the moment the lens took a direct hit and the glass exploded. The feed then cut to a crestfallen Rassol still holding his broken lens while also holding the ball that did the damage.
'That's an Expensive Foul Ball There'
The clip was tweeted out by Bally Sports, fellow photographer Eric Seals posted a screengrab apparently from Rassol's Facebook where he explained that the lens is beyond repair but that he is okay.
"400 2.8 got taken out by a line drive, glass everywhere," he writes. "Fortunately, I'm ok. Found out later that the line drive that hit my lens had an exit velocity of 104 miles per hour."
Yikes! 104 mph to the lens. pic.twitter.com/SCXA2mJDC7

— 📸🎥Eric Seals (@ericseals) June 25, 2023
Another photographer who was present at the same game but positioned at a different vantage point says the smashing glass could be heard across the stadium.
"I was in the first base photo well and I heard when the ball smashed his 400mm lens. That was how loud it was," says JC Ruiz Photography.
I was in the first base photo well and I heard when the ball smashed his 400mm lens. That was how loud it was. https://t.co/KzjjHxGOzJ

— JC Ruiz Photography (@JCRuizPhoto) June 25, 2023
Many wondered what the last photo he took looked like before the lens was irrevocably damaged.
"I wonder if he got the shot as the ball was going into it," asks one of the commentators.
Later on, Rassol is seen gesticulating at the broadcast camera throwing the guilty baseball up and down while shrugging his shoulders.
"Man, that stinks you can see the disappointment there," adds the commentator while Rassol points at his head as if to say better the lens than my skull.
Baseballs will sometimes hit the broadcast cameras during games, but those often are equipped with filters that protect that actual lens elements. So while expensive, those collisions don't usually end with a completely destroyed lens. It is far more uncommon for a baseball to hit a photographer's lens, especially considering that most are in photo pits that have some level of protection to prevent such a situation. In this case, Rassol was just incredibly unlucky.
---
Update on 6/27/23: It turns out Rassol's equipment wasn't insured, so the lens is a total personal loss. A group of his fellow photojournalists have launched a crowdfunding campaign to help him replace the lens, and it has received an impressive amount of support thus far.
"A freak accident! Jim Rassol has worked every day grinding out mostly sports assignments for wire services after leaving the South Florida Sun Sentinel," South Florida Sun Sentinel senior photographer Joseph Cavaretta writes on GoFundMe. "As a freelancer he has to supply his own equipment including computer and software. That barely leaves any profit, definitely not enough for insurance.
"A big part of that investment is long glass to cover sports. A line drive at the Marlins game right into the front of his Sony 400 2.8 is a huge set back. Myself as several of his other photojournalist colleagues are trying to help him replace this essential item."
---
Update on 6/29/23: Rassol is being made whole after an outpouring of public support through a crowdfunding campaign and a generous offer by Sony.