AI Image Generator Midjourney Adds Panoramic Tool and 'Weird' Feature
Midjourney keeps churning out new tools including a new panoramic feature allowing users to create wider scenes from generated images.
The artificial intelligence (AI) powered image generator announced the new "Pan" feature which shows up as directional arrow buttons, the user must click in which direction they want their panoramic to be created.
We're releasing the "Pan" feature today. Click the new arrow buttons under your upscales to extend the image in that direction. Type /settings and click "Remix mode" to change your prompts every time you pan. Keep panning over and over and craft epic panoramic stories. Have fun!

— Midjourney (@midjourney) July 3, 2023
It is similar to the 'Zoom Out' tool Midjourney unveiled last month which allows users to widen the field of view of an AI image.
Twitter users quickly began sharing their creations with the new panoramic tool.
Midjourney just released the feature "Panning".

It allows you to expand an image in certain direction. And it is AMAZING.

Here are 10 great examples: pic.twitter.com/VXtutIsdIR

— Alvaro Cintas (@dr_cintas) July 4, 2023
Midjourney panning just dropped today.

Here are the 10 best tweets on panning you don't want to miss: pic.twitter.com/wH1QNfLhbS

— Chase Lean (@chaseleantj) July 4, 2023
Testing the Panoramic Feature on Midjourney
PetaPixel fed a real photo into Midjourney of a crowd of people playing music on a beach at sunset and used that as the basis of a prompt.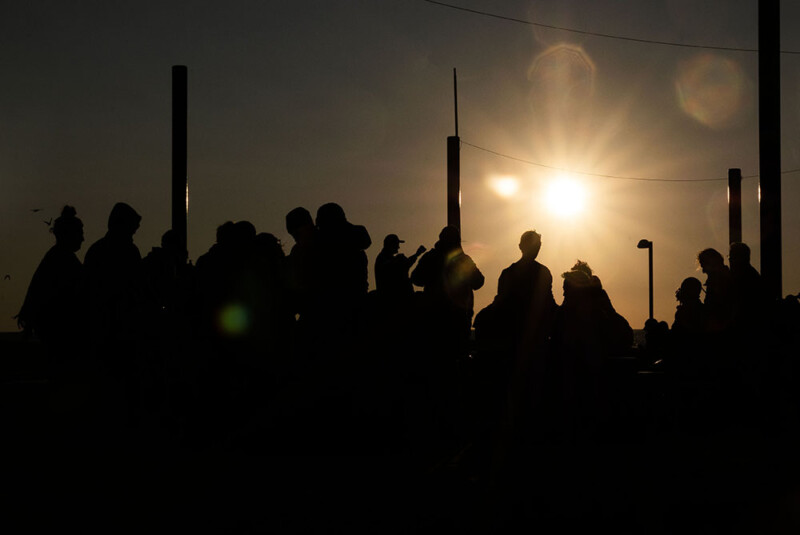 Weird Mode on Midjourney
Also recently added is "Weird" mode, a command that makes images look "more weird and edgy." Users can set the level of weirdness between 0 and 3,000, the higher the number the more strange the images will become.
Midjourney keeps churning out new features, comfortably establishing itself as the market leader in the AI image generation market — a controversial accolade.
Forbes reports that Midjourney will make the jump to version 6 before the end of July.