Photographer Sets Record for Deepest Underwater Photo Shoot
Photographer Steven Haining and model Ciara Antoski together set the record for the deepest photo shoot ever recorded when the two of them and a team of professionals completed a shoot 32 feet below the surface near Tobermory, Ontario, Canada.
The photo shoot took place last year and was originally born from a desire to make something visually interesting during the COVID-19 pandemic.
"I was already diving and messing around with underwater portraiture in pools and controlled environments when the lockdowns and business shutdowns happened," Haining tells PetaPixel.  "At the time, they were saying we couldn't work in studio because we would be in each others air space so jokingly I was bugging my team to get suited up in their dive gear so we could each have private air and be safe while we shoot."
That joke turned into real plans to put together a photo shoot in the cold waters of Tobermory, Ontario. Haining describes the area as the shipwreck capital of the world and it would be there that his passion project would eventually be recognized by the Guinness World Records as the deepest underwater photo shoot with a model.
"What would have normally just been a pipe dream for me kind of became a reality out of the sheer drive to simply do something cool during a time in history where I was unable to create artwork by no choice of my own," he says.
Hainig explains that he practiced with one of his favorite underwater models, Antoksi, who is also a diver for over a month in pools so she could get used to holding her breath in cold water. He and Antoski also visited and shot in a few other locations just to practice ahead of the planned deeper dive.
Haining says he also recruited the best dive safety professional he knew — a master diver who also worked as a professional underwater escape artist for Penn and Teller — to assure that the shoot would be conducted safely.
The shoot took place at the wreck of the W.L. Wetmore, a ship that was driven ashore and sank in November of 1901.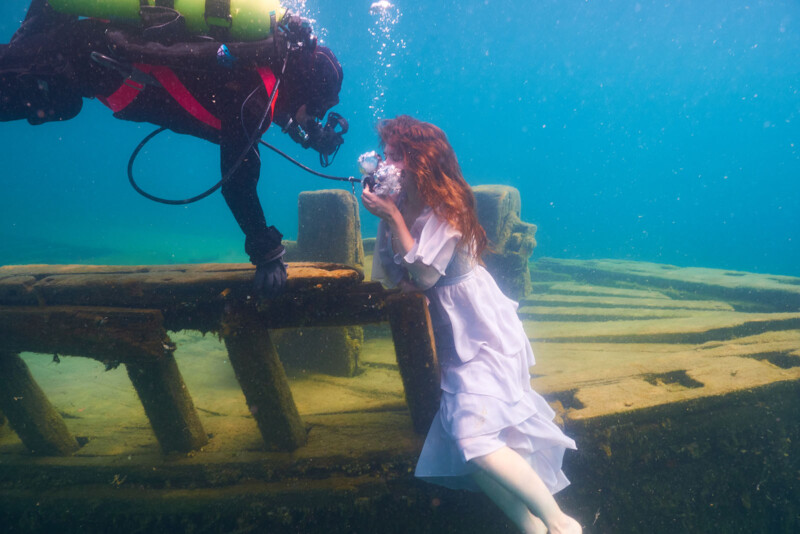 "The deepest dive we did with the model was 32 feet for an incredible 30 minutes at depth, with [Antoski] borrowing air and navigating the W.L. Wetmore wreck," Haining says.
When planning the shoot, Haining says it wasn't his intention to do it for the record, but after it successfully concluded, he and his team decided to submit it for consideration.
"The extent of evidence they require, video proof of the entire process, documented depths, nautical charts approved by the government and proof of the location it was probably the most paperwork I've done in my life," Haining says of the process for submission.
"At the end of it, Guinness approved the record for 16 minutes at 21 feet at a higher part of the Wetmore. It wasn't the deepest spot [we shot at] but I was excited and beyond happy to take it simply because I couldn't prove the dive computers and information for the deeper dive. Had I known I needed better documentation [was needed] I certainly would have been prepared but this was about the photos, not about the record."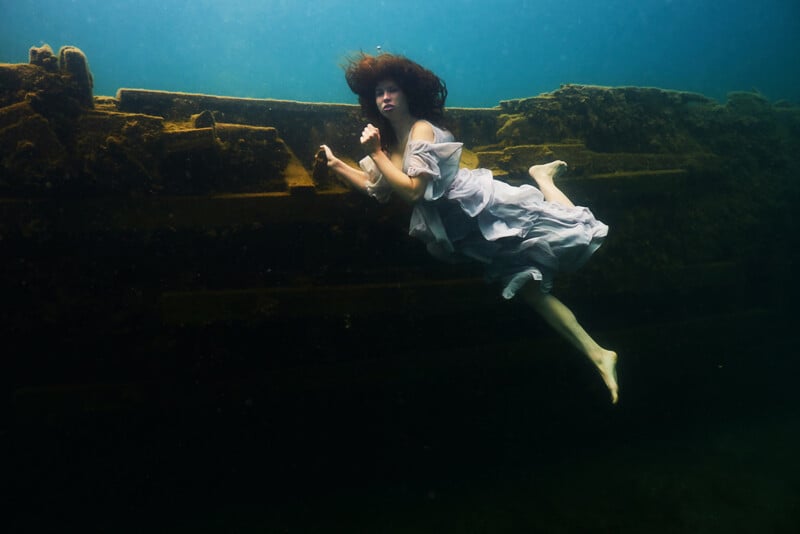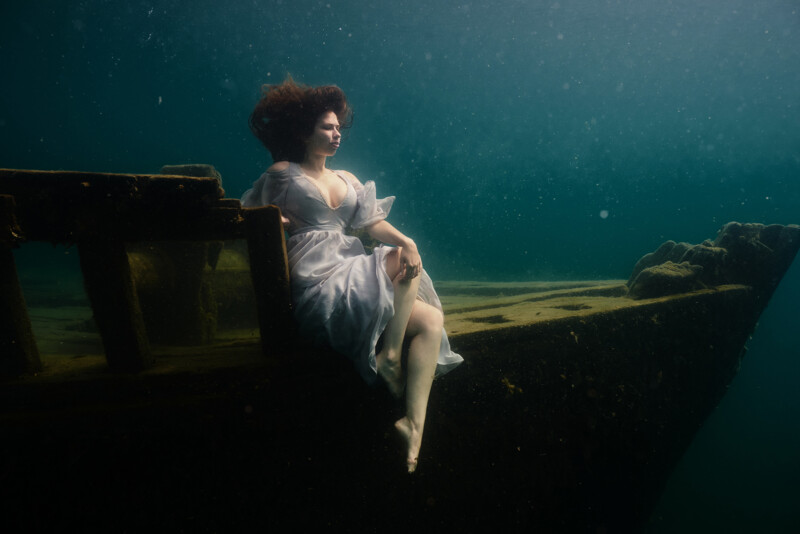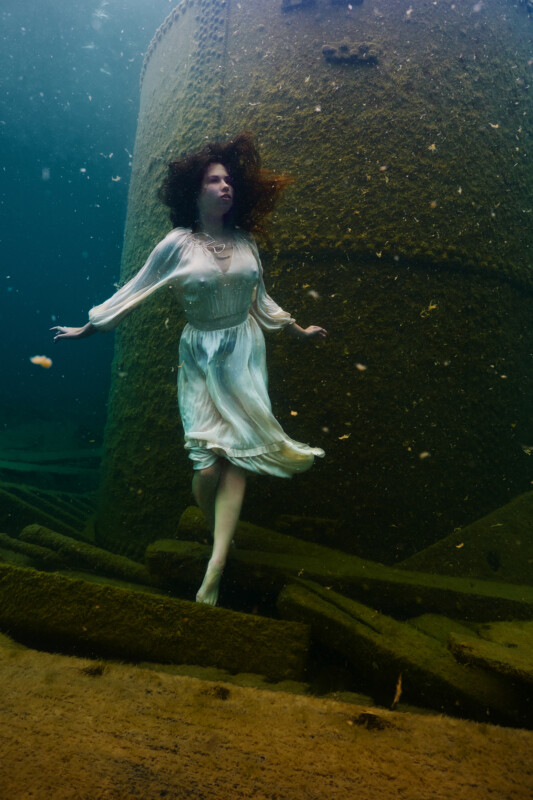 Haining says that he's not done with his deep dive shoots, especially since he knows he went deeper than he could prove for the current record. At present, The Guiness World Records has a published recognition of the feat on its website, but Haining already has plans to force an update to that page later this year.
"I have forever been thinking about proving the actual depth and it got me to a point where I am setting off this September with my team as well as some cool friends at Fujifilm who just love that I like to push their cameras to oblivion, and we are heading back to Tobermory one more time, but this time were going to beat our own record by a seemingly impossible amount," he promises.
"This time we're going to invite Guinness to be there in person to witness it."
---
Image credits: Steven Haining