Moment's 'Everything Bags' Promise to 'Replace All Your Other Bags'
Moment has launched a series of bags that "carry everything, go anywhere, and come in every size." Aptly named The Everything Bags, Moment believes its new bags will replace all a person's other bags.
"Why the Everything Bags?" asks Moment before explaining that the bags offer six primary benefits. "They fit everything, they look really good, they're extra comfy, they travel well, they're protective, and they're not overpriced."
The Everything Bags come in four varieties: three backpacks and a tote bag. The backpacks differ in terms of size, weight, and capacity.
Before discussing each backpack's unique features, it is worth outlining what all of them have in common. All three bags fit in overhead storage on an airplane, include a dedicated tablet sleeve, fit a 1-liter Nalgene or similar brand water bottle, have a pass-through luggage handle, and accept the Moment's new Camera Insert 4L.
However, the smallest of the backpacks, the Moment 17L Daypack, fits a 14-inch laptop, while the two larger backpacks can hold a 16-inch notebook. Another difference is that the largest of the trio, the Moment 28L Weekender, can also hold Moment's Camera Insert 8L, something not even the 21L Overnight backpack can do.
The Weekender also has a full clamshell opening design, a feature unique to the big backpack. The two smaller packs can fit under an airplane seat, though, something the large Weekender cannot achieve.
The three backpacks range in weight from 1.5 pounds (0.68 kilograms) to 2.4 pounds (1kg), so they are lightweight when empty. These weights do not include the optional Camera Insert, by the way.
Given that Moment is a photography company, it has given significant attention to how photographers can use The Everything Bags. In "Camera Mode," the Camera Insert allows photographers to organize their gear and carry numerous cameras and lenses. The 28L Backpack can fit 8L and 4L Camera Inserts simultaneously, enabling users to carry a camera, lens, gimbal, drone and controller, mic, lights, and a recorder. It should be easy for still photographers to fit a camera — or two — and multiple lenses.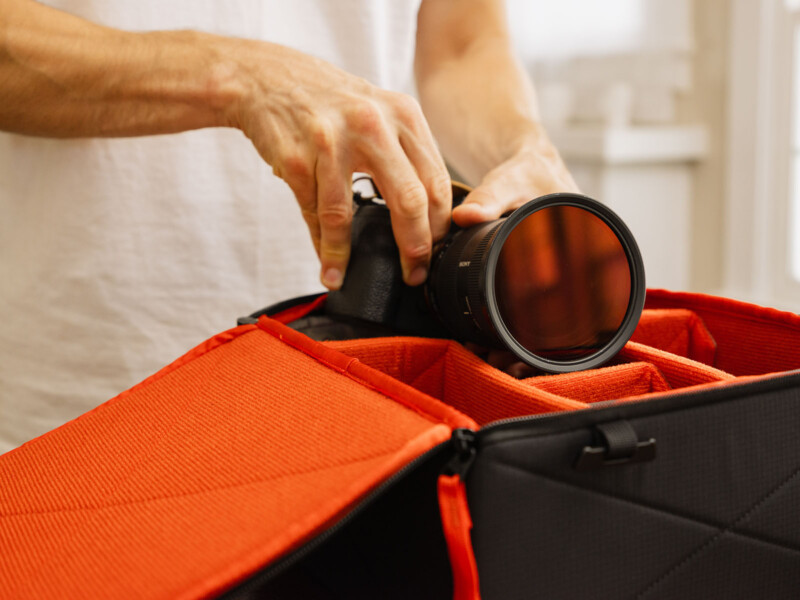 The Camera Inserts have configurable removable padded dividers and include two layers of waterproof coating. The inserts have aluminum anchors to safely attach them to the Everything Bags.
Moment says that the 4L size is best for photographers using mirrorless cameras. The 4L version can hold a camera with a 70-200mm lens or a camera plus two or three smaller lenses. The larger Camera Insert 8L can hold larger DSLR cameras with an attached 70-200mm zoom plus four additional lenses. The larger camera insert is also suitable for medium format film cameras. Speaking of film, Moment sells a Re-usable Film Pouch for analog photographers.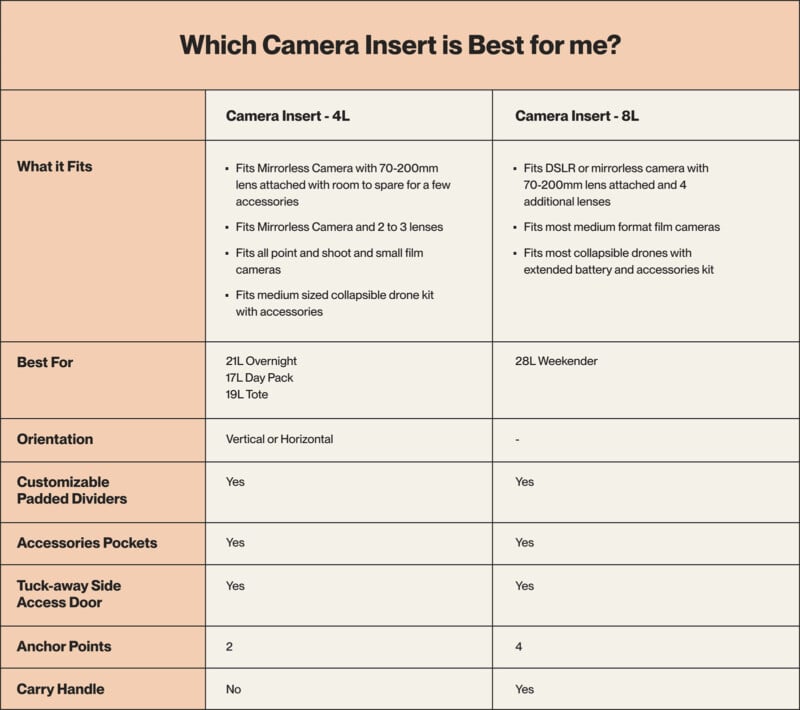 Shifting the focus to the outlier in the Everything Bag lineup, the 19L Tote. It is similar to an existing Moment tote bag, the Tech Tote. It is the same size, but Moment has revised the materials, fit, and shoulder strap.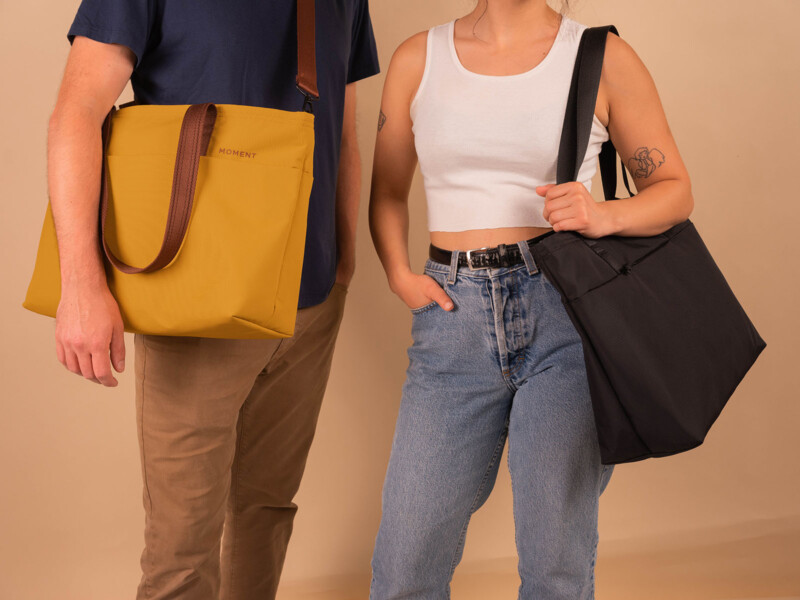 The Everything 19L Tote includes internal padded dividers, fits an optional organizer insert, and fits up to a 16-inch laptop in a dedicated padded pocket. It is also weatherproof, includes a top zipper entry, sports internal storage pockets for chargers and cables, and works with a cross-body shoulder strap for longer journeys.
Pricing and Availability
The Everything Backpack (17L) or Tote (19L) is available to backers for $99, a 17 percent savings compared to the planned retail price of $119.
The larger Everything Backpack 21L Overnight is $119, a 20 percent discount.
The big backpack, the Everything Backpack 28L Weekender, is available to early bird backers for $149, a 25 percent discount off the planned $199 retail price.
Alongside optional add-ons for the Camera Insert and other accessories, Moment offers the Everything Camera Bundle for $149. This is a 35 percent savings and includes an Everything Backpack 17L, 21L, or 19L Tote plus an Everything Camera Insert 4L and Mini Tech Organizer.
For photographers with a lot of gear, the Everything 28L Camera Bundle for $199 includes the big backpack, the Everything Camera Insert 8L, and Tech Organizer. Moment says that if the items were purchased separately at retail, they would cost $339.
Moment expects the new Everything Bags to begin shipping this September. Complete details about each new product and the backing options are available on Kickstarter.
---
Disclaimer: Make sure you do your own research into any crowdfunding project you're considering backing. While we aim to only share legitimate and trustworthy campaigns, there's always a real chance that you can lose your money when backing any crowdfunded project.
---
Image credits: Moment