Portrait-Friendly Museum in Texas Accused of 'Ripping People Off'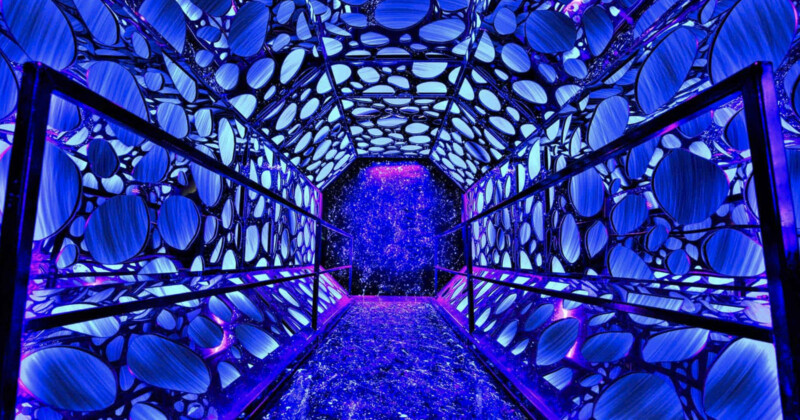 Seismique is a technology-focused art museum in Houston, Texas and is a trendy spot for local photographers to visit and take pictures, including as the backdrop for portraits. HoustonPhotowalks visited Seismique and found itself on the wrong end of a sales tax mix-up.
Photographer Joe Lippeatt organized the trip to Seismique and emailed PetaPixel about the situation.
"Seismique has become a very popular location for photographers, with beautiful artful walls for backdrops. It's also popular with some field trippers like day schools and afternoon programs. It's very unique, interactive, and much larger than most other photography and 'selfie-backdrop' locations," Lippeatt explains.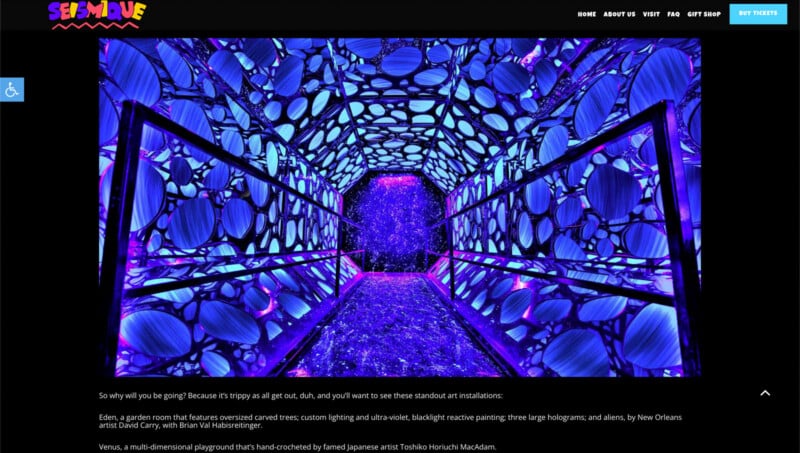 He organized the trip, the group's second to the museum, as Lippeatt says that the museum's exhibits provided him and his fellow photographers "plenty of exhibits where we could practice our portraits, intentional camera movement (ICM), composition techniques, and take some fun selfies."
It was Lippeatt's fourth visit to Seismique, having gone there twice to capture senior portraits. However, when doing his bookkeeping following the recent visit with the photo walk, he realized that they had been charged $48.45 in taxes on $340 in ticket fees, which amounts to 14.25 percent tax rather than Houston's 8.25 percent sales tax.
Lippeatt did his due diligence and emailed Seismique to clear up what he assumed must have been a mistake. The group was given a "nice group discount," so Lippeatt thought that perhaps the sales tax had been calculated using the regular ticket price of $35, rather than the group discount that brought each of the 17 photographers' ticket fees down to $20 each.
Seismique explained that its system is "a bit weird" when showing the breakdown of what customers pay and that the business combines taxes and fees into a single amount.
Seismique also made a point to note how much the group discount saved Lippeatt and the other photographers — which is undoubtedly true. Instead of paying $679.83 with taxes, which include fees lumped in, Lippeatt's group paid $388.45.
While the discount is substantial and more than makes up for the increased tax rate, that is not the point, Lippeatt's stance makes clear.
Further, Lippeatt collected the fees from photographers based on the standard 8.25 percent tax rate. Although Lippeatt covered the difference himself rather than hounding each photographer for additional money, it is still a notable situation, given that Seismique is such a popular destination for photographers in the highly-populated Houston metropolitan area.
At this point, Lippeatt still thought there must be a simple misunderstanding, so he emailed back and forth with Seismique more. Ultimately, Seismique doubled down on the idea that they include "booking fees" in the taxes section of their invoices — fees that are not disclosed on the website. When Lippeatt went on Seismique's website to book another ticket, this time at full price for himself, sure enough, it's "taxes and fees" in a single line item coming to a 14.25 percent tax rate.
"And there it is again, the 'tax' rate of 14.25 percent. Nowhere on their website do they disclose that a $35 entry into the museum is actually $37.89 plus tax. So the question becomes, is adding an extra 6 percent to 'taxes' even legal?" Lippeatt asks.
"Don't get me wrong, $2.89 might not sound like much. But I was paying for nearly 20 people. And for the museum, this 6 percent extra 'tax' per person really adds up. If they have 200 visitors daily, six days a week, Houston Photographers, school groups, the general public, and Selfie Enthusiasts are paying $187,488 in undisclosed 'booking fees' annually," he continues.
For photographers in the Houston area, Seismique offers plenty of photogenic backdrops and may very well be worth a visit, regardless of Lippeatt's unfortunate experience. However, Lippeatt wants people to be aware of additional fees to make a more informed decision about visiting.
"It is extremely important to mention, HoustonPhotowalks has visited 250+ locations in our 15 years of Photowalking, and every single location has invited us back. We are strongly committed to being respectful and friendly to the owners and employees of the locations we visit. HoustonPhotowalks has three primary goals. One of them is to show that Houston-area photographers are great artists to work with. We never want to burn bridges, and if there ever is an issue, we hope to resolve it privately," Lippeatt says. Unfortunately, as Seismique insisted the misunderstanding lay squarely on his shoulders, he "felt it was important to share [the] experience."
PetaPixel reached out to Seismique for comment on Lippeatt's claims, but the company did not respond. This article will be updated if that changes.
As for Texas state law concerning sales tax, the state sales tax is 6.25 percent, while local jurisdictions can impose up to two percent sales and use tax for a combined sales tax rate of 8.25 percent.
"Fees" are a notorious aspect of purchasing tickets for many businesses and events. However, even if these fees are legal to implement, tucking them away within a sales tax line item is problematic and deceptive.
Texas's Attorney General, Ken Paxton, who is currently suspended following his impeachment near the end of May, took action earlier this year against Hyatt Hotels for what he describes as "deceptive trade practices regarding the true price of hotel rooms."
"Hyatt implemented this practice by charging consumers mandatory and unavoidable fees — such as resort fees, destination fees, or amenity fees — in addition to daily room rates. Even when these fees were eventually disclosed, they were done so in a manner that was unlikely to alert consumers that the initial rate that attracted them was not, in fact, the actual price of the room," the press release explains.
It is easy to see the similarities between Hyatt's "deceptive" practices and a company such as Seismique shoving a "booking fee" into "taxes" on a receipt. At worst, it is illegal. At best, it represents a lack of transparency.
So-called "junk fees" have also come under federal scrutiny lately. It even came up in President Biden's State of the Union address in February, when the President promised to outlaw "junk" fees.
---
Image credits: Houston Photowalks and Joe Lippeatt