Lowepro's New PhotoSport X is a Backpack Designed for Adventure
Lowepro has announced the PhotoSport X, a backpack designed to support photographers who want to tackle the most demanding mountaineering and climbing adventures.
The company says that the PhotoSport X, which joins the line of PhotoSport bags from Lowepro, was specifically crafted for professional photographers and videographers who "fearlessly venture into the most remote and highest peaks" all year round.
Lowepro adds that the PhotoSport X is the most sport-oriented addition to the company's line of high-performance bags and supports photographers who engage in mountain climbing, ice and rock climbing, overnight hiking, ski touring, and other demanding adventure tasks.
The bag has two major features that make it suited to support adventure photographers: at-your-ready camera access and what Lowepro characterizes as an adaptable camera-carry system. Basically, the backpack features a large zippered opening on the inside of the frame that houses a camera cube that can be secured in place using hooks and straps or easily removed to clear out the main compartment and provide space for clothes or other essentials if photography isn't the point of a particular outing.
The design of the interior is meant to work in tandem with Lowepro's set of modular inserts that it calls its GearUp Pro line. This includes various cubes, cases, and zippered containers for a variety of objects and camera equipment.
The top of the bag features drawstring access that is held in place with a clipped cover, allowing photographers to expand or compress the top compartment of the PhotoSport X depending on the needs of a particular shoot.
The PhotoSport X isn't just designed with adventure in the great outdoors in mind, but it was also crafted with a nod towards sustainability. The bag is made up to 86% of recycled fabric content, which Lowepro says reinforces itscommitment to reduce environmental impact.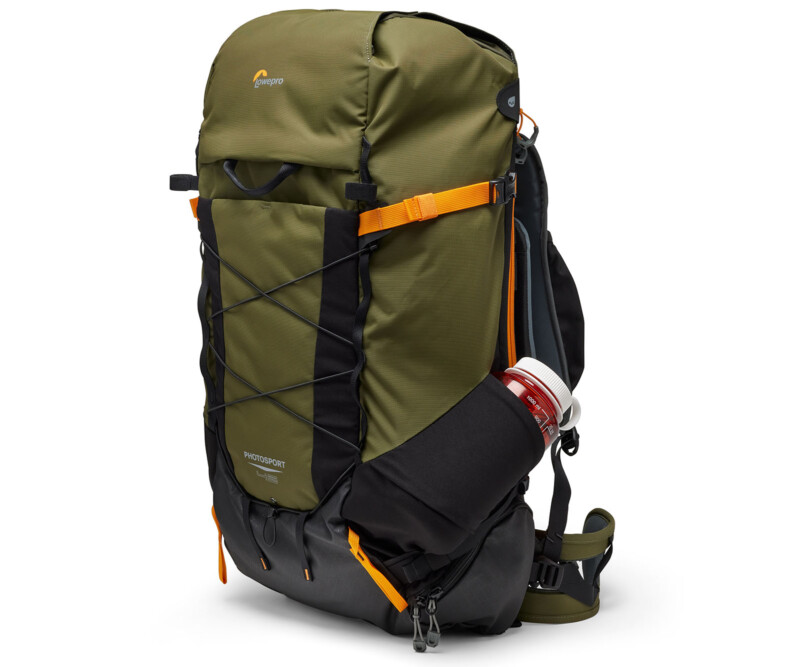 "The Green Line integrated into the label represents Lowepro's ongoing efforts to manufacture all the collections with lower carbon emissions and lower consumption of resources like water and virgin plastic. While maintaining unwavering commitment to quality, the brand is actively implementing practices in its fabric selection, manufacturing processes, and packaging choices to reduce environmental impact," the company says.
The PhotoSport X is available in 35L and 45L sizes and starts at $300.