iFootage Cobra 3 Monopod Review: A Videographer's Best Friend
The iFootage Cobra 3 monopod has enormous shoes to fill, as the Cobra 2 was one of my favourite video accessories ever made. Has iFootage managed to improve on near perfection?
First, Some Backstory:
One of the single biggest discoveries I have made in my video production career was the first time I used a video monopod. Before my monopod years, my options were really limited to supporting the camera on a tripod or going handheld.
A tripod offers great stability, but the setup time, weight and large footprint were always an issue when shooting on the street. Going handheld let me move fast and not take up a lot of space, but the jerky video was rarely to my liking.
A video monopod (a monopod with ground level feet on a ball joint) gives me stability similar to a tripod, but with very quick setup and a much smaller footprint.
That being said, I've gone through several monopods through the years. From Manfrotto, to Sirui, to Steadicam, all of them excelled in some areas yet found a way to annoy me in others. That all changed when I picked up the iFootage Cobra 2 monopod a few years ago and I could find nothing to complain about. The build quality was outstanding, panning ball had a smooth motion, and ability to break it down into small 'hi-hat' for low angle shots opened up new creative possibilities. When iFootage sent the Cobra 3 monopods for me to test, I was curious what could actually be improved.
Improvements over the Cobra 2 series
The biggest upgrade over the Cobra 2 series, shared across the company's entire Cobra 3 line, is the much longer feet. These are noticeably more stable than before, and I have been comfortable walking away from the Cobra 3 monopod with a full frame camera and f/2.8 zoom attached. Sure I did that with the Cobra 2 monopods and well, but always with a sense of dread and several near-disasters. This is the biggest upgrade of the Cobra 3 series, and single handedly justifies the update.
There are several small upgrades as well, including a mount for an included wrist strap (not a fan, it gets caught on things), a more narrow centre column (feels great), and it is now easier to break down and rebuild the Cobra 3.
This last point gave me mixed feelings. It is certainly faster and takes less effort to disassemble these new models into their low angle mode, but it's so easy that I've accidentally detached the head when I grabbed the quick release instead of the main column. One particular situation had me drop a prototype Nikon Z8 with the Nikkor 85mm f/1.2 attached. Fortunately there was no damage, but it could have been a $7,000 mistake. The Cobra 2 was sometimes a pain to take apart, but I never had a similar incident with the older model.
Differences Between Cobra 3 Models
The previous new feature are shared throughout the entire Cobra 3 series, but there are now four models with their own features. The most exciting to me, but also the most expensive, is the new C-180F-P "Pedal version." This model has a completely new base with a metal pedal that allows you to adjust the angle without getting down on the ground. Step down on the pedal once to release the ball, and you can rotate the main column 40 degrees freely.
There is also a friction dial to control how much resistance the ball offers. This offers a nice level of tension, but not enough to actually lock the ball at a specific angle. To lock the version, you need to step on the pedal one more time, and it will stay unlocked until the column is pointing straight up, at which point it is locked securely. This pedal base is fantastic when shooting on level ground with the ball only occasionally released, but I'd love to see a version where the pedal could be used to lock the ball when the monopod is on an angle.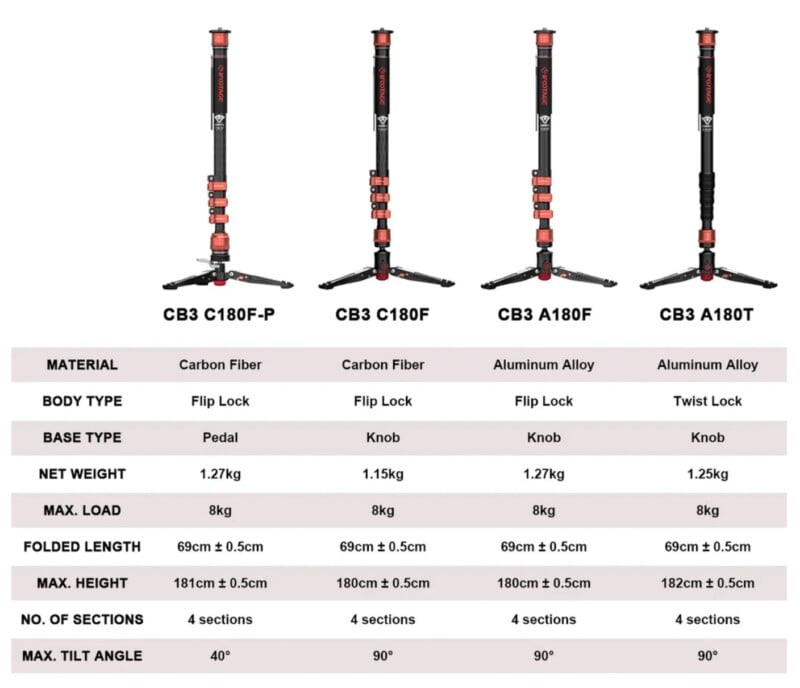 The other three models have a classic hydrostatic ball with a friction knob. While this does require the operator to get at ground level to unlock and adjust the ball, it also offers a wide 90 degree range of movement, and the ball can be fully locked at any axis. I found this to be the better solution for shooting in more uneven terrain.
Of these three models, you can get carbon or aluminum versions with the classic flip locks, or an aluminum version with twist locks. I'm not a fan of twist locks, as you cannot see whether the column is locked or not. If you prefer the twist lock style, I strongly recommend the C180F, as carbon fibre is better than aluminum at reducing fine vibrations, and is much more comfortable to hold in extreme temperatures.
Easily My Favorite Video Monopod
There are few products outside of cameras that really get a lot of attention when I'm out shooting, but the iFootage Cobra 3 is one that is a regular talking point. During shoots, other photo or video hobbyists will notice my camera, but almost all of them really engage when they notice the Cobra 3. I'm happy to talk about it, because this really is the best monopod I've ever used and I get excited about products that I actually love.
If you're in the market for a video monopod, I can't heap enough praise and recommendation on the iFootage Cobra 3.
Are There Alternatives?
There is no shortage of monopods on the market from the big names through brands you've probably never heard of, and some will have many similar features to the Cobra 3, which costs $329 when combined with the Komodo K5 fluid head.
For example, the Sirui P-324FS that costs $419, the Manfrotto XPRO that is priced at $380 (without a video head), or the Benro A48FD that costs a reasonable $210 but isn't made of carbon fiber are all viable options, but none of them combine all the factors that the Cobra 3 brings to the table.
Like I said, I've used monopods from a ton of different companies and I've yet to find one that manages to meet all my needs like iFootage's does at the same price.
Should You Buy It?
Absolutely. These are the best monopods I've tested, and they are priced below most of the competition. The real question is which model to get. If I could only have one, I'd grab the C180F with a knob lock, as I am often shooting on uneven terrain. However, one of the great things about the Cobra series is that the bases are interchangeable. For maximum flexibility grab the Pedal version and purchase a knob lock base separately. Then nothing can stop you!