Remote-Controlled Pill Camera Can Help Diagnose Digestive Issues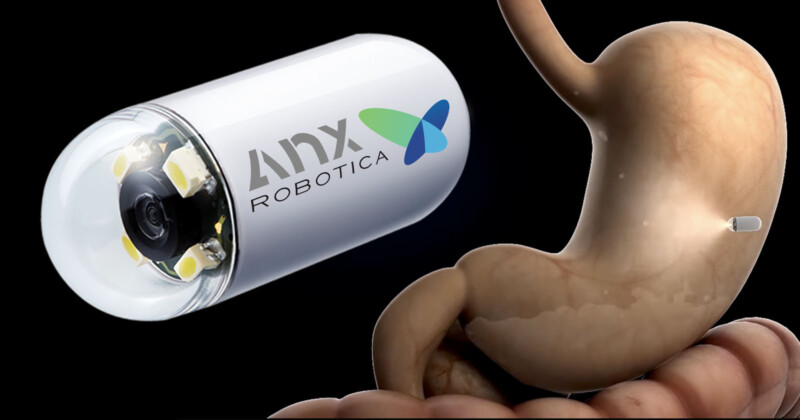 Scientists have developed a pill-shaped, swallowable camera that can be controlled by physicians once ingested to help doctors diagnose digestive issues.
Ingestible pill-shaped endoscopes are not a new idea. Last year, PetaPixel reported on the Pillcam which is just such a device, but it had limitations just like all other swallowable pill cameras: doctors can't control it once it is ingested.
Traditional pill cameras are driven only by gravity and the natural movement of a subject's body, which limits what doctors can actually see. That is poised to change as scientists from George Washington University have developed a first-of-its-kind system that allows physicians to remotely "drive" a pill capsule through all the regions of the stomach to see and photograph potential problem areas.
The new system, called NaviCam, is driven by an external magnet belt and is controlled by a video game-like set of joysticks that can move the capsule in three dimensions inside the stomach.
"A traditional endoscopy is an invasive procedure for patients, not to mention it is costly due to the need for anesthesia and time off work," Andrew Meltzer, a professor of Emergency Medicine at the GW School of Medicine & Health Sciences, says.
"If larger studies can prove this method is sufficiently sensitive to detect high-risk lesions, magnetically controlled capsules could be used as a quick and easy way to screen for health problems in the upper GI tract such as ulcers or stomach cancer."
The study, titled "Magnetically Controlled Capsule for Assessment of the Gastric Mucosa in Symptomatic Patients (MAGNET): A Prospective, Single-Arm, Single-Center, Comparative Study" was published in the open-access online journal of the American Society for Gastrointestinal Endoscopy iGIE, covers the results of the first-ever test of a magnetically controlled capsule endoscopy in the United States.
The scientists say that learning how to properly control the camera with joysticks takes additional time and training, software is currently being developed that will use artificial intelligence to self-drive the capsule "with the push of a button" and automatically record any possible issues.
The study tested the system on 40 patients and found that a doctor could successfully drive the capsule through all the major portions of the stomach with a 95 percent visualization rate.
Meltzer says that the success should be viewed cautiously since a much larger trial beyond the pilot tests needs to be conducted to make sure the method doesn't miss anything and could actually be a viable alternative to a current endoscopy. One limitation of this system is that it can't be used to perform biopsies of lesions that are detected.
The full study can be read on iGIE, which was funded by the creator of the capsule endoscopy system AnX Robotica.
---
Image credits: ANX Robotica, NaviCam