Google Pixel 7a Review: The Mid-Range Champ
The Google Pixel 7a is a rarity. It's a mid-range phone that performs above that spec in many areas, making it hard to pass especially when the price starts at $499.
This puts the future of the A series into question because the line between the Pixel 7a and Pixel 7 blurs so much that the two devices are almost indistinguishable from one another. It's $100 less to go with this phone, but even if you look beyond Google's lineup, there are several reasons why this may be the best choice for those on a budget.
Design and Build Quality
The Pixel 7a falls right in line with Google's current design language, including the strip housing the rear camera array. A brushed metal finish helps it stand out even more, though it has limited protection as it protrudes out. Instead of glass, the back panel is made of polycarbonate materials, which could make it less susceptible to cracking, but equally prone to fingerprints and smudges. I didn't have a case for my review unit, but I would recommend getting one.
It's nice to see a mid-range phone get a 90Hz refresh rate for the screen for smoother navigation. It's off by default and you can turn it on in the settings, where somewhat surprisingly, it doesn't sap battery life as much as you might expect. The 6.1-inch OLED is the same panel as the Pixel 6a, though it's 200 nits brighter this time. Google also managed to improve the fingerprint sensor and bring Face Unlock to the Pixel 7a, though the latter only works for unlocking the screen, not for any biometric passwords on other apps.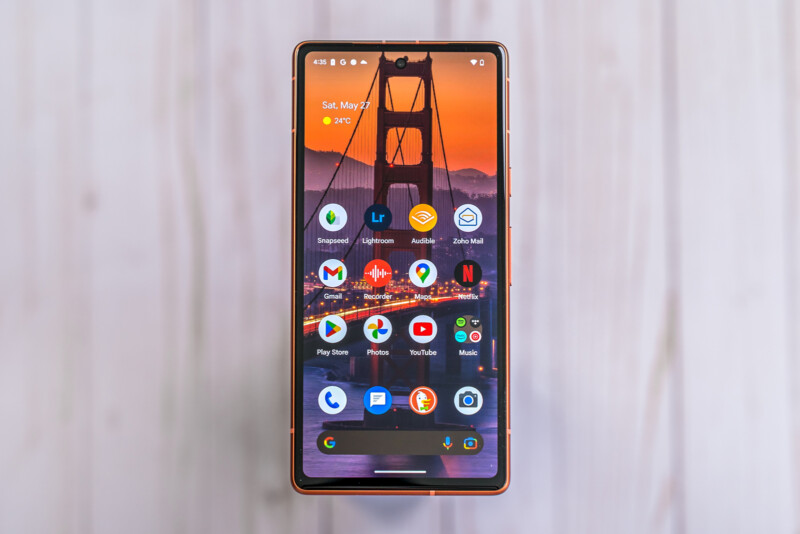 Underneath, the phone runs on the same Tensor G2 processor the other Pixel 7 phones do, opening up a number of functional features available to those two. That also goes for a boost in RAM to 8GB with the familiar 128GB of storage. The Pixel 7 has one advantage in that there is a 256GB variant.
Despite a smaller 4,385mAh battery, it runs more efficiently here because of the Tensor G2, lasting a few hours longer per charge, on average. Plus, Google finally brings wireless charging to the A series here with only 5W charging power, so it's slower than your average charger.
Camera Features
Knowing Google's habit for sticking to familiar hardware, I was surprised to see it go with a new camera module in both the rear and front cameras. If this is a sign of things to come, we may start to see a greater emphasis on hardware to match the software in future Pixel devices.
This time, the Pixel 7a gets a new 64-megapixel main camera (26mm equivalent), a Sony IMX787 sensor that also marks the first time an A series phone gets a Quad Bayer Type 1/1.73 sensor with 0.8µm. It also has an f/1.9 aperture and optical image stabilization. The 13-megapixel ultra-wide (14mm equivalent) has a 120° field of view and f/2.2 aperture. It also uses a Sony sensor, the IMX712. The 13-megapixel front camera, which has an ultra-wide 20mm equivalent focal length, is also new to the Pixel line.
As always, there's no telephoto lens (only the Pixel 7 Pro has one), so you have to rely on Google's secret sauce in the form of Super Res Zoom to salvage cropped photos without pixilation ruining them. That goes up to 8x zoom, with a 2x shortcut always available in the camera app, which is significant because the previous Pixel A series phones were always left out of Google's hybrid zoom features.
Software Features
Google's style was always to sprinkle its software prowess from the flagships into the A series phones to develop a steady shooter at a more affordable price. That premise stays the same, only it feels like the gap is shrinking fast.
All of the standard onscreen controls apply, be it the sliders for highlights/shadows and color temperature, as well as automated help that steps in, like how Night Sight can activate within the main Camera mode in low-light conditions. Google also nicely brought in Long Exposure mode as an extra in the interface, though still no sign of Action Pan from the flagships. Nor do you get Cinematic on the video side.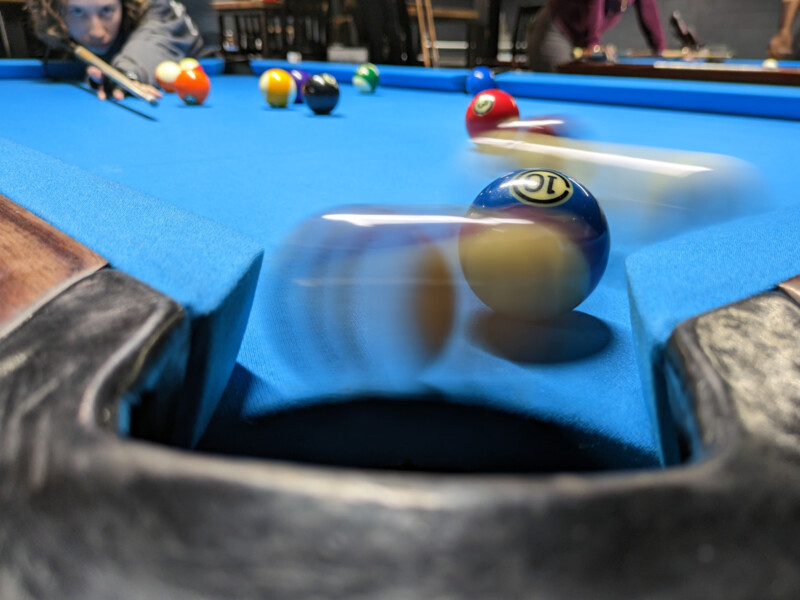 You can shoot in RAW, but not at full resolution in either RAW or JPEG, so the main camera always shoots with pixel binning at 16 megapixels. Unfortunately, no manual controls, either.
The other software features available in Google Photos also stand out, led by Magic Eraser to remove people and objects from images. Camouflage, which debuted in the Pixel 6a, also returns, along with the Unblur and Portrait Blur tools introduced in the Pixel 7 flagships. Google added an extra one called Sky, where you can apply colour tone changes to the sky in any photo.
Image Quality
Main camera
With different hardware underneath combined with Google's software computation, the Pixel 7a feels like it jumped forward further from its predecessor. Not only is Night Sight twice as fast as it was before, all image render faster regardless of the mode. While I would've liked more granularity throughout, I can't really complain about what I captured when using a phone that costs much less than a typical flagship these days.
Google also wisely recognized where it needed to exercise some caution. The automatic Night Sight within the Camera mode (which is elective) doesn't always activate in low-light conditions when it deems there's enough light to go without it. There will be times it steps in unnecessarily, but I can't say it ever truly ruined a photo. Still, sometimes less is more, and it's nice to have the option to disable that tool onscreen.
All of this feels like a welcome shift compared to the sometimes aggressive approach taken with the Pixel 6a. This phone does a better job locking on focus and not excessively sharpening the final composition. Even with RAW, results came out better after working on them in post. Dynamic range is excellent for a mid-range phone, with few that I can think of coming as consistently close as the Pixel 7a does.
Portrait mode is limited by the lack of a telephoto camera, but again, digital zoom is surprisingly effective. That's also true when zooming in at 2x on any subject, somewhat negating the lack of true optics to help you get closer. Long Exposure is a welcome addition because of how it invites experimentation, only I wish there was a way to manually control the length of the exposure.
Ultra-wide
This is a fixed focus lens, so you lose out on a macro mode to shoot up close. Despite that, the ultra-wide accords itself well in most situations. Much like the main camera, though, low-light shots get worse the further away the subject is. The field of view is wide enough to squeeze a lot into the frame, so perspective often won't be a problem. It just depends on what you're shooting and the angle you want to take.
The good news is dynamic range comes out looking rich with these photos, too. Google tends to lean towards more contrast by default with its camera, which you can always adjust using the sliders, but I liked that I didn't have to worry as much about dramatic differences in light within the same frame.
Video Features
Unlike still photography, nothing dramatically changed on the video side with the Pixel 7a. You can still record in 4K at 60fps, though you have to knock that down to 30fps when using the ultra-wide lens. If you really need the wider angle and a faster frame rate, then you have to shoot at 1080p/60fps. Dynamic range just doesn't have quite the same balance here, leaning a little too much toward contrasty tones that don't always look true-to-life.
That's not to say all footage is bad, just that you will need to adjust brightness sometimes. Unfortunately, there's no way to control both shadows and highlights like you could with stills, so the available tools give you less to work with. Speech enhancement now works with both the rear and front cameras, giving you some flexibility in how you capture audio.
A Superb Mid-Range Shooter
It should surprise no one who knows the Pixel lineup that the Pixel 7a is a competitive mid-ranger, given the history of the A series. What stands out is how much the line blurs between the 7a and the 7, raising questions for me as to what Google plans to do about it. Does it remove the "Pro" suffix from its flagship and just release one phone in one size, leaving the A series to take over as the smaller alternative? Or, does it try to ramp up what the flagships offer to put some distance between them and the more budget-friendly A series?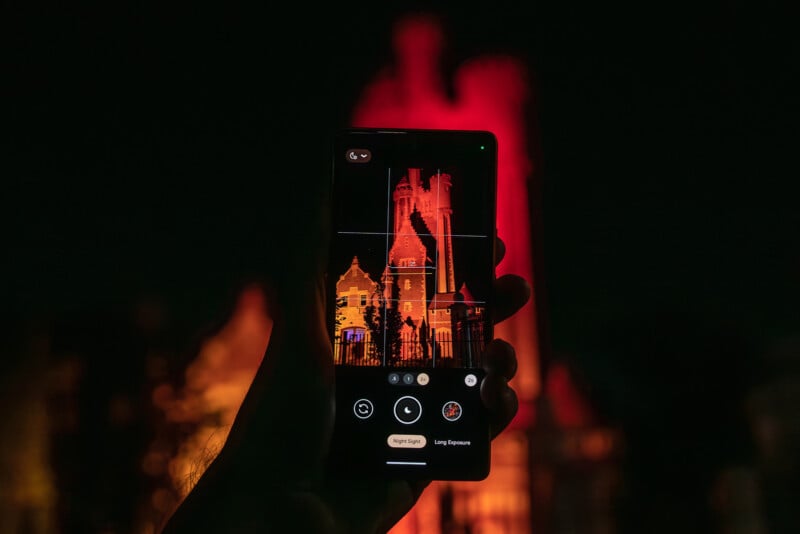 It's hard to tell until the Pixel 8 series comes out, but for now, the Pixel 7a stands out as one of the best phones $500 can buy. When your camera needs are modest or you want a competent shooter you can rely on without paying a small fortune, it's hard to see one that performs better from top to bottom for the price.
Are There Alternatives?
The most obvious alternative would have to be the Samsung Galaxy A54, which also follows a similar path whereby Samsung is trying to maximize what it can bring to its mid-range line. It offers an extra lens, plus more manual controls, but may not quite match the software for producing the same quality images.
The Vivo V27 Pro has even more than Samsung does, but is somewhat hindered by a murkier software update cycle relative to the commitments Google and Samsung promise. You also can't rule out the iPhone 14 if you want a bigger phone that retains much of the same camera ability of its Pro siblings.
Should You Buy It?
Yes, even if you are thinking of upgrading from the Pixel 6a. Google plugged several feature gaps here, making this phone feel accomplished and complete as a more affordable option.