Street Photographer Uses AI Face Swap to Hide His Subjects' Identites
Street photography ethics has always been a hot potato but one photographer may have found a novel solution by using artificial intelligence (AI) to hide people's identities.
Many believe that taking a stranger's photograph without permission is immoral so photographer Hubert Napierala has experimented with altering the appearance of his street photography subjects using AI image generator DALL-E to swap their faces.
"I was thinking about it the moment deepfakes became a thing a couple of years ago," Polish photographer Napierala tells PetaPixel.
"If it doesn't impact the overall impact of the photo, I have no problem with the face replacement."
Facebook Ban
However, some people do have a problem with it. Napierala was banned from a Facebook street photography group after sharing his AI-infused work.
"My picture supposedly violated some rules and was immediately taken down although the description clearly stated that the subject's face was altered," he explains.
"I can't blame them. The topic of AI in photography is really hot right now and is making a lot of people afraid. However, it is not going anywhere and we must not be afraid to discuss it openly."
Napierala says his street photography is for fun and he rarely publishes anything. He points out that most of his street shots don't need altering because a lot of the time nobody's face is showing in them.
However, one of Napierala's street photos, taken over a decade ago, shows a man pressed up against a wall as another man on the phone stares into the lens — it's a great moment in time that gets the viewer curious as to what is going on.
"The person actually chased me away for taking the picture, so getting permission has never been an option," he says.
"I took that picture in May 2010 and this is the first time I'm showing it online. Even though he was openly hostile to me, publishing his image without his consent has always been out of the question for me.
"There are a number of shots that I like that were unpublishable, so AI opened some new doors for my hobby for sure."
Street Photography Ethics
Napierala believes that photographers should be free to collect information on the streets, so long as they're doing it legally.
"But if a person approaches us and asks us not to take their pictures, we should take their point of view under consideration," he says. "We are all human after all."
Napierala tells a story where the roles were reversed and he found himself the subject of a street photograph while waiting for a train.
"The photographer was trying to be as candid as possible, but I was aware of her and the camera," he says.
"I held still, pretending not to notice her so she could get her shot. I didn't mind at all but for the briefest of moments when I was trying to understand the situation, I felt uncomfortable.
"Therefore, I can totally understand people who don't want their pictures taken and respect their wish in that matter."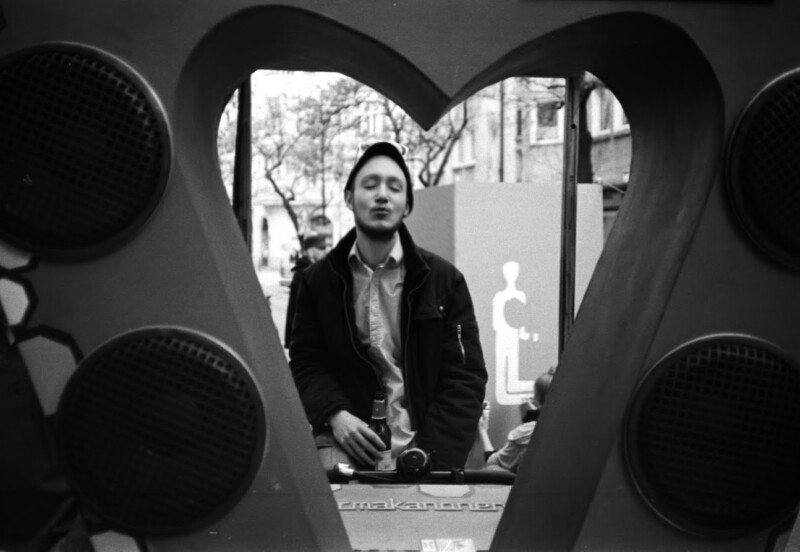 He believes that AI could be useful to street photographers when they're forced to bury a picture and AI facial replacement could be an "acceptable compromise."
"I would only make sure to mark the photo as edited. In the case of some of my pictures, the impact of the face replacement doesn't change the general outcome of the picture and in my opinion, is fine," he says
"And I can't stress this enough — the generated faces were as unique and unexpected as the ones I stumbled across on the street."
Napierała is a director of photography and camera operator based in Warsaw, Poland. Street photography is mostly a hobby for him.
---
Image credits: All photos by Hubert Napierala.