DJI's New Matrice 350 RTK: 4 Camera Options and 55-Minute Flight Times
Just after discontinuing the Matrice 200 series, DJI has replaced it with the new Matrice 350 RTK drone, a commercial aerial system with multiple camera options and up to 55-minute flight times.
The Matrice 350 RTK is described as a new standard for commercial drone operators that is an upgraded flagship that DJI claims is more adaptable, safer, and efficient for any aerial operation in public safety, energy, mapping, infrastructure, or forestry.
The drone is headlined by huge 55-minute maximum flight time and the ability to fly in adverse environments more safely. That flight time will vary depending on payload — it has a maximum 2.7 kilogram (about six pounds) payload capacity. DJI actually doesn't specify the camera system (which is what is being referred to in the "payload" descriptor) because it is interchangeable among a few different options depending on need.
The Matrice 350 RTK can accept the Zenmuse H20, H20N, P1, and L1 camera systems — all of which were already available (the system shown in the Matrice 350 RTK photos provided by DJI appears to be from the H20 series).
The H20 is a four-sensor system comprised of a zoom camera, wide camera, thermal
camera, and laser rangefinder supplemented by "advanced intelligent algorithms." The H20N builds on the H20 by integrating starlight sensors into its zoom and wide-angle cameras. The P1 uses a full-frame sensor with interchangeable fixed-focus lenses on a 3-axis stabilized gimbal and is designed for photogrammetry flight missions. Finally, the L1 uses a Livox Lidar module, a high-accuracy IMU, and a mapping camera which allows a pilot to capture 3D data through a day to capture the details of complex structures for the purposes of constructing accurate digital models. The drone is also capable of working with a number of third-party payloads like gas detectors, loudspeakers, or multispectral sensors.
So that 55-minute quote is actually not what any pilot should expect, given that DJI provides it with the addendum that it was measured with Matrice 350 RTK flying at approximately 8 m/s without payloads in a windless environment. Why drone companies cite battery life without a payload is a mystery, but DJI isn't the only company that does this — Sony does the same with its Airpeak.
Still, all that said, the battery life of the drone should be a significant upgrade over the previous option. The new TB65 battery also has a 100% increased cycle count that can be charged up to 400 times and the Matrice 350 RTK has a dual battery setup that supports hot swapping. The entire drone is also compatible with DJI's new BS65 Intelligent Battery Station which is described as a "one-stop solution for battery charging, storage, and transport."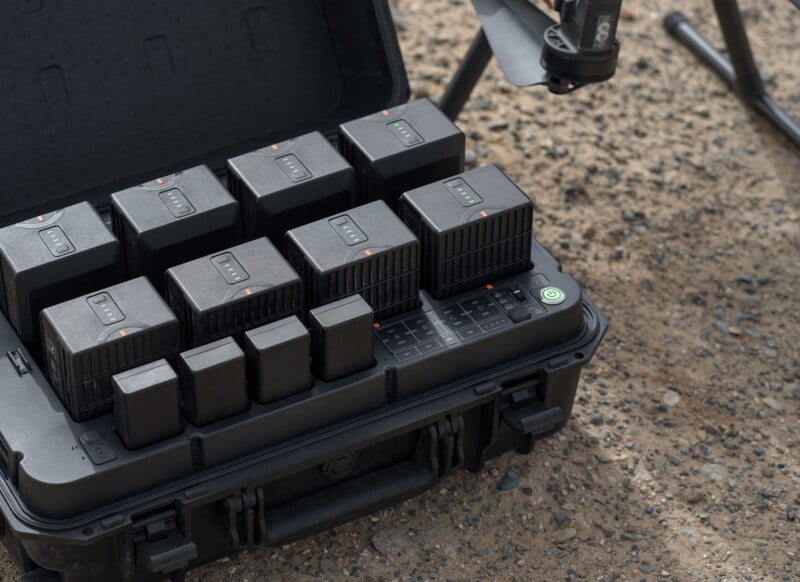 Regarding the drone's weather protection, DJI cites it as having "enhanced flight safety" that doesn't require a pilot wait for "good" flying conditions to take to the air. It has an improved IP55 rating and the first person view camera has been enhanced to provide better navigation for safer night flights.
It also has a six-directional binocular vision system and an infrared sensing system for six-directional awareness, positioning, and obstacle-sensing capabilities, which DJI says provides comprehensive protection during flight. For those who want more flight safety, it is compatible with an optional CSM radar that can be mounted to the roof of the drone an doffer a range of up to 30 meters for subtle obstacles within the 360-degree detection range.
The Matrice 350 RTK comes with the DJI RC Plus remote which features a seven-inch bright screen, the option for a Dual Operator Mode, and an operating tie of up to six hours. The remote is also dustproof and waterproof to IP54 and has an operating temperature of -20 to 50 degrees Celsius (-4 to 122 degrees Fahrenheit).
As it is considered an enterprise product, DJI did not provide the pricing for the Matrice 350 RTK ahead of publication, though the company did say it is available to purchase starting today.
---
Image credits: DJI