The DJI Matrice 30 8K Drone Can Fly in Heavy Rain and Negative Temps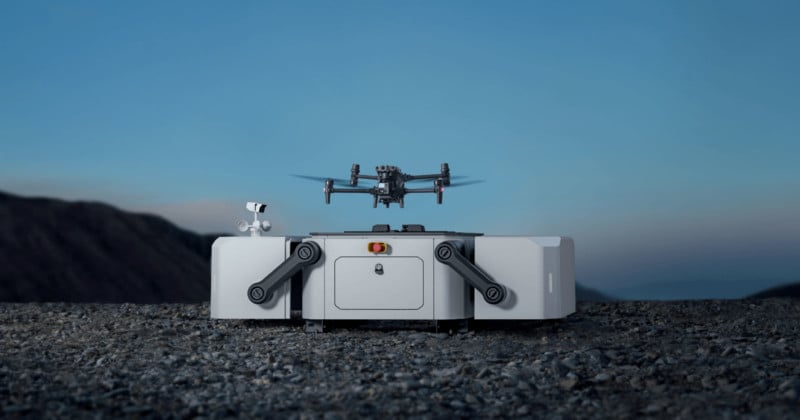 DJI has announced the Matrice 30 series, what it is calling a "new generation of commercial drones." The M30 and M30T feature 15 m/s wind resistance and the ability to fly in heavy rain and temperature as low as -4 degrees Fahrenheit.
The Matrice 30, or M30, is not a consumer drone, but DJI's new flagship enterprise drone that fits in a backpack. Like many of DJI's other drones, it integrates multiple high-performance sensors into one single camera array and offers much more power, endurance and capability for rugged professional uses than typical consumer drones, while DJI says that its size makes it ideal for easy transportation and fast setup.
Two Versions with Advanced Cameras
The M30 series comes in two versions, the M30 and the M30T. The M30 model integrates a 48 megapixel 1/2-inch CMOS sensor zoom camera with 5x to 16× optical and 200× digital zoom, a 12-megapixel wide-angle camera, 8K photo 4K at 30 frames per second (FPS) video resolution, and a laser rangefinder which can give the precise coordinates of objects up to 1,200 meters away. The M30T features an additional 640×512 pixel radiometric thermal camera.
DJI says that the M30 drone was designed to withstand intense and harsh environments. It can fly in heavy rain, high wind, high altitudes, and icy or snowy conditions in extreme temperatures from -20 to 50-degrees Celcius (-4 to 122-degrees Fahrenheit).
It also has a flight camera that can be used in low light conditions and has built-in redundancies and backup systems that consumer-level drones do not, and of course ships with DJI's obstacle avoidance system (six sensors). Additionally, it can land successfully with only three propellers. It uses DJI's four-antenna OcuSYnc 3 transmission system and has LTE link support backup that allows it to retain connection in complex terrains and working conditions.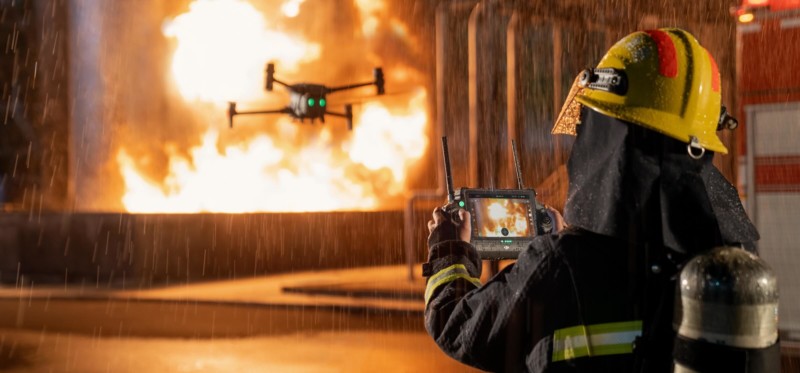 DJI says that, unlike other commercial drones, the DJI M30 adopts a foldable integrated lightweight design (3.7-kilogram take-off weight) that is easy to unfold, store, and carry.
Battery and Docking System
It doesn't use just a thermal insulated battery, but a new self-heating TB30 battery design can support at least 400 charge cycles and allows a 41-minute flight time. It has a smart charging case (BS30) that allows quick battery charging from 20% to 90% in 30 minutes and also has a new self-locking system and can be folded by just pressing a button. DJI claims that this makes it the fastest, easiest high-performance DJI Enterprise drone to set up.
Beyond the charging case, DJI has an even more advanced charging and deployment system: the DJI Dock.
The DJI Dock is the company's new autonomous docking solution that allows for fully automatic, programmed flights with the M30 series drones. DJI says that it "widens the horizon" for automated missions that can be monitored and supervised remotely. After setup, the fully charged M30 drone can take off from the DJI Dock through FlightHub 2 programmed automatic missions anywhere within a seven-kilometer radius.
Once it is complete, the drone will return to the Dock and charge automatically, where its fast-charging and battery cooling system will allow it to take off again in 25 minutes.
The Dock is rated at IP55 and the core internal components at IP67, which makes it water and dustproof even when it is open and the drone is deployed. The interior of the Dock is climate controlled and helps bring the drone's battery back to ideal temperatures when the M30 is attached and charging even when external temperatures range anywhere from -35 to 50 degrees Celsius (-22 to 122-degrees Fahrenheit), even if the drone itself is only able to operate within a range of those temperatures.
Pricing and Availability
The DJI M30 drone comes with a DJI RC Plus controller, two TB30 Intelligent Flight Batteries, one BS30 Intelligent Battery Station, and an aircraft storage case. The DJI Dock is available separately and is currently being tested and will be available in Q4 of 2022.
The DJI M30 starts at $10,000 while the M30T starts at $14,000.