RED Unveils Komodo-X 6K Cine Camera with New Sensor and Faster Framerates
RED has unveiled its new Komodo-X digital cinema camera, which uses a brand-new sensor to bridge the gap between the existing Komodo series cameras and RED's higher-end Raptor cinema cameras.
The Komodo-X will first launch as a limited-edition "ST" model, with a production version of the camera to follow soon after, per RED.
New Image Sensor Promises 16.5 Stops of Dynamic Range
At the heart of the Komodo-X is a new 6K Super35 image sensor — the same size as the original Komodo 6K S35 global shutter sensor — that promises improved shadow quality, better color depth, and double the supported frame rates ranging up to 6K80p and 4K120p recording options.

The new 19.9-megapixel Super35 CMOS sensor is 27.03 x 14.26 millimeters. RED states that the sensor's dynamic range is an impressive 16.5 stops.
Komodo-X Offers Expanded Recording Modes
Internal ProRes 4444XQ 4:4:4 recording is available at 4096 x 2160 resolution at up to 60 frames per second. ProRes 4444 4:4:4 video at the same resolution is available at 80 fps. ProRes 422/422 HQ/422LT video can be shot at up to 120 fps.
Higher resolution video in REDCODE RAWREDCODE HQ, REDCODE LQ, and REDCODE MQ modes are available at 6144 x 3240 (80 fps), 5120 x 2700 (96 fps), 4096 x 2160 (120 fps), and 2040 x 1080 (240 fps).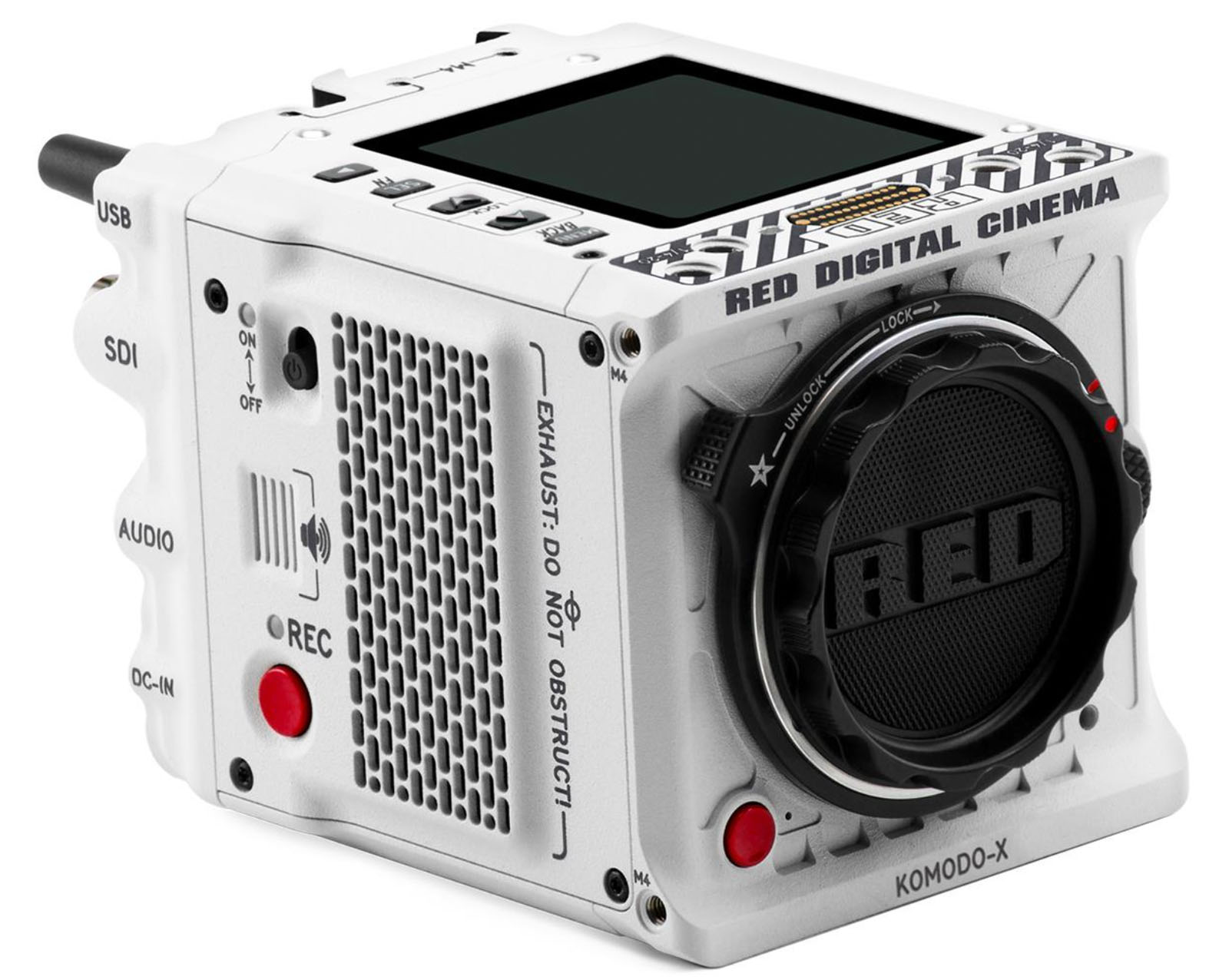 Using RED-branded or other supported CFexpress Type B memory cards, the new camera promises data rates up to 560 MB/s.
Autofocus is delivered using phase-detect and contrast-detect AF technology.
The Komodo-X is a Compact 6K Cine Camera with Improved Design and I/O
While the new Komodo-X remains relatively compact, like its predecessor, it has an updated form factor that RED says better matches the RED DSMC3 line. The Komodo-X also accepts micro V-mount batteries, like the REDVOLT Nano-V, without an adapter, a functionality the original Komodo doesn't offer.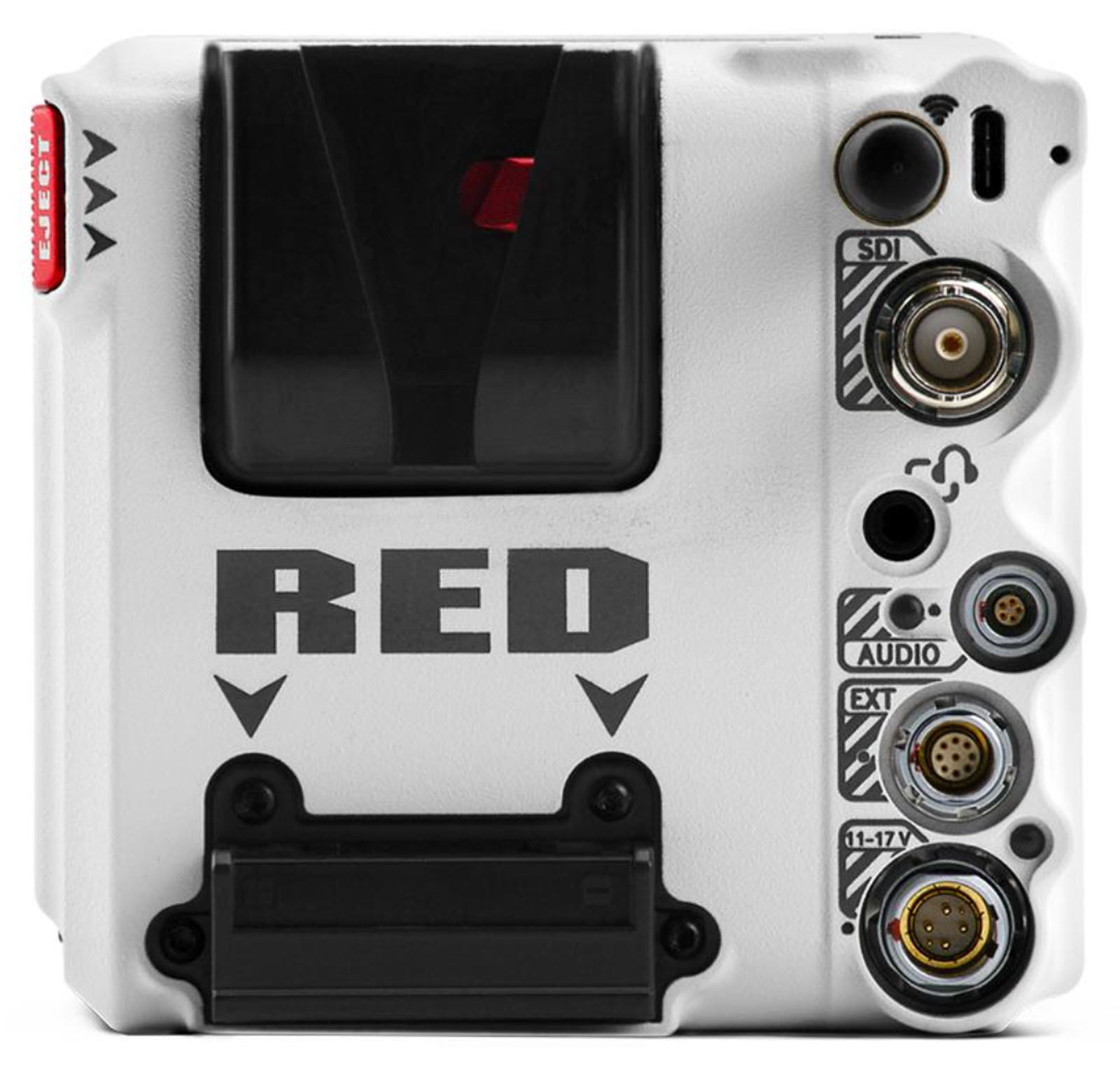 The aluminum alloy RED Komodo-X ST 6K camera weighs 2.62 pounds (1.19 kilograms) (body only), and its dimensions (width x height x depth) are 5.1 x 4 x 3.8 inches (129.4 x 101.3 x 95.3 millimeters).
The camera's I/O has also been improved, adding a 5-pin audio input for an optional DSMC3 Dual XLR or 3.5mm adapter, a smaller 2.4-inch LCD screen, a USB-C output for data connection, and a full-size 4-pin power input. The Komodo-X retains the same 12G-SDI output, 9-pin Genlock/TC EXT port, and remote connector as its predecessor.
Beyond USB-C connectivity for offloading and delivering direct control over the camera, users can also use Wi-Fi connectivity for RED Control or Red Control Pro to handle media offloading over IP via FTP or Cloud Uploading connections. As RED notes, an IP-based workflow is essential for modern production workflows.
The Komodo-X features the same locking, reinforced RF mount as the original Komodo, although RED has also announced a pair of new adapters that provide PL-mount lens compatibility using the RF to PL adapter for Komodo. A new RF to PL adapter has also been released for V-Raptor owners, ensuring they're not left out. Each adapter ships with mounting plates and an electronic ND filter adapter pack.
The previously mentioned new REDVOLT Nano-V battery is made in partnership with CoreSWX, and the battery weighs just 10 ounces. RED says it's suitable for gimbal and drone operation and won't interfere with cages or other accessories. The 49Wh battery has 6A draw and can simultaneously power the camera and the RED Touch 7.0-inch Monitor "for short durations."
Yet another new accessory is the RED Compact Top Handle, designed to help videographers capture low-angle shots. The handle has wood inlays and features a trigger control button. A monitor is also mountable on top using a 15mm monitor mount.
Pricing and Availability
The RED Komodo-X ST 6K digital cinema camera is available to order now for $9,995. The limited-edition camera will begin shipping by the end of May.
A comprehensive list of specifications is available on RED's website.
---
Image credits: RED