Amazon and Canon File Joint Lawsuit Against Camera Battery Counterfeiters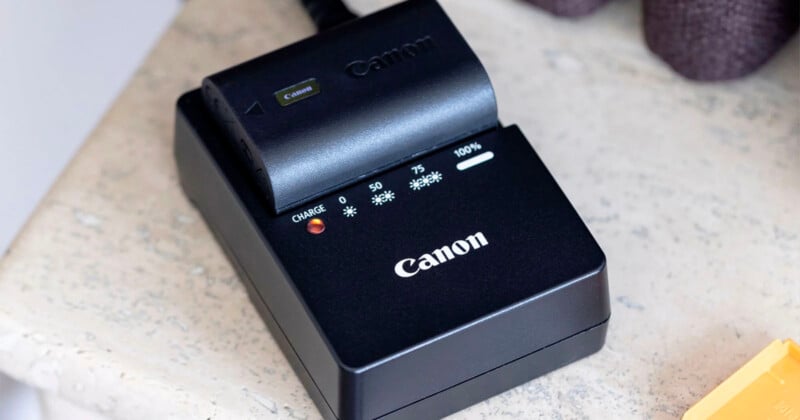 Amazon and Canon have targeted a large group of "bad actors" that the two companies allege have sold counterfeit camera batteries and chargers to unsuspecting buyers.
The two companies have filed a joint lawsuit against the group of sellers that they claim attempted to advertise, market, and sell camera batteries and chargers on Amazon that also allegedly infringed of Canon's trademarks.
Amazon says that after it detected these "bad actors," it worked with Canon to confirm that the products that were being sold were not legitimate and shut down the accounts — 29 in total — that were operated by the defendants.
The online retail giant says that it has been regularly investing in machine learning techniques that it can use to find and address counterfeiters and this is the latest example of that success.
"We have improved our proactive controls, automating and broadening our intellectual property protection and counterfeit detection systems. In 2022, our automated technologies scanned over eight billion daily attempted changes to product detail pages for signs of potential abuse, resulting in our tools blocking or removing more than 99% of suspected fraudulent listings without brands ever even needing to report the abuse," Amazon says.
For its part, Canon has been particularly aggressive in going after counterfeiters and has been doing so for some time. The company has been producing public service announcement-style videos and web pages aimed at warning customers about counterfeit batteries as far back as 2014. In 2020, Canon won a pivotal lawsuit against two eBay users who were selling counterfeit batteries and last year, Canon successfully stopped a major way counterfeit batteries enter the market through a targeted settlement with a major shipping and fulfillment company that supplied them to the market.
It's not just fake batteries that Canon's legal department works hard to quash. Canon has successfully seen the removal of over 1,500 Amazon listings of third-party printer toner from vendors that it believed infringed on its patents. It is one of the most aggressive campaigns to address the issue in the industry.
For its part, Amazon does do its best to deal with counterfeiters, too. In 2021, it filed a joint lawsuit with GoPro against counterfeiters who were making and selling fake camera batteries and accessories.
"Amazon is dedicated to preventing counterfeits from ever reaching customers or being sold elsewhere in the supply chain," the retail company says. "We have established a reputation as a global partner to brands in the fight against counterfeit through providing intelligence to law enforcement, aggressive enforcement actions, and the removal of illegal products from the Amazon store and beyond."
Counterfeit products are a big problem on Amazon and while the company can successfully deal with them, the broader issue of fake or scam products overall is a big deal and is challenging to address. There are tons of products listed on Amazon that are quite literally scams and, unfortunately, there is no sure-fire way to deal with all of them.
So while yes, it is a good thing that Amazon and Canon have managed to stop and go after this one particular group, the problem is still widespread.
---
Image credits: Canon, Amazon