Tips for Location Scouting for Photo Shoots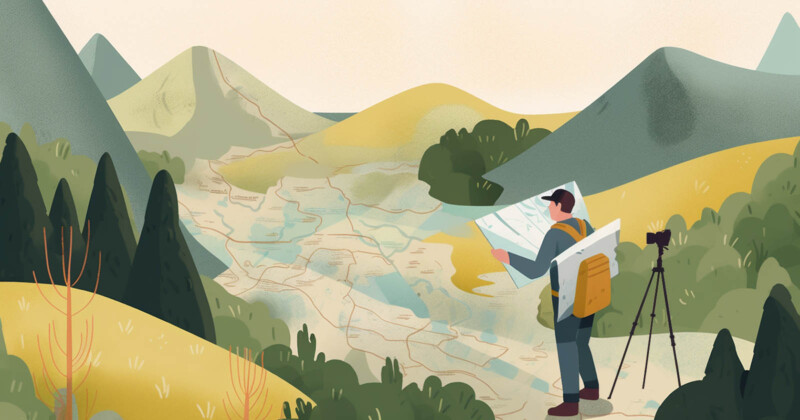 Just like most things in life, success can depend on location, location, location. I know that I'm coming from a state where there are a lot of beautiful backdrops so I'll do my best to give tips that will apply to you wherever you happen to be. I've shot sessions in a variety of locations and while I have my locations and preferences, of course, I think it's possible to make the best of whatever you have to work with.

On the one hand, being based somewhere like Colorado comes with high expectations of epic photo locations which can be hard to live up to repeatedly. On the other hand, Colorado has a lot to work with, which is why we're going to start by thinking through what your options are.
Then, we're going to work through how to get to know an area and determine what will work well for any given situation. Eventually, you want to be able to walk into any situation and have a chance at great shots. However, often your clients will want recommendations so it's best to know what will compliment your style.
Use Apps and Maps to Find Great Locations
The first thing to do is use apps and maps. You can dig into location ideas by looking into location suggestions that are already out there. A quick Google search might turn up a variety of suggestions from which you can narrow down what appeals to you.
In the early stages of location scouting, like when you're getting to know a location, you'll want to gather a lot of data. Eventually, you'll cull it down to the places that work best for you. Sometimes you'll be less interested in data and more interested in a specific solution to a specific problem, such as when a client wants an alpine glow at sunrise or a particular urban look.
In those cases, you be searching for something more specific. For me, working in the Colorado Rockies, it usually means I want a certain light or sun exposure. There's an app for that and there's probably an app to help you find whatever it is you're looking for as well.
Sometimes maps and apps aren't enough and you need to go explore and find off-the-grid lesser-known locations. The more you can find online about a spot the more crowded or impacted it might be, so don't hesitate to start with maps but push yourself to move beyond that too!
Know Photoshoot Restrictions for Locations
That brings me to the next barrier, you'll need to know where you can go. I feel like this has gotten both easier and harder lately as more restrictions seem to have popped up but luckily some places have great clarity about their restrictions. For example, Rocky Mountain National Park requires that you get a permit and follow rules but they make the permit process clear, understandable, and attainable.
Other places are convoluted with confusing systems about what you are and aren't allowed to do. Additionally, some locations that require permits make those permits hard to get. Decide how you want to handle dealing with restrictions and prepare yourself accordingly.
Personally, my preference is to find locations that aren't highly popular and therefore generally have fewer restrictions. It makes the whole process simple and has other advantages as well, but there are still people who will want to go to a classic location so it's important to know how to navigate that and educate your clients.
See It in Person Before Your Photoshoot
You can do all the Google scouting that you want but I always love an in-person visit to get inspiration for the photoshoot. Sometimes it's fun to get creative at a brand-new location sight unseen. However, it's always less stressful to have a plan and a starting point.
Seeing a location in person allows you to storyboard some image ideas that will ensure success. Then, once you nail those concepts you can create more knowing you've already nailed the shoot. While storyboarding isn't always a necessity, especially as you gain more experience, it almost always results in something next level.
Even places that I've been to countless times offer something new and different on a different day in a different season with a different subject. Spontaneity and flexibility will always exist but knowing what you're getting into can help you succeed.
Study the Light for Your Photoshoot
One of the main advantages of being somewhere in person is that you can study the light and the interesting possibilities that are open to you. You may notice that it would be really cool if the light hit the building a certain way. Or it may help you decide that mid-morning would actually be the ideal time to shoot a specific location.
Interesting light has a way of making your images more powerful and all it takes is for you to be more thoughtful. Maybe you realize when you get somewhere that if you do it too late, you'll be in the shadows and it'll be cold and unpleasant. A simple scout trip with some attention to light can make a big difference in helping you know what you're dealing with or helping you make decisions.
Sometimes you can't choose the time of the photoshoot. In those cases, it's still important to know what type of lighting situation you'll be dealing with so that you can bring any necessary modifiers. If you can't scout the location at the same time of day that the shoot is planned for, you can use a combination of what you can estimate in person and a sun app.
Pay Attention to Access and Crowds for Your Top Locations
Another factor that can positively or negatively impact a photo shoot is the ease of access or the crowds. When it comes to access, you'll want to know or help set your client's expectations. Do they want to actually climb up onto a mountain or do they want to drive up the mountain, step out of the car, but look like they're in the wilderness?
Some of my favorite locations are a little harder to access so they only work if I have a client that's up for it and we plan enough time to make it happen. You'll want to budget extra time for getting there, and I've even done shoots that require we bring a headlamp for hiking back in the dark. If you pick a location that's easy to access, you could find yourself in a popular spot, which might mean battling crowds.
When it comes to crowds, you don't always have control of this but knowing what you're getting into can help prepare you as well as your client. You might spend some time making a plan for how to make your client comfortable in a crowded place. Or maybe you can come up with creative ways to either eliminate or include the crowd in your framing.
Location Scouting Tips Summary
In summary, when it comes to location scouting, you'll want to use apps and maps to gather data. As you're gathering data it's important to gather information such as if there are any permits or fees required.
After that, you can ideally check out the location in person so that you can get a feel for it and storyboard some possible shots. Be sure to study the light so that you know what you're dealing with and can plan any necessary solutions. Alternatively, you might set the timing of the photoshoot based on interesting light.
Lastly, pay attention to access and crowds. Sometimes it's a choice and something you can control but other times it's about having a plan for making your clients comfortable and setting their expectations. Hopefully, these tips give you the confidence to scout some new photography locations. Happy shooting!
---
About the author: Brenda Bergreen is a Colorado wedding photographer, videographer, yoga teacher, and writer who works alongside her husband at Bergreen Photography. With their mission and mantra "love. adventurously." they are dedicated to telling adventurous stories in beautiful places.