Think Tank's SpeedTop Backpacks Feature Magnetic Top Lid
Think Tank Photo has announced a new SpeedTop backpack series, which comprises a pair of models that share many features but offer varying carrying capacities.
The primary feature of the SpeedTop backpacks is quick access. Each SpeedTop bag includes a spacious top compartment that shuts using a magnetic lid. The lid is designed to be easy to operate with a single hand yet promises to close securely.
Within the top compartment are zippered pockets to keep the user's essential items secure and organized, including up to a 16-inch laptop and 10-inch tablet.
Beneath this top magnetic compartment is a large bottom compartment that offers front and side access, allowing the wearer to reach bulky items or a camera cube insert (sold separately) without removing the backpack.
There's a convertible, removable divider separating the top and bottom compartments, allowing users to create a continuous space.
The primary difference between the Think Tank Photo SpeedTop 20 and SpeedTop 30 backpacks is their capacities. In the smaller SpeedTop 20, users can store a 16-inch laptop, a 10-inch tablet, the Think Tank Stash Master Camera Cube, a battery bank, and clothing. The total volume is — as evidenced by the model's name — 20 liters.
The larger SpeedTop 30 has a 30-liter volume. The larger capacity allows more or bigger items to be stored but doesn't fundamentally change what fits in the bag. The larger backpack still supports the same size laptop and tablet and the Stash Master Camera Cube.
The Think Tank SpeedTop 20 and 30 backpacks include numerous purpose-built pockets. An outer lid pocket lined with microfiber is great for storing large smartphones or sunglasses. Within the top compartment, a pair of zippered mesh pockets with key lanyard help secure smaller items. On the backpack's left side is a zippered pocket designed to fit battery banks, and it includes a cable pass-through port between the top and lower compartments. On the right side, a zippered pocket fits a light jacket or water bottle and is accessible while wearing the pack.
The SpeedTop backpacks also feature a small zippered pocket on the front, security cable and lock, a luggage handle pass-through, a removable adjustable waistbelt, and a seam-sealed rain cover. Think Tank has included attachment loops on the front, enabling a wide range of gear to be secured to the outside of the bag.
Concerning materials, the magnets are neodymium, and the backpack includes a durable water-repellant (DWR) coating. The lightweight bag is built using a polyurethane-backed fabric that promises water resistance. A complete breakdown of all materials and a medical advisory concerning the backpack's magnet are available on Think Tank's website.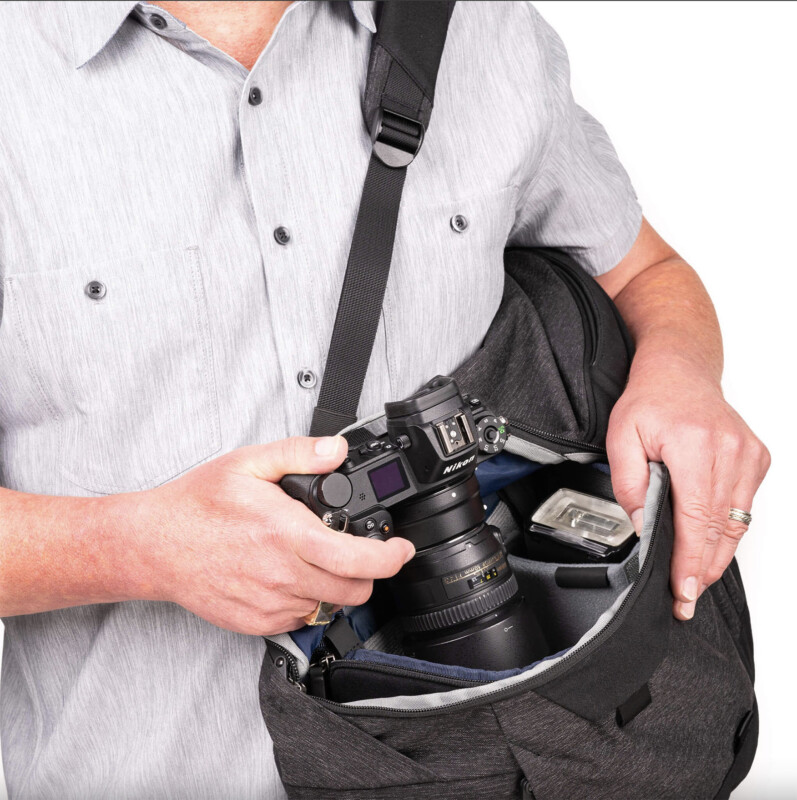 Within the optional Stash Master Camera Cube, available for just under $60, users can fit a standard mirrorless camera body, one to two lenses, and a flash. The padded insert included a movable divider and a zippered mesh pocket.
The Think Tank SpeedTop 20 is available now for $149, and the larger SpeedTop 30 is available for $169.
---
Image credits: Think Tank