Senate Bill Would Require Kids Get Parental Consent to Use Social Media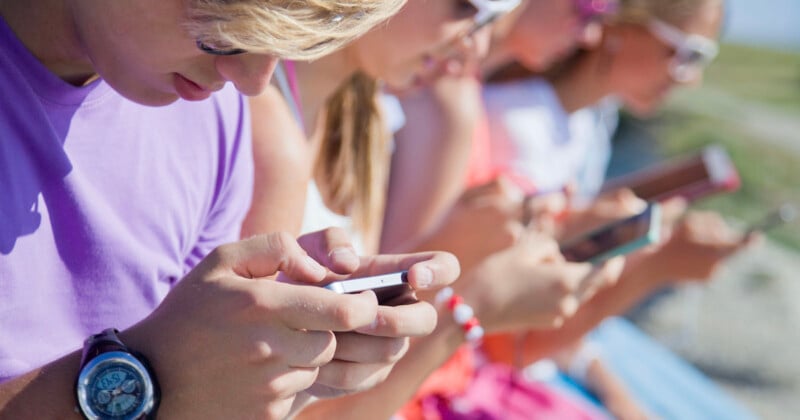 A bipartisan bill has been introduced in the United States Senate that, if passed, would require all children under the age of 18 to receive parental consent to use social media and would forbid the use of algorithms on that age group.
Introduced by U.S. Senators Brian Schatz (D-Hawai'i), Tom Cotton (R-Ark.), Chris Murphy (D-Conn.), and Katie Britt (R-Ala.), the Protecting Kids on Social Media Act has six major aspects that would address the use of social media by those under the age of 18.
Firstly, it would require social media companies to undertake "rigorous age verification" using "the latest technology" and would prohibit companies for using said age verification for any other purpose. It would also prohibit any child under the age of 13 from using social media, would block social media companies from recommending content using algorithms to anyone under the age of 18, and would require those 17 and under to receive a guardian's permission to create a social media account.
The bill would also require the creation of a pilot project for a government-provided age verification system that platforms can choose to use as well as provide the FTC and state attorneys general the authority to enforce the provisions of the bill.
The Senators say that the Protecting Kids on Social Media Act would attempt to curb the rise in depression and the overall collapse of mental health in kids that are often linked to what they see on social media.
"Our bill will help us stop the growing social media health crisis among kids by setting a minimum age and preventing companies from using algorithms to automatically feed them addictive content based on their personal information," Senator Schatz says.
"As a parent of two kids – one a teenager and one about to be a teenager – I see firsthand the damage that social media companies, 100% committed to addicting our children to their screens, are doing to our society. This is a reality that we don't have to accept," Senator Murphy adds.
The four Senators say that the United States is facing a "mental health crisis" that affects adolescents more than any other age group — and among those, young girls especially. The group cites a CDC and Prevention's Youth Risk Behavior survey that found that 57 percent of high school girls and 29 percent of high school boys felt "persistently sad or hopeless in 2021," with 22 percent of all high school students reporting they had seriously considered attempting suicide in the preceding year.
The Senators add that an area that specifically needs immediate action is "the clear link" between social media and poor mental health. The group says that social media companies have known about this link for years but has done nothing to change their habits to address it, which has led them to move forward with an attempt to deal with the problem via legislation.
"From 2019 to 2021, overall screen use among teens and tweens (ages 8 to 12) increased by 17 percent, with tweens using screens for five hours and 33 minutes per day and teens using screens for eight hours and 39 minutes. Studies have shown a strong relationship between social media use and poor mental health, especially among children," the four say.
"With this clear evidence, the U.S. Surgeon General has warned that 13 is too early for social media use and suggested that 16, 17, or 18 may be as well."
The full text of the bill can be viewed on Senator Schatz's website.