Nocam is a New Social Video App That Doesn't Let You See The Camera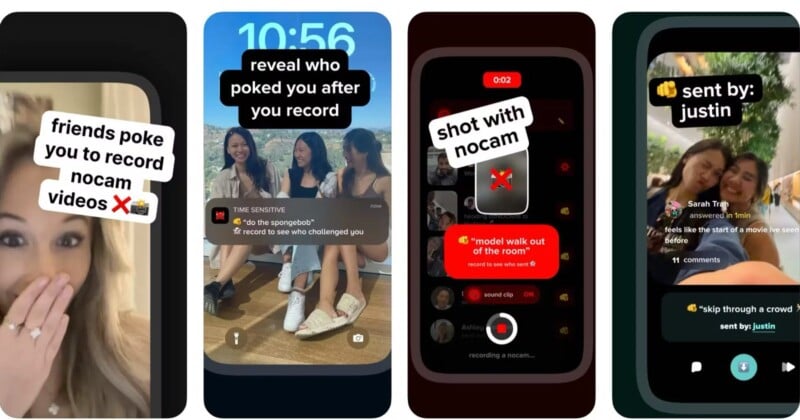 A new video app is aiming to make social media interactions more authentic — by not letting users see how they look in the camera while filming.
According to a report by TechCrunch, Nocam is a new social video app that lets users take part in video challenges with their friends.
However, the app which describes itself as "BeReal meets TikTok" has a radical premise that separates and reinvents itself from other social media platforms — it turns off the camera so users are unable to see how they look while filming a video.
The founders of Nocam believe the concept may help to make content creation more genuine and honest on social media.
According to TechCrunch, Nocam says that turning off the camera imitates the way individuals interact in real life, where people aren't constantly confronted by how their reflection looks.
"The second you're looking at what you're about to capture, you get stuffy about it," Nocam's co-founder and CEO Justin Spraggins tells the publication.
"You're now framing it — it doesn't feel like it really is. You're now performing in whatever way to create content."
In order to use Nocam, users are first required to authenticate their phone number and allow the app to access their address book to find friends, in a similar way to other social apps.
Users will then receive their first prompt to record a "nocam video." The entire premise of Nocam revolves around being prompted to record a video. Initially, the video prompts are generated by Nocam. However, as a user adds more friends on Nocam, they will receive more prompts to record "nocam videos."
Nocam prompts users to do a certain dance or action as a video challenge or simply post what they are up to at that moment. When the user starts recording their clip, the camera is blurred out so that they cannot see how look.
Clips are a maximum length of eight seconds. Users also can add a caption to the clip and then publish the video to share it with their social network on Nocam.
After a user has posted a video, they can find out which friend prompted them to record the clip or if it was an app-generated prompt. Nocam is currently only available on iOS and is free to download.
Nocam's premise of authenticity is reminiscent of "anti-Instagram" photo-sharing app BeReal which dominated Apple's App store charts in the U.S. last year.
However, recent data indicates consumer interest in BeReal may have already peaked and the photo-sharing app may be on the decline.