Newly Discovered Hydrothermal Vents are Surrounded by Deep-Sea Life
An international team of scientists has discovered three new underwater hydrothermal vents over a 434-mile-long stretch of the Mid-Atlantic Ridge that showcases a fascinating "city" that is teeming with life.
Hydrothermal vents are fissures in the seabed that expel geothermally heated water and are most commonly found near volcanically active spots in the ocean. Some exist extremely deep below the surface which would normally make them less than desirable for large concentrations of life, but the high heat and chemical composition of the area alters the environment to such a degree that entire habitats can form.
"At hydrothermal vents, seawater chemically altered through water-rock interactions at high temperature is expelled back through smokers and areas of diffuse fluid," the Schmidt Ocean Institute explains. "This water is enriched in certain chemical compounds, such as hydrogen sulfide and methane, providing reduced foods for microbial growth in a process known as chemosynthesis."
The existence of chemical energy found near vents is a replacement for sunlight, which does not reach these extreme depths. Bacteria that thrive in this environment attract "vent communities" made up of tube worms, mussels, or shrimp species that form a symbiotic relationship with them.
"These animals harbor bacteria that grow from chemicals and pass the production of carbon back to the host. It is an analogous relationship to that of the colorful corals with algae in shallow tropical reefs. On top of chemosynthetic bacteria and large animals, many other smaller species thrive by feeding on bacteria or other animals, thus creating the dense communities observed at vents," the Institute continues.
The majority of the species found in vent communities are not found anywhere else, making the unique refuge of life in the deep sea particularly fascinating for scientists to study.
Newly Discovered Vents Teeming with Life
This latest hydrothermal vent discovery is the first on this particular section of the world's longest underwater mountain range, the Mid-Atlantic Ridge, in more than 40 years. The images of these vents were captured some 2,000 meters deep, or about 6,500 feet below the surface.
"One of the discovered vent fields was located at the Puy des Folles volcano and has five active sites over 6.95 square miles (18 square kilometers). High-temperature 'black smoker' vents were also found at the Grappe Deux vent system and Kane Fracture Zone," the Institute explains.
Around these newly-discovered vents are huge numbers of different sea creatures and the discovery will aid scientists who are still working to fully understand how these ecosystems function and what role they play in the larger carbon cycling of the planet.
"Regional Environmental Management Plans for regulating ocean mining require accurate scientific data on the presence of animal communities and an understanding of how sites are colonized," Chief Scientist, Dr. David Butterfield, Principal Research Scientist with the Cooperative Institute for Climate, Ocean, and Ecosystem Studies at the University of Washington and Group Leader for the Earth Ocean Interactions Program at NOAA Pacific Marine Environmental Lab in Seattle says.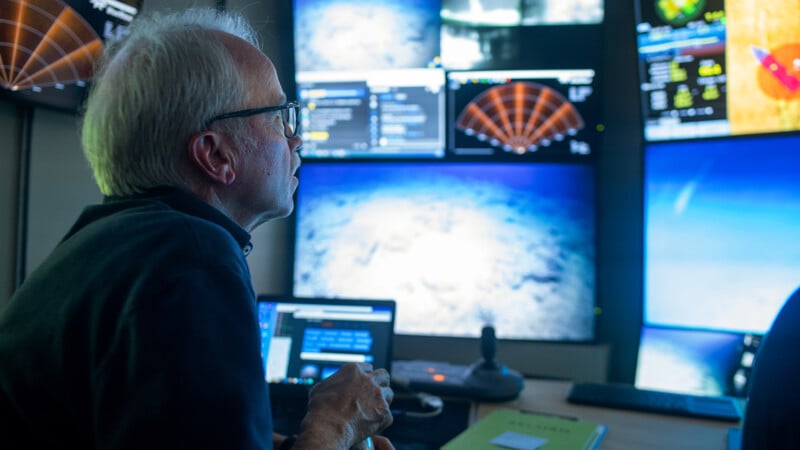 "There is some agreement that sites with active venting and chemosynthetic vent fauna communities should be excluded from mining because of the very limited extent of hydrothermal vent habitat, which is restricted to a narrow band of activity on the global mid-ocean ridge system."
The discovery of these three vents was part of the inaugural 40-day expedition of the Research Vessel Falkor (too) which began in March. The vessel is currently embarking on an expedition that began on April 17 to explore deep-sea coral.
Remarkably Clear Videos and Photos
The footage and photos of these deep-sea communities were made possible thanks to the advanced imaging systems on the Falkor (too)'s remote-operated vehicle (ROV) SubBastian. The cheekily-named submersible is capable of diving to extreme depths in order to observe the life there.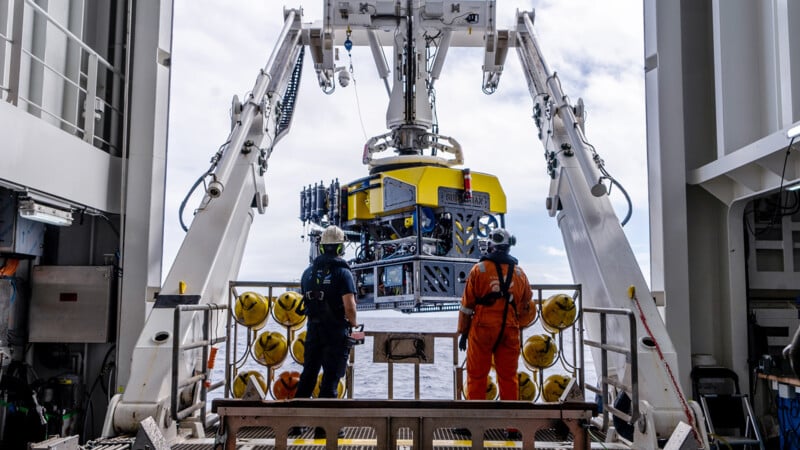 SubBastian is equipped with multiple camera systems. Its situational camera is a 1080i HD system while its science camera, the one responsible for capturing the photos and videos above, is a SULIS Subsea Z70 4K system equipped with 12X zoom capabilities. In addition, SubBastian is equipped with four DSPL FlexLInk HD Multi SeaCams and is supported by a full spectrum LED and two 500-watt LED flood lights.
"The ROV is outfitted with a suite of sensors and scientific equipment to support scientific data and sample collection, as well as interactive research, experimentation, and technology development," the Institute explains.
---
Image Credits: Schmidt Ocean Institute