A High-Res Look into the Mountain Made Famous by Lord of the Rings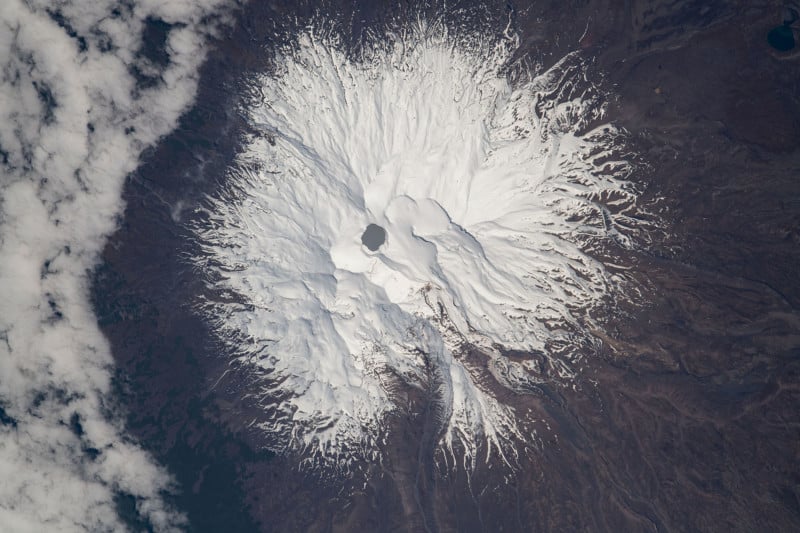 An astronaut aboard the International Space Station (ISS) captured this stunning photo directly above Mount Ruapehu in New Zealand, better known as Mount Doom from the Lords of the Rings movie trilogy.
In a truly unique perspective, an astronaut aboard the ISS used a Nikon D5 camera and 1150mm lens to catch the moment the spacecraft was directly above Mount Ruapehu looking directly into the active vocation.
264 miles above the Earth, the unnamed, but talented photographer timed their shot to perfection to get a great look at Mount Ruapehu, the tallest mountain on New Zealand's North Island standing at 2,197 meters (9,177 feet) and an active stratovolcano. The photo was taken in 2021 but was only published on September 18.
Near the summit lies Crater Lake, known as Te Wai a-moe in the native Maori, which is heated by a hydrothermal system within the volcano.
Following a period of dormancy dating back to 2011, volcanic activity was reported at Ruapehu in 2022 with water temperatures peaking around 40 degrees Celsius (104 degrees Fahrenheit).
NASA Publishes Second Photo of Underwater Volcano
Another image of a volcano, also in the Pacific region, was published this week by NASA, but this time it was actually ejecting steam. However, this volcano was underwater, close to the Home Reed seamount in the Central Tonga Islands, which has the highest density of underwater volcanoes in the world, and on September 10 one of them awoke.
After the underwater volcano erupted a new island was formed, with NASA's Landsat 9 capturing the newly formed land on September 14. The island is estimated to have grown to over 24,000 square meters (six acres) and is located southwest of Late Island, northeast of Hunga Tonga-Hunga Ha'apai, and northwest of Mo'una'one.
Islands created by submarine volcanoes are often short-lived, though they occasionally persist for years. Home Reef has had four recorded periods of eruptions, including events in 1852 and 1857. Small islands temporarily formed after both events, and eruptions in 1984 and 2006 produced ephemeral islands with cliffs that were 50 to 70 meters high.
Frodo's Destination
Lord of the Rings fans may know Mount Ruapehu better as Mordor's Mount Doom, the place that Frodo and Samwise took an arduous journey to get to so they could destroy the One Ring.

The jagged rocks and active volcano created the perfect eerie backdrop for the Peter Jackson-directed Lords of the Rings trilogy.
---
Image credits:Header photo courtesy of NASA.