Falcam Maglink Camera Strap Features Quick-Release Magnetic Design
Accessory maker Falcam has announced a new camera strap, the Falcam Maglink Quick Magnetic Buckle Shoulder Strap. The new strap comes in three variants: Lite, Classic, and Pro, with each offering a slightly different design and prices ranging from $30 to $60.
Fundamental to each strap is its new magnetic quick buckle design. The primary camera strap connects magnetically to an attachment point on the camera, allowing photographers to easily detach the strap when it's not needed.
It's similar to Peak Design's popular anchor system and Slide camera straps, although Falcam's buckles use a magnetic attachment, which promises easier use. To ensure that the Falcam quick buckle isn't accidentally detached, the company promises that it can only be unlocked with purposeful, direct pulling.
Falcam's matching quick-release plates allow photographers to change the attachment point of the Falcam Maglink strap, including locations at typical camera strap attachment points or at the camera's base.
Using Falcam's Maglink accessories, users can use the strap as a typical neck, shoulder, or sling strap.
The three straps differ by materials and length. The Maglink Lite can be adjusted from 790mm to 1,400mm, while the Classic and Pro versions range from 990-1,450mm. All three versions feature a quick-adjust design for the shoulder strap length, allowing photographers to pull on a leather drawstring to easily make the strap shorter or longer using just one hand.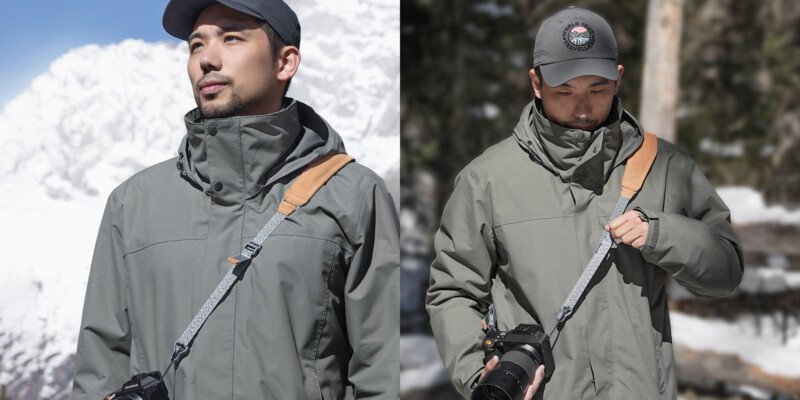 The Maglink Lite is made using nylon material. The Classic strap uses nylon, too, but adds soft elastic cotton. The Maglink Pro adds skin-friendly suede cowhide alongside symmetrical shoulder pads to make the strap more comfortable, especially when carrying heavy equipment. The Lite lacks shoulder pads entirely, while the mid-range Classic version includes smaller pads than the Pro strap.
Concerning load-bearing strength, all three straps can hold up to 60kg (132 lb.), according to Falcam's testing.
The Falcam Maglink Lite is available in four colorways: snow rock gray, pine needle green, twilight blue, and iris purple. The strap is available now for $29.99, and it comes with the strap and four tail buckles, which are the magnetic attachment buckles users attach to their camera to attach and detach the strap itself. The buckles are made from a mixed plastic material and promise not to scratch the user's camera.
The Maglink Classic is $46.99 and comes in only snow rock gray.
Rounding out the trio of straps, the Maglink Pro is $59.99 and comes in snow rock gray.
For full specifications, visit Ulanzi's website. All Falcam products, including F38 quick-release plates, are available on a dedicated Falcam page.
---
Image credits: Falcam