Atomos Cloud Studio Gets Browser Video Editing, Sony Ci Media Cloud
Atomos has made a set of announcements in advance of NAB 2023 that includes the addition of cloud-based editing in a browser from anywhere with Atomos Edit, support for Sony's Ci Media Cloud through Atomos Cloud Studio, and a real-time streaming Pilot Project with Streamonix.

Atomos Edit
With the series of announcements today, the company is expanding its Cloud Studio lineup by being the first to do anything with Sony's new cloud platform, bringing access and functionality to a broader userbase. Things get more interesting with the addition of Atomos Edit, which allows users to edit their videos in a web browser, from anywhere.
According to the company, this will let Atomos CONNECT users "clip, edit, and brand fast turnaround content for social media in the cloud, quickly and on the move" effectively creating a much more simplified and complete end-to-end video production process by allowing users to upload media in the field directly from an Atomos device. They can then edit on a web browser, and choose to either publish directly to social media or export the file(s) to another Non-Linear Editing (NLE) service for finishing.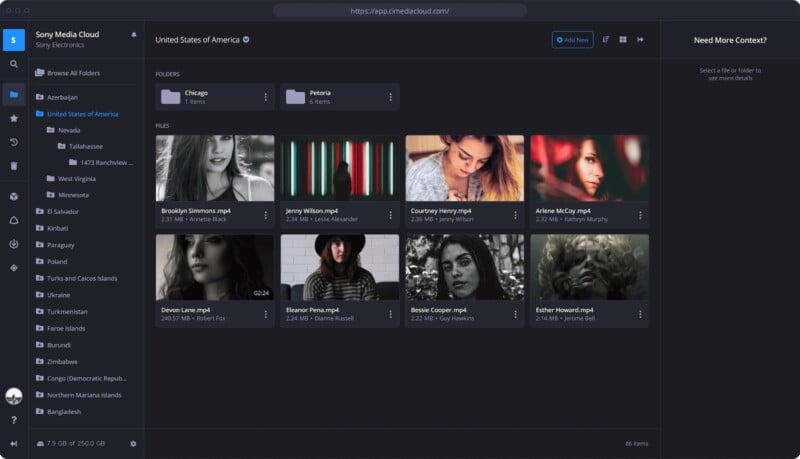 Sony Ci Media Cloud
This feature ties nicely into the partnership with the Ci Media Cloud by allowing a wider range of camera-to-cloud workflows, effectively speeding up content creation by reducing the time it takes to get from acquisition to post-production. The company says with these tools, there is no need to ship hard drives or copy files from one drive to another anymore, as with this integration point, users can upload files directly to a specific folder in their Ci Workspace from any camera using Atomos CONNECT products. Once the files are uploaded to a workspace, Ci automatically creates transcodes and makes the files available for preview, commenting, and review. From here, the files, proxies, and clips can be delivered to post-production teams directly from Ci.
Basic access to the Sony Ci Media Cloud will be available through Atomos Cloud Studio free of charge with the additional option of a $5 monthly fee to register up to five Atomos CONNECT devices. "Sony's Ci Media Cloud platform is firmly established in high-end scripted and movie workflows," said Trevor Elbourne, CEO of Atomos. "With our integration, we can bring this rich collection of proven online tools to a much wider audience. We see Atomos Cloud Studio as the gateway into many different workflow solutions, and we're excited to be offering our customers more options to suit their preferences."
"Atomos' monitor-recorders have long supported Sony's camera technology and been a favorite among users within the M&E industry," said David Rosen, Vice President of Cloud Applications and Services, Sony Electronics. "The integration between Ci and Atomos provides today's creator with an agile and streamlined pathway to support rapid delivery of high-quality content to the cloud, saving valuable time during production. This new compatibility allows creatives to tell powerful stories in a timely fashion – from virtually anywhere – using the tools they love."
Streamonix Real-Time Streaming
Finally, the Atomos team has signed a "Memorandum of Understanding" for the development, deployment, and testing of a next-generation, real-time streaming Pilot Project that links Atomos Cloud Studio to the Streamonix Media Streaming Federation test network.
According to the company, "the Pilot Project the MSF will operate as a one-to-many, real-time accelerator and delivery utility for streams produced in Atomos Cloud Studio. Through the Streamonix Cloud-to-MSF™ interface, Atomos Cloud Studio will offload live streaming to the MSF, enhancing the live streaming experience of Atomos users."
The project will reportedly span several global locations and transmit live HD and 4K video streams from the Atomos Cloud to a "large global audience" with less than one second of latency, demonstrating the ultra-low-latency and ultra-high bit-rate streaming capability of Streamonix and its use on a global scale, as well as its cost savings and production benefits for Atomos users.
People attending NAB 2023 in Las Vegas can see demonstrations of the new products and services from April 15 through April 19 in the Atomos booth at C4135