The Atomos Ninja and Ninja Ultra Bring Improved OS, Record 8K ProRes RAW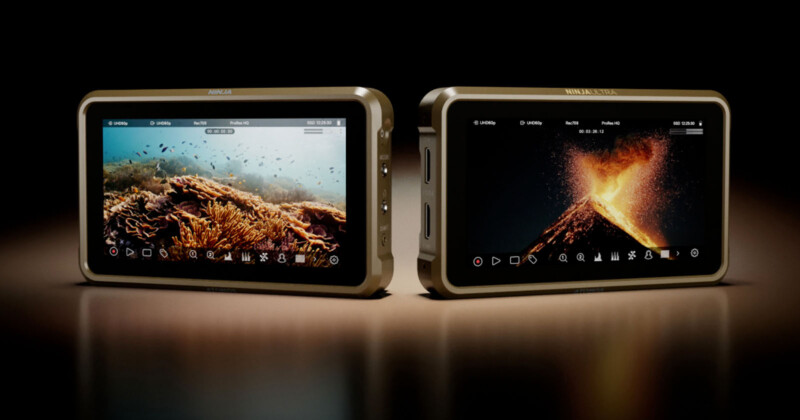 Atomos has launched the next generation camera-mounted recorders in its Ninja series. The new Ninja and Ninja Ultra add more recording options and use a new operating system that Atomos says is cleaner and faster.
Powered by the Atom11, both of the new recording devices are hardware optimized for the new operating system that make it not only faster to use but also include new features like EL Zone exposure referenced colorized image, ARRI False Color, and new scheduled playback and recording tools.
Both Ninjas are backwards-compatible with their predecessors — the Ninja V and Ninja V+ — so all Atomos and third-party accessories can be used with them.
Additionally, both the Ninja and Ninja Ultra pack more codecs including 6K ProRes RAW, ProRes, DNxHD, and 4K H.265 — an option that was previously only available as a paid add-on.
Atomos says the Ninja is designed to support mirrorless camera shooters while the Ultra is made for larger teams needing a connected workflow via Atomos Connect — a camera-to-cloud system.
"Ninja Ultra's new 4K camera to cloud mode lets you record and upload much higher quality bitrate H.265 video with higher framerates. H.265 files are half the size of H.264 media. They're small enough for camera to cloud workflows but more than good enough for immediate use on social media, sports reporting or news gathering," Atomos explains.
The Ultra can record full-quality files to ProRes RAW up to 4K at 60p while at the same time recording HD 60p to H.265. It also supports automatic matching filenames, timecode, and record from ARRI, Canon, and RED cameras, with the promise of additional camera hardware to come "soon."
The Ninja and Ninja Ultra both support connectivity with the Atomos Connect expansion module that enables Atomos RemoteView, a proprietary new technology that lets filmmakers share a live view of the Atomos screen with other Atomos monitors and also iPacs, Macs, and Apple TVs wirelessly. The company says that anyone connected in this way can monitor what is happening during a shoot through the lens of a connected camera from anywhere in the world.
The Ninja Ultra is equipped with WiFi 6E, which Atomos says will result in lower latency higher throughput, and a more stable connection when using the Atomos Connect module.
The Ninja and Ninja Ultra will ship starting in "early" September. The Ninja will cost $599 while the Ninja Ultra is priced at $799.
---
Image credits: Atomos