Florida's Government Ban on Chinese-Made Drones Goes into Effect
A Florida state bill filed in 2020 and passed in 2021 goes into effect this week and has banned government agencies from using any drones that were manufactured in China. Some agencies aren't happy and say it unnecessarily increases costs.
DroneDJ reports that the new law, section 934.50 of Florida's statutes, put in place standards and rules for any drones that are used by a government agency, which includes police and fire departments. The new law which went into effect on Wednesday only approves a short list of drone manufacturers for use by government agencies and bans any drone manufactured in China, which includes the ubiquitous DJI.
Only Skydio, Parrot, Altavian, Teal Drones, and Vantage Robotics are approved manufacturers. Most of these companies are likely unfamiliar to most as they are either very small or operate in niche markets. Vantage Robotics, for example, focuses almost entirely on the defense and public safety markets.
Many Police and Fire Departments Aren't Happy
Forcing government agencies to stop using Chinese-owned drones is proving extremely costly. To date, nearly $200 million in taxpayer money has been spent by government agencies on DJI drones in Florida, WFTV 9 reports. All of those will need to be replaced with "approved" drones.
"I'm really sad to say that we have a fleet of 25, of which 19 are DJI," Lt. Mike Crabb with the Orange County Sheriff's Office tells WFTV. "So, we are in process of purchasing more."
The Seminole County Fire Department adds that it had to replace three of its drones at a cost of $10,000 to $15,000 each because of the new law.
Further, and as many consumers can attest, DJI drones are significantly more reliable than those made by other manufacturers. For example, according to DroneDJ, Palm Beach County Sheriff's Office Col. Robert Allen told lawmakers that over the past year and a half, five notable failures occurred with drones on the approved manufacturer's list. In that same time period, no DJI drone failed. He and others argue these failures are not only costly, but they put people in danger.
"Today's Florida ruling against the use of Chinese-made drones for law enforcement is a regrettable development and is unjustified," DJI tells DroneDJ.
"Any position based solely on country of origin limits competition, innovation, and possibly, endangers lives. DJI drones allow first responders to safely engage in life-threatening scenarios, inspect infrastructure otherwise not visible, and have been used to rescue hundreds of people in peril around the world. A rash, uninformed decision that limits access to our technology because of concerns about country of origin will literally cost lives."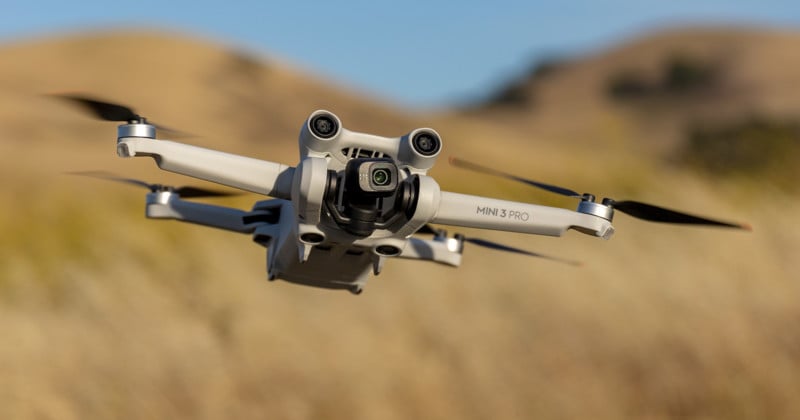 DJI has faced rising scrutiny over the past couple of years. Notably, the company has found itself placed on the United States Department of Defense "blacklist" as a "Chinese Military Company." In 2020, the company was added to the "Economic Blacklist" which prevented it from being able to conduct business with U.S.-based companies. In 2021, a Federal Communications Commission top official called for the addition of DJI to the FCC Covered List, which would have prevented it from selling its products in the United States. Last year, DJI, along with seven other Chinese companies, was added to the U.S. Treasury's list of "Chinese military-industrial complex companies."
DJI has objected to its placement on any of these lists.
---
Image credits: Header photo by Ryan Mense for PetaPixel