Behind the Scenes: A Day in the Life of a Wedding Photographer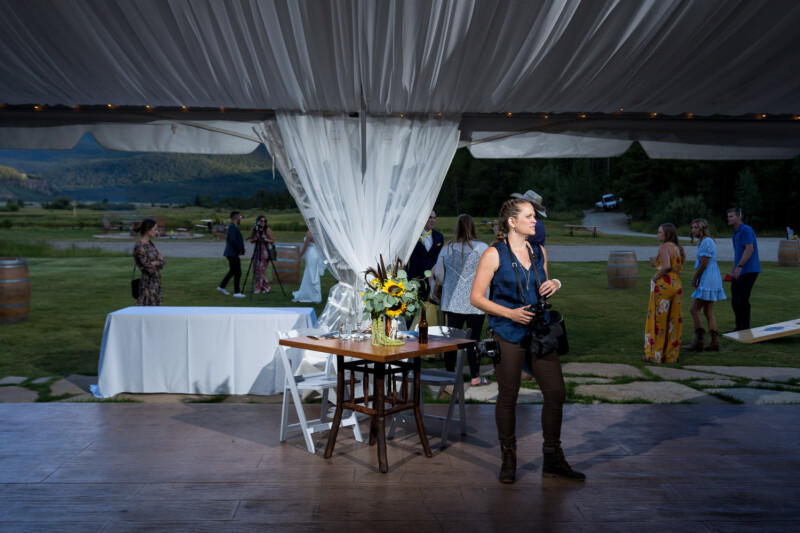 I thought it would be fun to walk you through the day in the life of a wedding photographer. Every wedding is a little different but weddings are also fairly predictable. In fact, wedding days are more predictable than the rest of my work days.

On a typical work week, I might work Tuesday through Friday with a wedding on Saturday or I might decide to make Wednesday and Thursday my weekend. The point is that even with a crazy schedule it's important to schedule fun and rest too and have boundaries separating work from the rest of your life. On workdays we might be doing any number of things from editing to accounting and marketing to meeting with clients.
Let's walk through what a typical wedding day looks like.
Before the Wedding
Before the wedding, we make sure to have everything ready to go. Gear is charged, cleaned, and packed. We know when and where we're going as well as how long it'll take to get there. We have a printed timeline for the day which we can review and game plan for.
Additionally, we have notes from a pre-wedding consultation that we have with our clients that includes information on what is most important to them as well as a family picture list and photo timeline. We'll use this to get on the same page as to what we're focusing on the most. For example, for some couples the priority is candids and they don't care about details at all.
We make sure that our bodies are ready to handle the day by resting the night before, eating, and exercising. Yes, when I have time I like to work out on the wedding day as it's actually like a warm-up for a very physical day ahead. We plan to arrive early especially if there might be traffic.
Getting Ready Photos
The hard part about the getting ready portion of the day is that everything goes pretty slow until it doesn't. You'll go from having time to connect with the clients, being creative, and trying new things to needing to be on.
I like to have at least an hour for getting ready photos, it's a really nice way to start the day and get warmed up. Jumping right into the ceremony can be really hard, whereas getting ready photos allows me to get a pulse on the day, connect with my clients, and warm up my creativity.
Pre-ceremony Buffer
Sometimes we'll do a first look or Bridal Party pictures before the ceremony. Regardless of what other things we're doing, we plan a pre-ceremony buffer time during which we can grab a sip of water, use the restroom, eat a snack, check the lighting, and set up anything we need to set up. One of us usually tries to grab some ceremony detail photos before the guests arrive too.
The bride normally uses this buffer time to connect with her family and friends or freshen up. Often, I'm there to capture that while Marc's getting ready for the ceremony and capturing some of the guests arriving.
Ceremony
The ceremony can be a stressful part of the day because it's why we're all there. Luckily there's a formula. Generally, the bride walks in and there are hugs exchanged — click-click, important moment. Then the officiant might talk for a minute so we focus on some overall shots and faces of some of the VIPS. Since we're a team, Marc and I each have certain responsibilities that we're focusing on and then other parts of the day during which we have a license to get more creative.
When it's time for the vows I really want to be ready for any laughs or tears. Then I need to get in position for the rings and then for the kiss. Some ceremonies have other events to be prepared for too.
The couple exits the ceremony with big grins on their faces. Click, a great moment. Then there are often some hugs and high fives and emotional congratulations that are worth capturing too.
Family and Bridal Party Pictures
Next, it's time to wrangle everyone for group pictures. Family and bridal party pictures can be a challenging part of the day because the family picture list might be long and convoluted and we might have to manage a ton of people that just want to party.
We almost always schedule these photos right after the ceremony for that reason. It's proven to be the most efficient time to knock out these very important photos that everyone wants but no one wants to take.
This is one part of the day when Marc and I work together. It really helps for one of us to focus on the family picture list and coordinate all of the people. The other person focuses on nailing those group shots with solid framing, sharpness, and the best lighting possible given the conditions we are up against.
Couples Portraits
This is one of our favorite parts of the day and often our couples' favorite part too. Our couple gets a moment alone and away from everything to look into each other's eyes and say, "Wow, you're beautiful and I love you and we're married." I get to capture the two of them in a variety of beautiful and creative ways.
Sometimes this actually happens before the ceremony with a first look or sometimes we actually wait until sunset and sneak away when the light is most beautiful. Part of building our wedding timeline is knowing when sunset is and how it falls into the schedule for the rest of the day. If we've built trust through an engagement session with our couple this portion of the day typically is super smooth and low-key.
Because of our style of photography, these photos are often the reason that many of our couples hired us. It's important to prioritize them in the schedule but also be as efficient as possible so that our couple can enjoy their wedding day experience.
Speeches, Dances, Cake
We generally try to eat when the couple eats so that we're ready to go when they are. However, we eat fast so that we can make sure we have our lighting set up for speeches, dances, cake cutting, and any other formal events that we have to be sure to capture. Sometimes we need to be ready to move our lighting between speeches, dances, and cake without much warning so it helps to think it through ahead of time and have a plan.
It's good to have a few different lighting tricks up our sleeves because every venue has different challenges. Typically we have a go-to plan but it's good to have backup plans too. I focus on getting a solid shot of each speech and then if the speeches are long enough I can add variety and creativity.
Again, this is another time when being a husband and wife team is advantageous because one of us can get the safe shot while the other gets to be more creative. Or if lighting situations are tricky we can work together to make sure we nail it.
Reception
Whew! We made it! Once we get through all of the formalities we can take a deep breath. Sometimes our night is almost over by now but other times we still have a few hours of partying to cover. The good news is that once the formal events are over we won't miss anything if we take a second to go to the bathroom.
Next, it's all about keeping my eyes open for interesting things that are happening and capturing the overall vibe of the party. Since receptions can be a little crazy I can play here creating a variety of fun images. Some wedding guests really play to the camera if I get on the dance floor with them, which can lead to better photos too.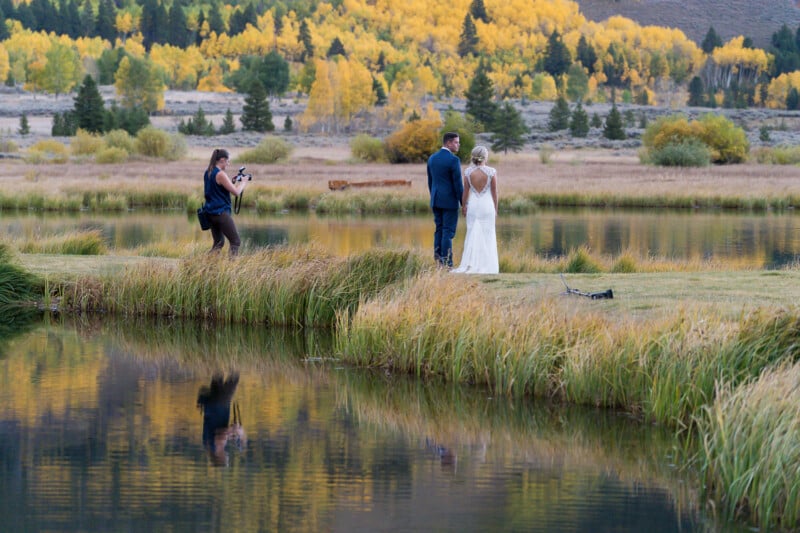 After the Wedding
When it's time to pack up it's good not to rush. This is a good time to put everything in its place in our camera bags which helps us double-check that we have everything. We also take one of the two memory cards from each camera and put it in a card wallet that we keep with us at all times during transition. All of the dead batteries go into a little red bag that indicates they need to be charged.
Our feet hurt, we're exhausted, and it turns out that we're dehydrated and hungry even though we made sure to drink water and eat snacks all day. Before our heads hit the pillow though, it's good to import our cards and ensure everything is there. We are in the habit of throwing everything on the charger too which is easy since all the batteries are in that little red bag I talked about.
From there we're on to post-production and getting the photos to our clients. Their experience isn't over until we've delivered their online gallery and their wedding album so we continue to focus on making everything smooth for them.
---
About the author: Brenda Bergreen is a Colorado wedding photographer, videographer, yoga teacher, and writer who works alongside her husband at Bergreen Photography. With their mission and mantra "love. adventurously." they are dedicated to telling adventurous stories in beautiful places.
---
Image credits: All photos by Brenda Bergreen.