Claid AI Can Now Create Backgrounds to Make Product Marketing Photos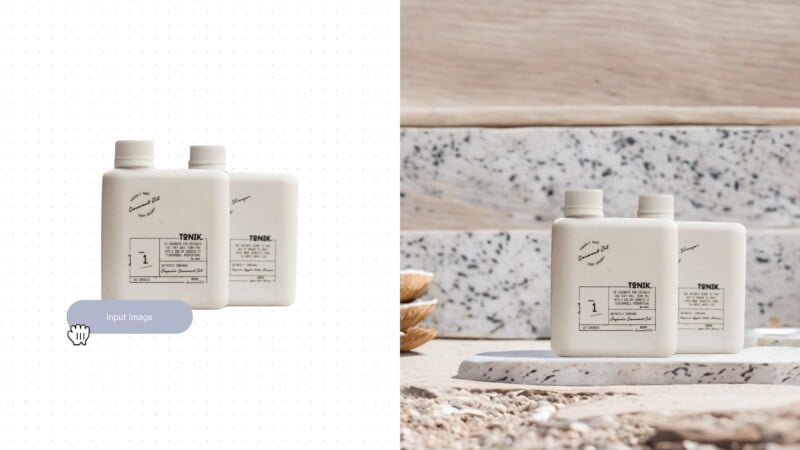 Claid.ai already produced artificial intelligence (AI) software that clipped photos from backgrounds, but now it has a new feature that will generate detailed background images for them.
Claud, a Let's Enhance software solution, says its goal is to help businesses faster and more easily create visual content for their products, which means streamlining the entire photographic experience. Last year, the company introduced software that would automatically enhance a photo, remove the background, and fix lighting so that even a photo taken in less-than-ideal circumstances could be transformed into an e-commerce-ready asset.
Basically, the system made it so that a professional photographer and lighting setup was no longer needed for simple product photos. Now, Claid's latest addition goes a step further and attempts to provide business owners the ability to create marketing content from those very same rough original snapshots.
Claid's new Scene Creation tool uses generative AI to create backgrounds for images. At launch, Scene Creation has over 100 templates in multiple industries including health and beauty, beverages, snacks, shoes, and furniture. The technology automatically inserts a product image into the selected style, blends light and color, and makes the images look realistic like a product photo shoot.
The company says that scenes can be adjusted to suit individual preferences and users can choose any color for a composition including background and individual elements. Additionally, users can describe textures, colors, and objects that they want to see in the background and the generative AI will add them.
"With Claid Scene Creation, businesses can save thousands on studio content creation and human hours selecting unique images from repetitive stock product renderings," the company says. "It also takes away the need to spend time researching e-commerce market analytics anymore. With Claid, you can choose from the most popular options and grow your business to become a top search result on marketplaces."
Luckily for product photographers who might be worried this would entirely replace them, the results don't look that good upon even a cursory inspection — at least not yet. Some of the scenes Claid generates are decent, but others clearly aren't as refined and there is significant visual evidence that they are two images stitched together and are not one completely styled photo.
That said, for some brands — especially small ones — this may be "good enough" and is significantly cheaper than hiring actual skilled talent. Claid is available starting at $39 and works on a credit system. 50 credits are supplied to start with and more can be purchased as needed.