Pixelmator Pro Update Makes it Easier to Remove Color and Improve Photos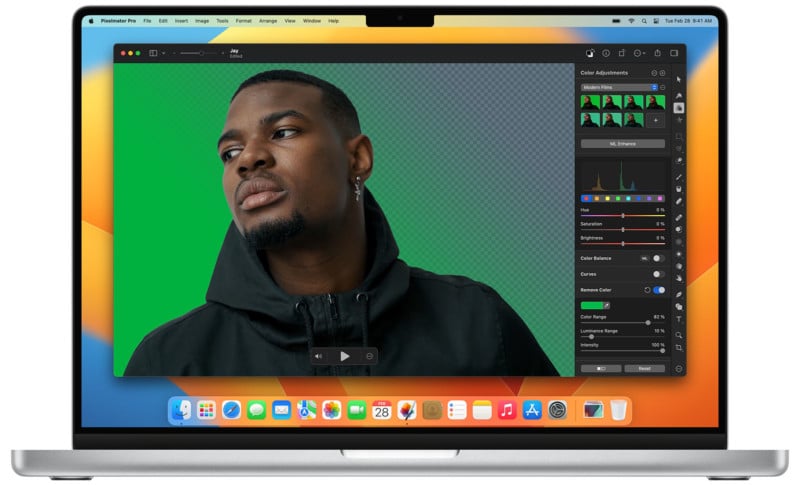 Pixelmator Pro version 3.3, codenamed Mosaic, is now available and includes an all-new Remove Color adjustment to make it easy to remove color from images and video quickly. The latest release also includes powerful Clarity, Selective Clarity, and Texture adjustments for enhancing fine details in photos.
The highlight feature, Remove Color, is one of the most powerful color adjustment tools in Pixelmator Pro. With Remove Color, the user can remove solid colors or entire color ranges in images and videos. To use Remove Color, users pick the color (or range) they want to remove using an eyedropper, and the color instantly disappears. Remove Color works around compression artifacts, allowing smooth transitions between transparent and opaque areas.
To refine Remove Color selections, users can adjust Color Range, Luminance Range, and Intensity sliders. This allows for control over how much of the selected color is removed.
Clarity, Selective Clarity, and Texture adjustments debuted in Pixelmator Photo and are now coming to Pixelmator Pro. These tools, combined with improved Shadows, Highlights, Exposure, and Brightness adjustments, provide users with expanded control over the look and feel of photos.
The new Clarity and Texture adjustments offer ways to enhance the fine details in images. When texture is increased, photos can appear visibly sharper and more detailed; increasing clarity results in additional definition.
Perhaps users only sometimes want to increase clarity and texture across the entire photo. Consider a landscape photo or portrait. In these cases, the user may wish to increase the sharpness in one part of the photo but not the rest. Increasing texture and clarity of the sky can introduce issues with noise while doing the same on skin can make a person look unnatural. Pixelmator Pro deals with this issue by offering Selective Clarity. Users can adjust clarity and texture independently across shadows, midtones, or highlights. It's also possible to use negative clarity and texture adjustments to smooth skin, as seen in the video tutorial below.
With improvements to Shadows and Highlights adjustments, Pixelmator Pro allows users to extract much more detail from overly bright or dark images. The tools are now in the new Basic adjustments group, previously called Lightness. The Exposure and Brightness adjustments have also been updated.
Pixelmator Pro does more than edit photos and video, it is also a powerful illustration tool. Pixelmator Pro 3.3 adds a variety of new brush stroke styles and better options for customizing strokes. Users can adjust strokes by stroke cap and corner styles and choose from a range of new endpoints. A new Pattern fill type also allows users to creatively utilize different patterns with the brush.
Rounding out the significant changes to Pixelmator Pro 3.3, users can now directly open and edit images, such as JPEG or PNG files, in their original format and save them back to the same file format while preserving nondestructive edits and layers. This is possible thanks to the new sidecar file feature. A sidecar file is a special Pixelmator Pro document attached to the original image and stores all edit information locally or in iCloud.
Pixelmator Pro 3.3 is available as a free update for existing users. Pixelmator Pro 3.3 is $49.99 for new users and is available exclusively on the Mac App Store.
---
Image credits: Pixelmator