Aputure's New Lights are Colorful and Versatile Solutions for Filmmakers
Aputure has announced various new lighting products, including its first RGBWW full-color LED pixel bar, a four-foot battery-powered pixel tube, a smaller portable one-foot battery-powered pixel tube, and an improved 200-watt (W) bi-color Bowens Mount point-source light.

Aputure's first RGBWW full-color LED pixel bar, the Infinibar PB12, is four feet long (120 centimeters) and features 96 independent lighting zones. The Infinibar PB12 features an "infinite blending design," allowing users to combine multiple PB12 units without visible gaps.
The PB12 has 10 splicing connectors, allowing users to design creative shapes and effects. The connectors include straight, triangle flat, triangle 3D, hexagon flat, hexagon 3D, three-way flat, four-way flat, six-way flat, right-angle flat, and right-angle 3D.
Users can adjust brightness in 0.1% increments, and the color temperature is adjustable from 2,000-10,000 Kelvin (K). The pixel bar is rated for 96 Color Rendering Index (CRI) and 98 Television Lighting Consistency Index (TCLI).
The full-color light includes nine built-in system effects, including fireworks, fire, and pulsing, and seven pixel effects, like color fade, color cycle, pixel chase, and rainbow. The light has a max power output of 27W.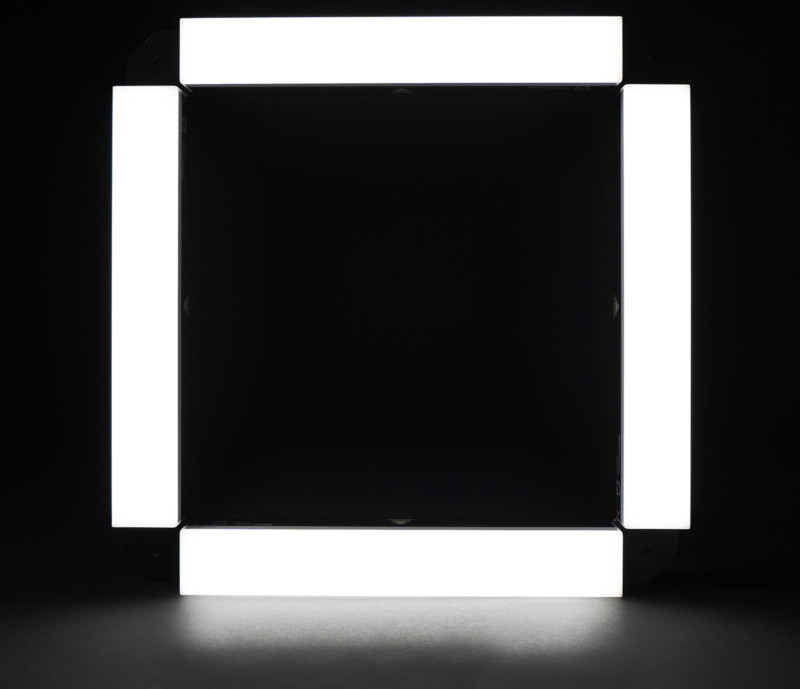 Aputure says the target audience is cinematographers and lighting technicians. The Infinibar PB12 includes built-in magnets and can be mounted on a rail system.
Aputure's new battery-powered pixel tubes are the amaran PT4c and the amaran PT1c. The difference between the two tubes is the length. The PT4c is, as evidenced by its name, four feet long, while the PT1c is a foot long.
Each model charges via USB-C and includes independently controllable pixel sections. The longer PT4c has 16 controllable sections, while the PT1c contains four. Color temperature ranges from 2,700 to 10,000 K.
As for color accuracy, the models promise 95 CRI and 98 TLCI. They also include fully tunable green-magenta adjustments. Like the Infinibar PB12, the amaran PT units have nine system effects and seven pixel effects.
Cinematographers can mix and match amaran PT models. There's also a PT2c model that's two feet long.
Rounding out the new products is the amaran 200x S bi-color Bowens Mount point-source light. The latest version includes a redesigned chipset that promises improved color quality and spectral reproduction.
The light includes integrated controls and offers numerous power options. The light can be powered via the included AC power supply or V-mount batteries with the optional Aputure 2-Bay Battery Power Station (sold separately).
Using the Hyper-Reflector, the amaran 200x S delivers up to 45,400 lux of light at one meter. The light also works with a large selection of Bowens Mount light modifiers, including domes and lanterns. It includes a built-in umbrella holder.
The light has an integrated silent fan system to help keep it cool, and users can adjust the brightness and settings via control knobs and a simplified user interface. It can also be controlled via the Sidus Link app.
The bi-color amaran 200x S's color temperature ranges from 2,700 to 6,500 K. It promises improved color performance relative to its predecessor, including 95 CRI and 98 TLCI. The light includes nine built-in lighting effects.
Alongside the 200x S, Aputure has also announced an updated version of its similar 100W light, the Aputure 100x S.
For full specifications of Aputure's new products, visit Aputure's website. You can find Aputure products available on Adorama and through other photography retailers.
---
Image credits: Aputure