First Ever Copyrighted AI-Generated Images Lose U.S Copyright Protection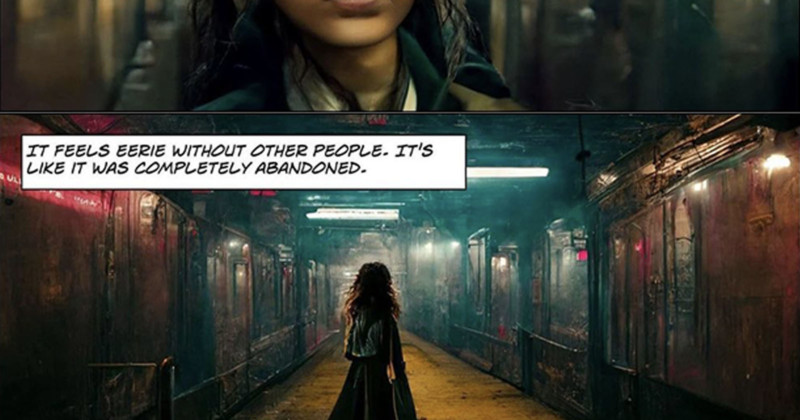 A graphic artist, who received the first known U.S. copyright registration for artificial intelligence (AI) generated artwork last year, has lost the copyright protection for these images.
The U.S. Copyright Office has reconsidered the copyright protection it granted in September to Kris Kashtanova for her comic book Zarya of the Dawn which features pictures created by AI image generator Midjourney.
According to a letter sent to Kashtanova's attorney, the U.S. Copyright Office says that the graphic artist is entitled to copyright the parts of the book she wrote and arranged but not the individual AI-generated images.
"Ms. Kashtanova is the author of the Work's text as well as the selection, coordination, and arrangement of the Work's written and visual elements," the U.S. Copyright Office writes.
However, it says that "the images in the Work that were generated by the Midjourney technology are not the product of human authorship" and should never have been granted copyright protection.
The U.S. Copyright Office continues: "Registration originally granted for them has been canceled."
To justify the decision, the Copyright Office cites previous cases where individuals were unable to copyright words or songs that listed "non-human spiritual beings" or the "Holy Spirit" as the author — as well as the notorious copyright case where a selfie was taken by a monkey.
According to the U.S. Copyright Office, it only became aware that the images in Kashtanova's Zarya of the Dawn were created by Midjourney after the registration was granted to her.
The U.S. Copyright Office says it only realized that this was the case as a result of browsing Kashtanova's social media posts and pursuing this information.
'Disappointed'
In a statement posted on Instagram, Kashtanova says she is "disappointed" that the U.S. Copyright Office did not recognize the copyright of the AI-generated images in her comic book.
"I think they didn't understand some of the technology so it led to a wrong decision," Kashtanova writes.
"It is fundamental to understand that the output of a Generative AI model depends directly on the creative input of the artist and is not random."
Kashtanova also says that her attorneys are looking into ways to show the U.S. Copyright Office that her Midjourney-generated images are "a direct expression of my creativity and therefore copyrightable."
However, the graphic artist also says that the U.S. Copyright Office's decision to allow copyright protection for Zarya of the Dawn's story and the way the images are arranged is "great news."
Kashtanova claims that this particular decision "covers a lot of uses for the people in the AI art community."