Popular Instagram Photographer Revealed as AI Fraud
A popular "photographer" who has amassed almost 30,000 followers on Instagram has admitted that his portraits are actually generated by artificial intelligence (AI).
Jos Avery has been posting his impressive "photos" since October last year and deceiving his audience into thinking they are genuine portraits — even describing the camera equipment he uses (a Nikon D810 with 24-70mm lens).
Avery tells Ars Technica that he set out to "fool people," saying: "Do people who wear makeup in photos disclose that? What about cosmetic surgery? Every commercial fashion photograph has a heavy dose of Photoshopping, including celebrity body replacement on the covers of magazines."
Avery's Instagram followers are besotted with his work showering him with compliments that he laps up.
"Thank you for the inspiration you provide day after day with your wonderful portraiture," writes one genuine photographer. "I stop, take a long look, reflect, and most certainly learn from every post you share."
Instead of admitting that his work is inauthentic, Avery says: "Thanks very much for taking the time to share that. It means a lot."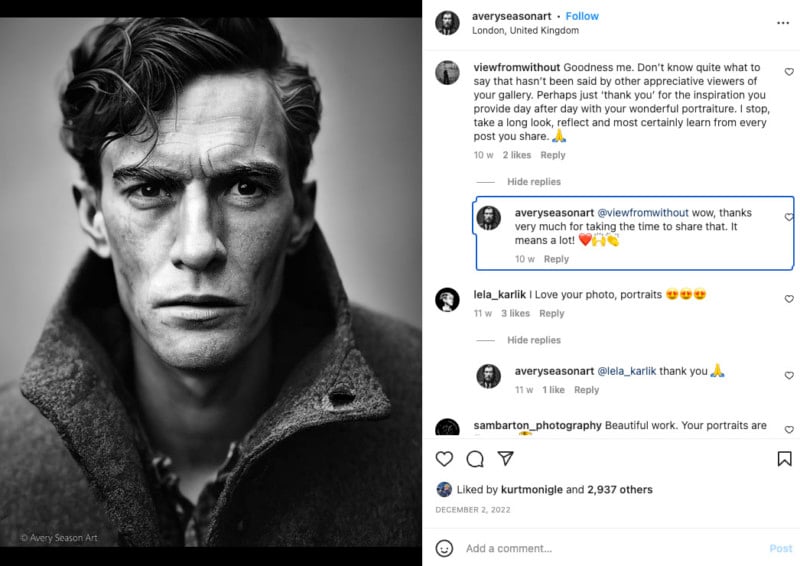 Avery ostensibly replies to nearly every comment he receives, thanking the person for giving him praise and ignoring the tiny minority who point out that it's AI.
His vagueness extends into outright denial of truth when he's asked specific details like: "What camera are you using?" He replies: "I shoot Nikons."
He even teases that he might "record the process" of his workflow when asked about how he gets his bokeh.
"I often composite and use post blurring, "Avery says. "I should really record the process one of these days." To which his follower replies: "Mighty kind of you. You're one of those rare breeds who really takes time to reply to each comment."
Avery also hoodwinks via his hashtags which are populated with photo indicators like #blackandwhitephotography, #portrait, #portraitphotography, et cetera. He occasionally uses #AI or #digitalart but they are lost in a sea of hashtags that bona fide photographers use.
Methodology
Avery admitted his deceit to Ars Technica: "Probably 95%+ of the followers don't realize. I'd like to come clean," he says.
"I am honestly conflicted," Avery says. "My original aim was to fool people to showcase AI and then write an article about it. But now it has become an artistic outlet. My views have changed."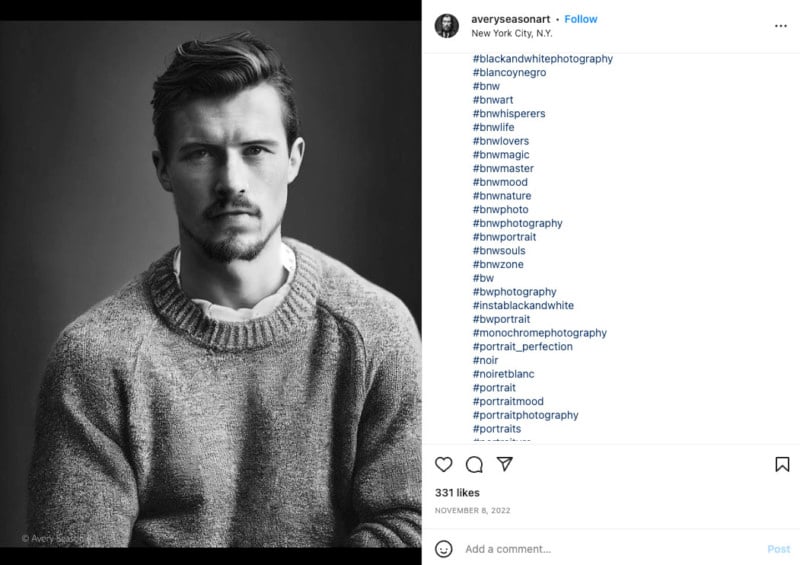 Avery explains that for his nearly 180 posts he has generated a whopping 14,000 images out of Midjourney.
"I'm generating roughly 85 images to come up with one usable image and canceling probably at least that many failed starts," he says.
After getting a synthetic image that he can work with, Avery edits the picture in Adobe Lightroom and Photoshop which he says still makes him an artist.
"It takes an enormous amount of effort to take AI-generated elements and create something that looks like it was taken by a human photographer," he says. "The creative process is still very much in the hands of the artist or photographer, not the computer."
PetaPixel reached out to Avery, who did not respond as of publication.
---
Image credits: All images by Jos Avery/@averyseasonart.