The DJI Mini 2 SE Drops 4K Video But Gets Much Cheaper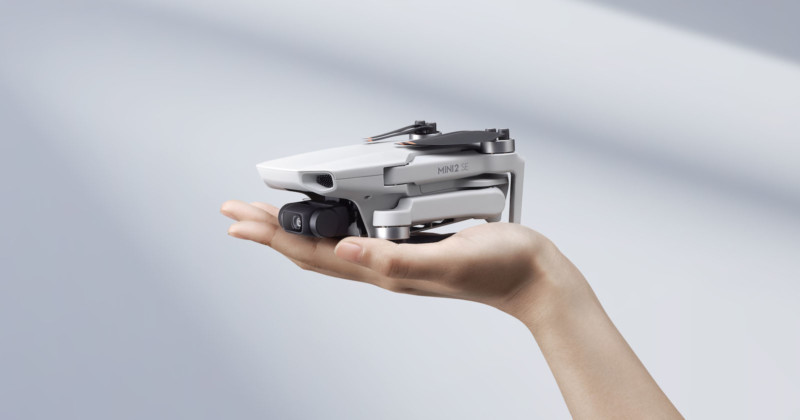 DJI has announced its third installment in the Mini series of drones in the Mini 2 SE, which goes pretty much unchanged from the last version other than dropping support for 4K video, but it gets much cheaper in exchange.
DJI hasn't really changed all that much about the Mini series since it first rolled it out in 2019. The follow-up in November of 2020, the Mini 2, brought mostly software improvements but didn't adjust any of the hardware specifications on the camera. That seems to again be the case with the Mini 2 SE with the exception of one feature that is getting a minor downgrade.
Just like the last two palm-sized drones DJI has produced in this line, the Mini 2 SE has a three-axis gimbal and a Type 1/2.3 CMOS sensor that is capable of taking 12-megapixel photos, though the Mini 2 SE caps out at 2.7K video capture. That's actually the main difference between the Mini 2 and the Mini 2 SE, as the Mini 2 is able to capture up to 4K video.
All of the DJI intelligent features are present, including QuickShots and Panorama. The same digital zoom feature from the DJI Mini 2 is also present on the Mini 2 SE which allows up to 4X digital zoom, albeit it is less powerful since the Mini 2 SE can't record video in as high resolution.
The Mini 2 SE has the same maximum transmission range of 10 kilometers using DJI O2 transmission technology as the Mini 2 does though, and the flight time also doesn't change and remains at 31 minutes.
The Mini 2 SE does have what DJI calls "Level 5 wind resistance," which means it can hover steadily and capture stable images at a wind speed of up to 10.7 meters per second.
"Weighing in at less than 249 grams, Mini 2 SE is an ultraportable, regulation-friendly drone that is exempt from drone regulations in several parts of the world," DJI says. "Its affordable price point make Mini 2 SE a perfect drone for beginners and experienced drone pilots alike."
The DJI Mini 2 SE will be available starting March 22 and will come in two formats. The DJI Mini 2 SE alone comes in notably cheaper at $369 compared to the Mini 2 which costs $449. The DJI Mini 2 SE Fly More combo — which includes three batteries, a bag, extra cables, rotor blades, and other accessories — will retail for $519 (the Mini 2 Fly More combo costs $599).
---
Image credits: DJI