The OnePlus 11 and the 'Pad' Tablet are New Flagship Mobile Offerings
The OnePlus 11 is now official, bringing the brand's newest flagship phone to market, plus a debut tablet in the OnePlus Pad that also goes the flagship route.
This is a key launch for OnePlus, not least of which because it's reaching for the industry's best by pushing its own envelope driven by the continued partnership with Hasselblad, which is supposed to show itself more precisely with the OnePlus 11. That was the message behind the company's big launch event in India, though I got to see things up close myself in New York. This phone comes with a lot to consider, and we'll be looking for all of that in our upcoming review at PetaPixel.
The Phone Itself
The OnePlus 11 has a 6.7-inch 2K (3,216 x 1,440) AMOLED screen with 120Hz refresh rate. It supports Dolby Vision and Atmos for vivid playback and more boisterous sound, including Dolby Head Tracking for spatial audio content with compatible headphones or earbuds. Watch a show or movie with Atmos support and you can hear the soundstage shift based on where you move your head.
To keep the phone going smoothly, the OnePlus 11 runs on the Snapdragon 8 Gen 2 chipset, with the dual benefits of increased power and improved efficiency. OnePlus appears to have gaming in mind courtesy of the stronger GPU performance and ray tracing for more dynamic content. It's the first Snapdragon 8 Gen 2 device approved for Snapdragon Spaces to enable developers working on extended reality (XR) to explore things with the phone.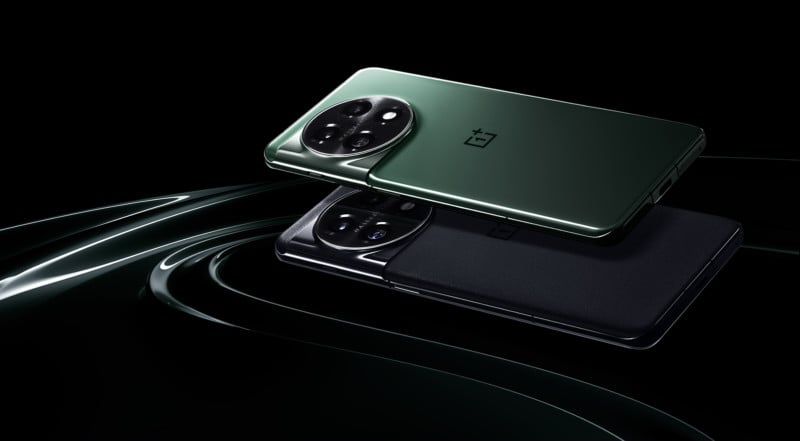 There are 8GB and 16GB configurations, though it's clear the 16GB model is the one designed to go further. OnePlus claims its RAM-Vita technology, which it uses in its onboard storage to maximize memory, can allow up to 44 apps to stay open at one time. There are also 128GB and 256GB variants as well.
You won't get wireless charging here, and it seems OnePlus thinks you won't care. The 80W fast-charging system for North American models comes with a charger and cable capable of recharging the phone from zero to 100% in just 27 minutes. I tested this out and it's indeed true.
OnePlus says it's committing to four major OxygenOS updates and five years of security updates. The color options are titan black and eternal green.
What the Camera Array Looks Like
OnePlus carries on with a triple camera array on the phone's rear, led by the 50-megapixel wide camera (24mm equivalent) using Sony's IMX890 image sensor. The Type 1/1.56 sensor size also works with an f/1.8 aperture and both electronic and optical image stabilization (OIS) to take in more light and reduce shake in images.
As OnePlus puts it, "you can wave goodbye to blurry moments and reminisce on life's milestones in high definition."
That's largely a reference to video, but also applies to taking photos in low light and night conditions. By default, it will shoot at a pixel binned 12.5-megapixels, though there is a Hi-Res mode for the full 50, not to mention a Macro mode kicks in when getting really close to a subject.
As for Hasselblad, OnePlus says its presence is more pronounced and obvious with this phone. "Hasselblad Camera for Mobile" isn't a standalone mode or something to toggle on within the camera system, but rather color calibration with a 13-channel multi-spectral sensor to "provide almost DSLR-like depth-tracking, natural bokeh, and light flare effects." This is supposed to work in tandem with OnePlus's own TurboRAW HDR to widen dynamic range and increase image clarity.
Whether it delivers "industry-leading color science" remains to be seen, but there are a couple of things going on here. The camera can capture 10-bit photos, except you can only save them in HEIF mode — this mode doesn't support RAW capture from what I could tell. You can still shoot in RAW otherwise, like in Pro mode, and XPan comes back as an ode to Hasselblad's film past.
Three main Hasselblad modes — Radiance, Serenity, and Emerald — are available in the filters menu for a few of the shooting modes, like Photo, Portrait, Long Exposure, and Tilt-Shift. Most of the talk focused on portrait results, which were designed to simulate Hasselblad cameras with XCD 30mm and 65mm lenses. The 32-megapixel portrait telephoto lens is exactly that — a lens that optically gets closer to a subject, regardless of whether it's a person or object. It uses Sony's IMX709 Type 1/2.74 image sensor with f/2.0 aperture.
Then there is the 48-megapixel ultra-wide, which moves on to the Sony IMX581 image sensor after the OnePlus 10 Pro's ultra-wide camera used Samsung's JN1 sensor. It retains the 115-degree field of view and f/2.2 aperture, but is said to benefit from Hasselblad's color reproduction since those modes are equally accessible by the ultra-wide.
Capping things off is a 16-megapixel front camera with f/2.4 aperture using a Sony IMX471 image sensor with fixed focus and electronic image stabilization.
A OnePlus Tablet Called the 'Pad'
On top of a new pair of earbuds, OnePlus finally revealed its own tablet, a device that was teased and leaked for some time leading up to the launch. The company wants it to fit with its "1+4+X product matrix" to go with its phones, earbuds, watches, and TVs.
It stays within OnePlus' design philosophy marrying some elegance with some functionality. It is a metal unibody with 2.5D curved glass along the edges, something not done in a tablet before, with a thin profile and lightweight build weighing 552 grams on its own. It's not clear how good the onboard camera is, though it is centred rather than put in a corner. The bezel is quite slim at 6.54mm allowing for an 88% screen-to-body ratio for the 11.6-inch display (2,800 x 2,000) with a more unusual 7:5 aspect ratio and 500 nits max brightness. OnePlus also claims a 144Hz refresh rate. If you want Dolby Vision and Atmos support, you'll get both here.
Interestingly, OnePlus chose not to go with Snapdragon silicon here, opting instead for the MediaTek Dimencity 9000 CPU instead. There's 12GB of RAM, or more with RAM-Vita at work. The company didn't confirm the amount of internal storage the device would ship with, or if different configurations will be available.
OnePlus envisions the Pad synchronizing with the other products in its lineup. For instance, it would be easy to share data with a OnePlus phone, or to leverage the phone for its data connection. The company didn't mention anything about a cellular version beyond the Wi-Fi-enabled one we already noted.
The OnePlus Pad will also come with the Stylo pen and Magnetic Keyboard, making it obvious the focus is on consuming and creating content.
With all this going on, it's not entirely clear how well the 9,510mAh battery will hold up, though it will come with a 67W charger capable of fully recharging the OnePlus Pad in about 80 minutes. It's also capable of staying in standby mode for up to one month.
Pricing and Availability
OnePlus didn't give an exact launch date for the Pad (pre-orders for it will start in April, though), but it did for the phone: The OnePlus 11 goes on sale on February 16 in North America, starting at $699 for the 8GB+128GB variant and $799 for the 16GB+256GB variant.